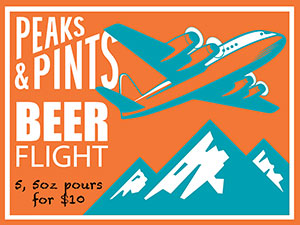 Numbers are everywhere in daily life. They have become an indispensable part our world. Can you imagine not having numbers? Look around you. They are everywhere, including the craft beer world. You often see numbers on tap lists and menus that are meant to help explain what a particular beer will be like, including alcohol by volume, or ABV. The standard measurement of the alcohol content of drinks is alcohol by volume, which is given as the volume of ethanol as a percent of the total volume of the drink. If a certain beer is tagged with ABV 14% or ALC. BY VOL. 14%, it means 14% of the liquid is alcohol. In other words, the alcohol by volume is 14%. While a higher ABV, such as 14%, often represents a greater level of flavor and complexity, it also means that the physiologic effects of alcohol play a greater role, which is why Peaks and Pints bottle shop, taproom and restaurant serves high ABV beers and cider in smaller glasses. We thought it would be fun to focus today's beer flight on ABV — more so numbers than alcohol. A sequence, in mathematics, is a string of objects, like numbers, that follow a particular pattern. Welcome to Craft Beer Crosscut 3.9.18: A Flight of ABV Sequence.
Fremont Parkland Pilsner
5.5% ABV, 35 IBU
Fremont Brewing first brewed Parkland Pilsner as shift beers after a long day in the Seattle brewery. The brewery kept brewing because, "… we work a lot of shifts and need a lot of beer. And we thought this pilsner was really good, and we brewed some to share with you," according to Parkland Pilsner hype. Parkland is brewed with Barke Pilsner, Bphemian Pilsner Carafoam and Acidulated malts with Magnum and Czech Saaz hops. It's a refreshing take on the Czech standard with a wonderful hint of lemon, freshly mowed grass and bready malts.
Crux Farmhouse Saison
6.6% ABV, 25 IBU
Saison is a drinkable Belgian-style pale ale that's fruity, spicy, dry and refreshing, yet for whatever reason it's largely underserved. Crux Fermentation Project not only brewed an excellent version in Farmhouse with traditional farmhouse ale, pilsner malt, oats and wheat, but also made it available year-round. Crux Farmhouse Saison is a refreshing palate pleaser that does its due diligence representing the style with subtle tartness, light malt, citrus fruit and earthy character. The dryness gives it a tasty, er, drinkability.
Crux Nitro Stout
7.7 ABV, 60 IBU
Most beer is carbonated with carbon dioxide, which creates a sharp effervescence —perfect in a pilsner, not always ideal in a malt-forward beer. For a smoother, creamier, more rounded drinking experience, brewers carbonate beer with a mixture of nitrogen and carbon dioxide (typically at a 70/30 ratio). Typically, low CO2 levels create a beer as flat as hours-old seltzer; nitrogen is insoluble in liquid. The solution is pumping the pressurized brew through a hole-dotted restrictor plate, or sparkler, that both slows the flow of beer and agitates the nitrogen, which Crux Fermentation Project has done with their stout. Crux's creamy Nitro Stout hits the palate with notes of caramel, chocolate and roasted coffee driven by a wonderfully nuanced blend of dark crystal, black, roasted and chocolate malt. We also get a little burnt sugar, and a distinctive dry roasted bitterness in the finish.
Rogue Double Chocolate Stout
8.8% ABV, 68 IBU
Rogue Double Chocolate Stout, which debuted for Valentine's Day in 2001, is an oatmeal chocolate chip cookie and a chocolate truffle together in a bed that had been strewn with hops. Now imagine the imperial version. Rogue's Double Chocolate smells like the inside of pain au chocolat thanks to ample bittersweet Dutch chocolate. Clocking in at 8.8 percent alcohol by volume and wearing a red 750ml casing, this 2010 World Beer Championships gold medalist is definitely a winner.
Three Magnets Well 80 Belgian Dark Strong
9.9% ABV, 20 IBU
Downtown Olympia is home to 96 artisan wells, and Chris Knudson's new business just happens to occupy No. 80. Knudson will open Well 80 Brewhouse — a brewery, bar and all-ages restaurant — in the next couple of weeks. Well 80 head brewer Paul Pearson, previously of Fish Brewing Co., plans to brew beer using well 80 artisan well water. In the meantime, Pearson has been brewing collaboration beers with his friends, including Jeff Stokes, head brewer at Three Magnets Brewing Co. The two brewed Well 80 Belgian Dark Strong, an exceptional dark strong that drinks like a quad, if the quad has a leathery nose and notes of raisin, molasses, toffee, chocolate and a bit of booze.
---