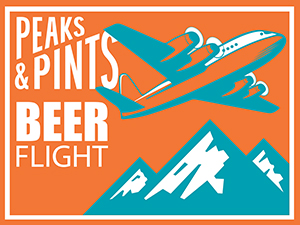 Barney the dinosaur was created in 1988 when Sheryl Leach, a former teacher and mother of a 2-year-old son, became dissatisfied with the preschool videos available on the market. So she decided to create her own videos, and came up with a teddy bear that would come to life and interact with kids. Leach transformed Barney into a dinosaur when she saw how much her son loved the dinos he saw at a traveling exhibit. Four years later, the television version, "Barney & Friends," debuted on PBS stations across the country and became an instant hit with toddlers. Why does Peaks & Pints have Barney on the brain? Barney the dinosaur and his friends are simply about hugs and love, familiar songs and lots of happy, happy, happy. OK, we have a dinosaur-themed, adults-only baby shower in our event room tonight, and the host requested a dinosaur beer. We're giving her five. Barney might be a dinosaur from our imagination, but Craft Beer Crosscut 3.7.20: Flight of Dinosaurs is real.
Craft Beer Crosscut 3.7.20: Flight of Dinosaurs
Ommegang Game of Thrones Winter Is Here
8.3% ABV
Many paleontologists today believe there are connections between the mythological dragons that ancient peoples believed in and the human discovery of dinosaur fossils. Recently, scientists have discovered a new genus of pterosaur, and given it a name worthy of royalty, at least in the world of Game of Thrones. According to a report by National Geographic, the new flying dinosaur was named Targaryendraco Wiedenrothi, in honor of Daenerys Targaryen and her three dragons. Peaks & Pints doesn't have a pterosaur beer, but we do have a beer brewed in honor of Games of Thrones. Brewery Ommegang, the company that's long worked with HBO to put out Game of Thrones-themed beers, brewed Winter Is Here, a Belgian-style double white ale, brewed with pilsner malt, white wheat malt, and soft red wheat flakes, hopped with Saaz hops, and spiced with white pepper, sea salt, coriander and sweet orange peel.
Triceratops Collin James Irish Red Ale
5% ABV
After years of home brewing Rob Horn decided to make it official and he and his wife, Kelly, opened their tiny Triceratops Brewing in August of 2014. With the last name Horn and three awesome kids, is there really any other name? At first, they brewed out of their home garage. After thriving there for three years they opened a tasting room next to Matchless Brewing in Tumwater. The Horns brewed this low alcohol, low bitterness Irish red ale to please the people. Lightly hopped with the mild, earthy, and somewhat woody Fuggle variety, this beer entices the nose with a rich, toffee-like aroma. Meanwhile, notes of plum and raisin play with a slightly bready and nutty flavor provided by Irish ale malt and a touch of roasted barley.
Off Color Dino S'mores
10.5% ABV, 40 IBU
John Laffler of Goose Island and Dave Bleitner of Two Brothers opened Off Color Brewing in March 2013. At the brewery's launch party, a local pastry chef cooked up a batch of dinosaur-shaped s'mores for munching; these treats provided the inspiration for an imperial stout Off Color would later brew in collaboration with Danish brewer Amager Bryghus and venerable Windy City bottle shop West Lakeview Liquors. The beer — flavored with marshmallow fluff, molasses, vanilla beans, graham flour and cocoa nibs — was named Dino S'mores and has been available since 2014. It's sweet and sugary, with a bouquet of blackstrap molasses, graham cracker and marshmallow fluff atop a layer of alcohol, vanilla, marshmallow and milk chocolate.
Ninkasi Megalodom
10% ABV, 70 IBU
Megalodon, meaning "big tooth," is an extinct species of shark that lived approximately 23 to 3.6 million years ago, during the Early Miocene to the Pliocene. It was formerly thought to be a member of the family Lamnidae, and a close relative of the great white shark. Megalodom, protector of Atlantis, fights off unwelcome visitors from invading her lost city. Ninkasi Brewing leaned more toward Meg, Queen of the Doms, when they brewed this bold, yet balanced, citrusy IPA with a slightly sweet, smooth finish.
Ninkasi Tricerahops Double IPA
8% ABV, 84 IBU
Ninkasi, the mythical god of beer, would be afraid of this Ninkasi Brewing double IPA. Hops explode in the nose, cascading pithy grapefruit, sticky pinesap and floral notes atop a caramel foundation. It hits the tongue hard with sweet caramel before a blend of Chinook, Cascade, Summit, Centennial and Palisade hops offer floral, fruity, and earthy notes, yet with a malt background. It's hop-forward, full-bodied and strong. Yet the balance with the malt lends enough depth and a spicy complexity to make it very interesting. You'll dig this "terrible lizard," which is what "dinosaur" means in Greek.
---