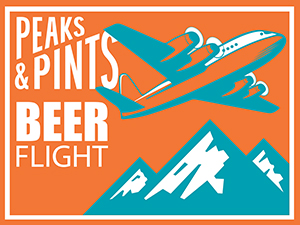 Peaks & Pints doesn't need to explain "dad beer." They're the classic beers that have been in production since way before you (and sometimes even your father and grandfather) were born. They are the working man's brews, the beers that your grandfather and father drank and haven't changed much in the last half dozen decades. Sure, dad will enjoy an apricot milkshake IPA or scotch barrel-aged imperial pastry stout every now and then. But sometimes he just wants a no-frills, refreshing, easy-drinking beer. Today, Peaks & Pints presents Craft Beer Crosscut 3.6.20: Flight of Dad Beer featuring a true classic dad beer and four new, more craft dad beers. Pull dad away from the Benny Goodman records, tell him to put on his pleated trousers and head our way for his new best friend.
Craft Beer Crosscut 3.6.20: Flight of Dad Beer
Rainier Beer
4.73% ABV, 10 IBU
In 1883, Andrew Hemrich and partner John Kopp established Bay View Brewery in Seattle's Georgetown neighborhood. Ten years later, Bay View Brewery joined with the breweries of Albert Braun and Claussn-Sweeney to form a new association, the Seattle Brewing & Malting Company. The brand name eventually chosen for the company's flagship beer was "Rainier," the ultimate Northwest dad beer. The Bay View plant continued to operate, and in 1906 added a bottling shop and additional refrigeration. By 1905 production of Rainier Beer reached 300,000 barrels per annum. The company employed more than 300 men, and there was room to build worker homes beside the Duwamish River that then still curved through Georgetown. Kopp and Hemrich produced Rainier beer in Washington until 1916, when the state of Washington enacted its own prohibition, four years before the 18th Amendment enacted the nationwide prohibition. Following the repeal of the Prohibition, the brewery was purchased by Lethbridge, Alberta brewers Fritz and Emil Sick, who then repurchased the Rainier brand and began brewing Rainier back in Seattle in 1935. Today, Pabst Brewing Co. brews Rainier Beer with a satisfying malty flavor over a slightly fruity background, spiced with Chinook, Mt. Hood, and Willamette hop notes.
Allegory Dad Hat Pils
5% ABV
Founded by David Sanguinetti and brewer Charlie Van Meter, Allegory Brewing makes a tremendous range of styles from lagers and IPAs to farmhouse, wild ales and fruited beers straight outta McMinnville, Oregon. A visiting German brewer from Allegory's brewhouse manufacturer wanted to brew a beer on their system, so Allegory jumped at the chance to make Dad Hat Pils. The classic and true German-style pilsner with all Weyermann malt and noble hops grabbed gold at the 2019 Best of Craft Awards in Bend, Oregon.
Baerlic Dad Beer!
5.6% ABV, 1 IBU
In 2014, then-homebrewers Ben Parsons, a graphic designer, and Richard Hall, who earned his paycheck as a bike mechanic, took their work-a-day approach to life and transplanted it into Baerlic Brewing, which means "of barley" in old English. Tucked onto Southeast 11th Avenue in Portland's Central Eastside, the "stubbornly independent brewery and taproom" Baerlic has thrived thanks to devoting a significant part of their taplist to lighter, crowd-pleasing lagers and pilsners. Their work-a-day approach has paid off: their Dad Beer! Grabbed bronze for Golden, Blonde And Other Light Ales at the 2020 Oregon Beer Awards. Brewed with flaked corn reminiscent of our great great granddad's favorite chuggin' beer from the 1880s this golden lager has more of a crushed corn flakes aroma than the corn syrup we all know too well. Mild traces of tangerine, hay, and dried flowers add to the aroma. The taste is similar to the classics, but much more pronounced. The corn flakes are dominant, but like a simple and healthy breakfast, it works. Some white rice like sweetness, some water crackers, a slash of orange, and a hint of floral hops finish it off. It finishes dry, but not too dry.
Rainy Daze Dad Jokes IPA
5.9% ABV. 30 IBU
Hey Rainy Daze Brewing founder and brewmaster Mike Montoney! Two guys walked into a bar. The third guy ducked. Hey Mike Montoney! What do you call a pudgy psychic? A four-chin teller. Hey Montoney! What did the police officer say to his belly-button? You're under a vest. Hey Mike! What do you call an IPA brewed with Cashmere and Ekuanot hops, then dry hopped with Comet and Azacca for tropical, citrus and hint of pine notes? A Dad Joke.
Pelican Father Of All Tsunamis
11.2% ABV, 55 IBU
When is a dad beer a father beer? When it's an imperial stout aged in rye whiskey barrels. "Father [Of All Tsunamis] was initially born when we imagined how fantastic it would be to age an imperial version of Tsunami Export Stout in whiskey barrels to create an incredible Imperial Stout," says Darron Welch, founding Pelican Brewing brewmaster, in pre-Father release hype. "Father offers a stout black color, dark chocolate, coffee-like roastiness combined with the inherent spiciness of the rye to make a pretty darn special beer." Indeed. Rich roasted malt aroma with notes of dark chocolate, vanilla, earthy rye, caramel, oak and whiskey hits before a wave of rich roasted malt, caramel, dark chocolate and vanilla. The Father storms until smooth and decadent earthy rye, oak and whiskey flavors go to bed.
---