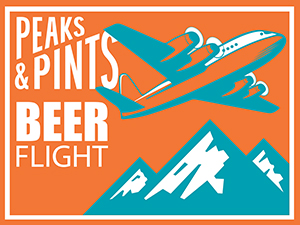 Today, Peaks and Pints offers a flight straight outta Corvallis, Oregon, that we call Craft Crosscut 3.5.20: Flight of Corvallis. Corvallis, Oregon, is a graceful, seductive, sophisticated and humane version of the platonic form of a small Northwest college town. It offers a kinder, gentler vision of hippie populism and liberal social planning: artsy trashcans covered in ivy, preserved frontier architecture, little cafes with outdoor seating and a general atmosphere of quaintly unified purpose. The idyllic little city of Corvallis, which sits snug against the Willamette River about an hour and a half south of Portland, is home to the state's agricultural college, which also has a respected fermentation-sciences program. Oregon State University's Fermentation Science program, one of just a handful in the nation, is a "hands-on" applied science addressing the use of microorganisms as processing agents in the production of alcoholic beverages. The college town is also home to some of the state's best breweries and cideries, include 2 towns Ciderhouse and Block 15 Brewing.
In late 2010, Corvallis homebrewers Aaron Sarnoff-Wood and Lee Larsen filled a gap in the college town's drinking scene — cider. The duo opened 2 Towns Ciderhouse crafting unique ciders brewed with the traditional English and French-style's tannic apples, Oregon grown, of course.
In early 2008, homebrewers Nick and Kristen Arzner opened Block 15 brewery and restaurant serving beers true-to-style with ingredients imported from different parts of the world, along with all the Willamette Valley produced grains, hops, fruits, herbs and yeast. The brewery's name hails from Corvallis' previous incarnation as Marysville and the old plat map location from the old town. Originally built in 1926 for the Gazette-Times newspaper, the original Block 15 building is blocks from both Oregon State University's campus and Corvallis' riverfront park. They have since opened a production facility down the road.
That's enough chatter; let's get to drinking a sampling from both Corvallis crafters.
Craft Crosscut 3.5.20: Flight of Corvallis
2 Towns Pacific Pineapple
5% ABV
2 Towns Ciderhouse's Pacific Pineapple explodes with intensely ripe, real golden pineapple character. The cidery works directly with a supplier in Costa Rica striving for the tastiest pineapple for a cider that isn't sugary sweet, then fresh-pressing it with Northwest apples.
2 Towns Serious Scrump
11% ABV
Scrumpy is a rustic, unfiltered, farm-based cider, typically made from ripe, fallen apples. To "scrump" is to steal, snag or swipe up apples from an orchard, although the term is used in a less gangsta way today. 2 Towns' version is deep, dry and rich with Hood River Apples blending together with Oregon blackberry honey and traditional English cider yeast to create a tart, floral, celebratory cider.
Block 15 Wild Porter
10.5% ABV
The pre-Industrial Revolution porter style was actually sour. Aged, or stale, beer was one of the components of porter, the style that evolved from the blended beers publicans dispensed in 18th-century London. Cheaper, fresh ale could be mixed to the drinker's requirements with more a costly, stale beer, which no doubt exhibited a degree of bacterial sourness and some Brett. A number of brewers today are resurrecting the historic profile in small batches, including Block 15. Their wild robust porter is brewed with English dark malts and matured in second-use bourbon barrels with Lactobacillus and Brettanomyces, blending soft acidity with a chocolaty and roasty malt base.
Block 15 A Nugg Hugg
7% ABV
A Nugg Hugg arrives via the Corvallis brewery's DAB Lab series ("DAB" in this case an acronym for dank-ass beer): a project showcasing its dedication to hop CO2 extracts and cryogenically harvested lupulin powder, a yellowish substance obtained from oil- and acid-rich glands on the hop flower. Explosively aromatic with sweetly dank bud, candied peaches, mango and spruce, its flavor blends subtle pineapple and peach with a not-so-subtle embrace of dank and fruity herbs, finishing with a lingering wave of resinous pine. 
Block 15 Sticky Hands
8.1% ABV, 110 IBU
Block 15's Sticky Hands double IPA is a "Hop Experience Ale" featuring ample additions of sticky, resinous, lupulin-packed hop buds grown in the Pacific Northwest. Sticky Hands begins with an aromatic blast of tropical fruits, citrus and dank herbs; transitions into luscious hop flavor; and ends with a balanced bitter finish, gently propped up by pale malted barley and fermented with Block 15's privately banked Brewers yeast.
Original photo courtesy of Greg Keene
---