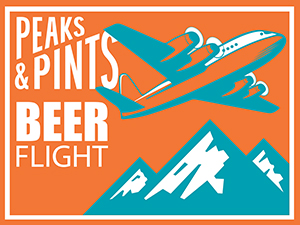 Art Larrance was no stranger to the Oregon craft beer scene when he established Cascade Brewing in 1998. He partnered with Brewmaster Ron Gansberg, who oversaw the design and installation of the Portland brewhouse. Together, they took their more than 40 years of combined brewing experience to create fantastic sour beers inspired by an abundance of Oregon fruit. Each of their beers is then aged on wine barrels from the Northwestern Oregon region. Cascade Brewing is a pioneer of the sour beer movement, with all the gold medals and world-class titles. Today, Peaks and Pints presents a flight of Cascade beers that we call Craft Beer Crosscut 3.8.20: Flight of Cascade Sours.
Craft Beer Crosscut 3.8.20: Flight of Cascade Sours
Cascade Tropical Grasslands
5.5% ABV
Tropical Grasslands is a gose-style ale aged in oak barrels for up to 10 months then infused with fresh orange zest, fresh lemongrass, ground coriander and Oregon Coast sea salt. "Tropical Grasslands is the first in a new series of canned sours that are designed to be crisp, easy-drinking sours with clean and complex flavors," explained Kevin Martin, director of brewery operations for Cascade Brewing, in a media releaser. "With soft acidity and fresh flavors, this canned series will be a great gateway sour for those new to sour beer, and will also appeal to the sour beer connoisseur looking for a softer approach to the style."
Cascade Midnight Bramble
6.6% ABV
Cascade's Midnight Bramble will delight sour beer fans with a blend of wheat and blonde ales that has been aged in oak wine barrels for up to 18 months with black and red raspberries, fresh ginger and thyme. This lengthy process results in a unique sour ale that offers carefully layered flavors of ripe bramble fruit with a refreshing ginger lift and soft notes of lavender and pine.
Cascade Pear Mary
7.1% ABV
Pear Mary features a blend of sour blond ales aged in oak wine barrels then naturally fermented with juice from Northwest-grown pears and infused with fresh rosemary. Aged for up to 18 months, this refreshing herbal beer offers notes of fresh pear, pine and ginger with a balanced acidity, soft fruit sweetness and champagne-like effervescence.
Cascade Chêne des Fous 2018
8.4% ABV
Made in collaboration with Burial Beer Company in Ashville, North Carolina, Chêne des Fous, pronounced "shen de-FOO," meaning "oak of the fools," is a blend of sour triple ales aged for up to 18 months in French oak barrels with dried sumac, fresh apricots and toasted American oak chains. Intense oak flavors are met with savory lemon and dried fruit notes from the sumac and a subtle stone fruit aroma.
Cascade Vlad The Imp Aler
10.3% ABV
Few names have cast more terror into the human heart than Dracula. The legendary vampire, created by author Bram Stoker in his 1897 novel of the same name, has inspired countless horror movies, television shows and other bloodcurdling tales of vampires. Though Dracula is a purely fictional creation, Stoker named his infamous character after a real person who happened to have a taste for blood: Vlad III, Prince of Wallachia or — as he is better known — Vlad the Imp Aler. The morbid nickname is a testament to the Wallachian prince's favorite way of dispensing with his enemies. Cascade's Vlad The Imp Aler is an imperial Northwest sour blend of strong blonde quads and tripels aged in oak and bourbon barrels, then further blended with spiced blondes and left to condition for an additional five months for sweet caramel malt with woody notes, light acidity, light cherry, and alcohol warmth.
---