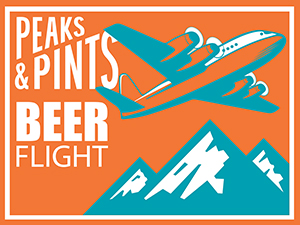 They have approached us all: The helpful mother or doting dad who deals Girl Scout cookies in the office. And we've all been the happy recipients of those colorful boxes of Thin Mints. Well, happy to tell you, but Peaks and Pints has been pushing Girl Scout cookies boxes too. Girls Scouts have been selling cookies to fund troop activities for more than a century now. We've been selling for a week — well, the ones we don't eat. Oh, Thin Mints. You're delicious, come with like 1,000 cookies in one box AND your crispiness is perfect for dunking into beer. Stouts and Cascadian dark ales are good for dunking Thin Mints. They have a bold enough flavor that balances well with the minty freshness of the Thin Mint. Not convinced? Give one (or, ahem, all five) of the combinations below a go. If nothing else, you're still drinking beer and eating cookies. Peaks and Pints pairs Thin Mints with five craft beers in what we call Craft Beer Crosscut 3.3.19: A Flight for Thin Mints.
Craft Beer Crosscut 3.3.19: A Flight for Thin Mints
Midnight Sun Son of Berserker
6.9% ABV, 20 IBU
Thin Mints are one of the top selling cookies in the world, and you might not even know that they're actually vegan. The world-famous cookies are pretty straightforward: crisp, chocolaty wafers, covered in a thin layer of dark chocolate made with all natural peppermint oil. When pairing Thin Mints with a craft beer, head to the highest point in the United States, the untamed tundra of Anchorage, Alaska, and you will find Midnight Sun Brewing Company. Since their kettles fired up in 1995, this brewery and brewpub has been warming the good folks who braved that last frontier with their multitude of year-round, seasonal and specialty brews. Its Son of Berserker is a small stout — a second running, usually called "small beer," of Berserker Imperial Stout. This beer displays its complexity from the first sniff; it is a cornucopia of bittersweet chocolate, dark roast coffee, roast malt, caramel, black cherries, plums, figs and a light resiny hop aroma. The flavor follows suit, although the maple syrup and molasses are not overtly noticeable, they do add an additional layer of richness and depth to an already complex beer. Thin Mints — the round, mint-flavored cookies with a chocolate coating — really accentuate the chocolate, roast malt and molasses notes from this stout. And taming a Son of Berserker might earn you a badge.
Top Rung My Dog Scout Stout
6% ABV, 30 IBU
Named after Top Rung Brewing head brewer Jason Stoltz' black lab, Scout, this puppy grabbed gold in the American Stout category of the 2015 Washington Beer Awards. Chocolate and coffee jump out of the glass. Deceptively smooth and black as the night, My Dog Scout Stout is an easy sipper due to the eight different malts used in the brewing process. Thin Mints, frequently crowned the best selling of the Girl Scout cookies, matches well with the chocolate and coffee notes. The mint lingers in your mouth. You get the mint up front and a smooth finish.
Ninkasi Vanilla Oatis
5.5% ABV, 37 IBU
Think of this pairing as the grown up version of milk and cookies. The thick, chocolatey body and sweetness of Ninkasi Brewing's Flagship Series Vanilla Oatis oatmeal stout harmonizes beautifully with the Thin Mints chocolate cookie. Among Vanilla Oatis' varied and complex aromas, we note charred marshmallows, chocolate milk, and a whiff of sunscreen. There was also the scent of a Black Russian cocktail in this boozy beer. With a good amount of vanilla up front, Vanilla Oatis has a silky smooth mouthfeel and some meatiness to it, as well as flavors that brought to mind a campfire. The mint gives the experience a touch of brightness.
Deschutes Obsidian Stout
6.4% ABV, 55 IBU
We're such big fans of Deschutes Brewery's barrel-aged goodness that's it's sometime easy to forget that the brewery also makes one of the best American-style stouts in the world — a stout as black as the nearby volcanic flow from which it is named. Big on roast, Obsidian Stout's flavor flows toward a sharp coffee and chocolate with just enough hop bite from Delta, Nugget, Bravo and Northern Brewer to cut the sweetness. Roasted malt and barley give it a full, toasty finish. You'll likely find yourself reaching for a second sleeve of Thin Mints in record time.
Barley Brown's Chaos
10.3% ABV, 100 IBU
Barley Brown's Brew Pub seems to fly under the radar even though it has been operating since 1998 and winning awards at major competitions since 2006, including five medals and small brewery of the year at the 2013 Great American Beer Festival. Perhaps it's the remote location in Baker City, Oregon. It's certainly not its delicious hop bombs; Barley Brown's IPAs, IIPAs and IIIPAs are some of the best in the nation. The brewery's imperial Cascadian Dark Ale, Chaos, was originally one of its original beers. With more than 12 pounds of Northwest hops crammed into each barrel, Chaos hits with roasted character, then molasses, which fades to a piney hop bitterness that's rather potent. The crisp mint and chocolate notes of Thin Mints round out this hop-forward dark beer.
---