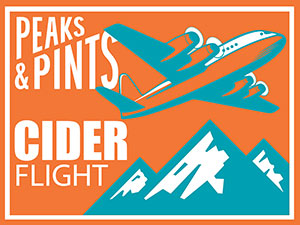 Hard cider, when done right, can be as good as beer or wine. Better even. Think about what we're working with here. Beer starts as starchy water. Wine starts as grape juice. Hard cider starts as apple juice. There are 7,000-plus apple varieties to choose from in various colors, shapes, and flavor profiles. Further, apples thrive across America. Cider was one of the most popular drinks in America from colonial times to the 20th century. In 1920, the 18th Amendment went into effect, Prohibition started, and cider was cast to the margins of drinking culture until the first half of this decade. The changing palates of American drinkers, forever altered by the craft beer revolution, has proved to be a fertile ground for cider makers as well. The current gluten-free movement has also helped drive cider consumption as more Americans monitor their menus. Whether cider will stay on its double-digit growth is entirely up to fickle consumers. In 1978 there were 83 breweries left in America and disco was ruling the airwaves; who could have predicted that 40 years later there would be over 7,000 breweries and skinny jeans would rule the runway? Enough chatter; let's get to drinking. Enjoy Peaks and Pints Monday Cider Flight 3.4.19: Variety.
Peaks and Pints Monday Cider Flight 3.4.19: Variety
Finnriver Oak & Apple
6.5% ABV
A select blend of Certified Organic Washington apples from the Yakima Valley is fermented in stainless steel tanks at low temperatures to capture the full ester profile of the apples. Once fermentation is complete, this cider is then aged for 12 to 16 weeks in rye whiskey barrels from High West Distillery in Park City, Utah. The 2017 Good Food Awards winning Finnriver Oak & Apple has bright citrus with a smooth whiskey depth and spicy rye spirit. Woody astringency balances the acidity, and then finishes with lovely toasted oak and vanilla notes.
Tieton Cider Lavender Honey
6.5% ABV
In 2008, Craig Campbell and his wife, Sharon, began experimenting with making cider from dessert apples grown in their 400-acre commercial fruit orchards. Despite naysayers who warned that cider apples required a maritime climate, Craig also planted a two-acre test orchard with 25 varieties of cider apples. Today, their two-acre experiment expanded into Cider View, a 30-acre "high-density" cider orchard. In their commercial cidery, Tieton Cider Works, they blend American heritage, English and French cider varietals with dessert apples to capture the best of what each variety brings to the bottle: sweetness, acidity, tannin and aroma. Their spring-seasonal, Lavender Honey Cider, is a first in a series of selections that will be part of Tieton Cider Works' seasonal draft offerings. Lavender Honey is made with locally sourced honey and whole lavender buds. The lavender in this cider is slight but it's there and the honey gives it a great mouthfeel and balance.
Fierce County Gin Gin Cran
6.5% ABV
John and Tolena Thorburn adore craft beer. For 15 years they traveled the world drinking it. But, an oversaturated market lead them to cider. Learning and enjoying the varying styles and flavors unique to each brewer and set of ingredients, the Thorburns applied that experience to years of homebrewing and cidermaking. In 2017, Fierce County Cider launched its first commercial operating space in a 97-square foot ciderhouse in Puyallup. The ciderhouse is built for efficiency, utilizing the latest brewing technology and equipment to allow lead cidermaker Tolena to create "fiercely" ciders, including Gin Gin Cran. The nano cidery's second release, Gin Gin Cran is a light, semi-sweet cider with just a touch of tartness from the cranberry, balanced perfectly with fresh ginger flavor.
Bad Granny Rainier Cherry
7.2% ABV
Julie and Bret Pittsinger opened Karma Vineyards in the fall of 2007, creating the first traditional style champagne in Chelan County, Washington. As the brand grew the Pittsingers saw an opportunity to partner with his long-term relationships of apple growers in the area that he's cultivated over several decades. The chemistry between the quality of apple and the knowledge of the traditional French champagne method, created a unique hard cider and Bad Granny Hard Cider was born. Pacific Northwest juicy Rainier cherries impart subtle notes of sweetness to this bright and perfectly balanced cider.
Cockrell Colonial Winter
9.5% ABV
Cockrell Hard Cider in Puyallup's Colonial Winter is a New England Style cider produced with brown sugar and raisins for a medium-bodied winter warmer on the sweeter side of semi-dry. The carbonation is low to style with notes of caramel, brown sugar, baked apple, raisins, orange, a hint of oak, tannins and bitterness. Expect a long, warming acidic finish.
---