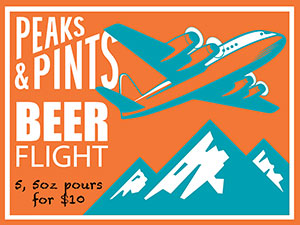 Not long ago Tacoma was tough and dirty — a hard-living town former mayor Harold Moss likened to war-torn Beirut. True, we still hold onto parts of our past edginess, and our working class mentality. But, in reality, Tacoma has grown into a town with a budding arts community, vibrant restaurant scene and modern businesses. Throughout the change and growth a common thread has stayed true for Tacoma's history — how T-town relates to its beer. As far back as when Job Carr stirred wort alongside the banks of Commencement Bay in 1865 to the earliest laborers frequenting after-work saloons in the 1890s to the artisan breweries popping up today, our city has had a love affair with beer. It is only natural that with a mix of working class Scandinavians, Austria/Hungarians and Germans that someone (if not everyone) would be mixing their own homebrew. In pre-prohibition Tacoma, the brewery district housed Heidelberg, Milwaukee and Pacific Brewing and Malting companies. Today, we have new local favorites such as the craft breweries in today's beer flight, creating flavorful brews and bringing beer pride to the City of Destiny. Tacoma and beer: they go together, especially Craft Beer Crosscut 3.22.18: A Flight of Tacoma Beer.
Odd Otter James' Lack of Passion Fruit Berliner Weisse
4.4% ABV, 9 IBU
Because nearly any kind of fruit can be added to almost any style of beer, probably the most natural relationship is between fruit and a sour or tart beer, such as a Berliner weisse. Because fruit is naturally acidic and lower in pH, and this style is by definition as well, the execution is often glorious, such as Odd Otter Brewing Co.'s James' Lack of Passion Fruit Berliner Weisse. The wheat base combines with the attributes of souring and sweet passionfruit leaving an effervescent, easy-drinking tartness yet still manages to be complex on the tongue.
Narrows Bridge To Tomorrow Hazy IPA V5
6.6% ABV, 40 IBU
There a buzz of excitement at Narrows Brewing Co. Young buck brewer Matt Rhodes — formerly with Stone Distributing and King Harbor Brewing out of Redondo Beach, California — is letting his freak flag fly, injecting new recipes into the brewery on pilings along the Narrows Waterway. First, his delicious Porter turned heads. Now, his Bridge to Tomorrow IPA series is popping heads clean off. His Bridge to Tomorrow Hazy IPA V5 is super juicy up front with a dry, hoppy finish.
Pacific Potomac Citra Pale
6% ABV, 42 IBU
Pacific Brewing & Malting Co. co-owner and head brewer Steve Navarro never intended to brew his popular Potomac Citra Pale when the brewery opened in late 2014, but when he asked his Yakima hop supplier what they had in special, the supplier said, "Well, I'm not suppose to give this out … but we have 22 pounds of Citra hops available. Bam! Navarro's planned four flagship craft beer repertoire became five. Potomac Citra Pale is a medium bodied single hop beer showcasing Citra hops with strong citrus and tropical tones of grapefruit, melon, lime and passionfruit.
7 Seas Cascadian Dark Ale
7% ABV, 65 IBU
Mike Runion and his business partner and brewmaster Travis Guterson took their beloved 7 Seas Brewing back to the future in August 2016. From their humble beginnings in 2008, to the 2009 fire relocation, to the 11,000-square-foot-building in downtown Gig Harbor, demand for their craft beers forced the duo to constantly think bigger. Aug. 10, 2017, they went huge opening an 80,000-square-foot new brewery and taproom in a downtown Tacoma building where Heidelberg Brewery previously bottled and shipped its beer. Heidelberg didn't brew a Cascadian Dark Ale, but 7 Seas did. 7 Seas CDA is brewed with de-husked black malt, caramel malt, and generously hopped with Columbus, Centennial and Amarillo for layers of hop character nicely balanced by a hint of roast and a smooth lingering finish.
Harmon Hops of March
6.7 ABV, 100+ IBU
It's March … meaning Madness is in the air. Sixty-four well-oiled competitors (for the most part) are working their way through the tediously constructed bracket and toward ultimate supremacy. Riding the wave of enthusiasm of the college hoops tourney, Harmon Brewing Co. has, once again, released his Hops of March IPA. Every March, Harmon releases this hoppy IPA, but rotates the hops. This year expect Magnum, Amarillo, Hallertau, Mandarina Bavaria, Cascade, Citra and Galaxy. Nothing but the bottom of the pint, baby!
---