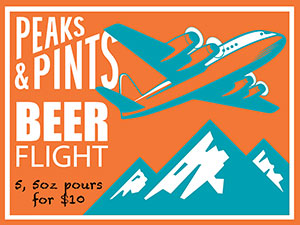 The Russian Imperial Stout originated in England as an export to the Baltic states and Russia, takes its name from its popularity with the Romanov Imperial Court and inspired Peaks and Pints' beer flight Craft Beer Crosscut 3.23.18: A Flight of Collusion No Collusion? Russian Imperial Stout.
There are tales of Peter the Great, the Russian Tsar who traveled to England in 1689 and said to have fallen in love with strong British porter, which is weird since the style didn't truly exist for another 30-plus years. Whatever. Peter the Great likely did have some influence on the origination of Russian imperial stouts as his modernization of the Russian economy allowed for the importation of British goods, which included beer. In 1729, Ralph Thrale purchased Anchor Brewery of Southwark, London, and brewed the first Russian imperial stout, exporting the beer to Russia. The stout became significantly more famous, however, after Barclay Perkins & Co. purchased the Anchor Brewery from Thrale's widow in 1781. The taste of the Russian court and ruler Catherine the Great for the stout was a thing. Barclay Perkins Co. continued manufacturing the beer until 1955, when they merged with the nearby Courage Brewery. After that, production of the "original" stout continued as the classic Courage Imperial Russian Stout until 1993, when it was retired.
In 2014, Russian imperial stout drinking Russians at the Internet Research Agency started gathering American followers in online groups focused on issues like religion and immigration. Around mid-2015, said Russian imperial stout drinking Russians began buying digital ads to spread their messages. A year later, they tapped their followers to help organize political rallies across the United States. February 2018, the Justice Department charges 13 Russians and three companies for executing a scheme to subvert the 2016 election and support Donald J. Trump's presidential campaign. In a 37-page indictment, officials detailed how the Russians repeatedly turned to Facebook, Instagram and Russian imperial stouts, often using stolen identities to pose as Americans, to sow discord among the electorate by creating Facebook groups, distributing divisive ads and posting images of Russian imperial stout bottles.
Today, President Trump celebrates the House Intelligence Committee's decision to end its Russia investigation, highlighting the committee's findings of no collusion between Russia and his 2016 campaign and of malfeasance on the part of the Obama administration. No doubt Trump will celebrate with a pint of Russian Imperial Stout, which is richer and bolder in maltiness than the more common stout. Russian imperial stouts can be quite intense, with varying amounts of roastedness and sweetness. A lingering malty finish that is warm with port-like qualities and 7-12 percent alcohol also characterize the beer style.
By the way, a Senate Intelligence Committee investigation remains underway, as does the Justice Department probe being conducted by special counsel Robert Mueller. Collusion, or no collusion, Russian imperial stouts make up Peaks and Pints beer flight of the day.
Backwoods The Stumbler
12% ABV, 35 IBU
Up in the Columbia River Gorge, Backwoods Brewing Company has released a new bourbon barrel-aged stout called "The Stumbler," a Russian Imperial Stout aged in Heaven Hills bourbon barrels for 18 months, the longest barrel aging for Backwoods. Not to be confused with their Imperial Honey IPA, the Bumbler, The Stumbler sports four different malts, including roasted barley and chocolate malt, for notes of vanilla, charred oak and brown sugar, followed by a light smokiness.
Two Beers Fall Line Russian Imperial Stout
12% ABV, 50 IBU
Two Beers Brewing Company re-released its award-winning Fall Line Russian Imperial Stout, part of the brewery's popular Alta Series. A style born out of the cold north and the Russian courts desire for rich, toasty brews, Fall Line Russian Imperial Stout is brewed with a bunch of grains — 2 Row, raw barley, Black malt, Chocolate malt, Crystal malt, Vienna malt, Molasses malt, oats, roasted barley, rye and wheat — hopped with Magnum and Nugget, then aged in brandy barrels for six months, emerging with a deep, multilayered beer, its thick, smooth body carries immense, complex flavors of coffee, plums, chocolate, vanilla and highland peat under a deep milk-chocolate creamy head.
Elysian The Fix
8.9% ABV, 55 IBU
Originally a collaboration with the Scots at Brewdog in 2013, The Fix is a big and bold Russian imperial stout that is also just as much of a chocolate beer as it is a coffee beer. The Fix also may be the most caffeinated brew on the market, brewed with 9 pounds of Stumptown Coffee Cold Brew, or the equivalent of a half-cup of coffee in every bottle. Elysian then aged the stout on 3,000 pounds of Congolese cocoa nibs from Seattle-based Theo Chocolate. It's an intensely dark and rich beer.
North Coast Old Rasputin
9% ABV, 75 IBU
According to legend, it took copious amounts of poison, three gunshots, a beating and a drowning to take down Grigori Rasputin. Fortunately, North Coast Brewing's Old Rasputin Russian Imperial Stout is more refined than its namesake and easier to drink than most of the imperials we've come across. Old Rasputin is a giant beer, true to style, with an alcohol content of nine percent by volume and a huge hop bitterness of about 85 to 95 IBUs, thanks to Northern Brewer, Cluster and Centennial hops. Black as night and tasting of dark roasted malts and bitter chocolate, this is a complex, strong beer, both in flavor and alcohol content. Though slightly astringent, Old Rasputin finishes clean and refreshing.
Destihl Dosvidanya
12.5% ABV, 84 IBU
Like a Russian Matryoshka or "nesting' doll," the secret of Dosvidanya Russian imperial stout lies locked deep within her mysterious and elaborate wooden layers. The hidden soul of this oak bourbon barrel-aged beer that Destihl Brewery said "Dosvidanya" ("goodbye") to several months before revealing, is its rich flavors like dark chocolate, toffee, black cherries and coffee along with robust and roasty maltiness that finishes dry. Expect aromas and flavors of roasted malt, alcohol, oak, bourbon and chocolate.
---