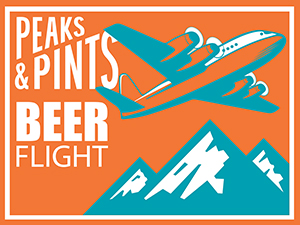 Go bananas today with craft beer to celebrate National Banana Cream Pie Day. Who made that designation is unclear, according to the website daysoftheyear.com. The major banana companies Chiquita and Dole are noncommittal about the day on their websites. Maybe for them, every day is banana day. But knowing that somewhere someone arbitrarily picked March 2 as National Banana Cream Pie Day was cause enough for Peaks and Pints to give the fruit its due by creating a beer flight of banana flavors. Yes, hefeweizens rule this beer flight as the top-fermenting Bavarian yeast Torulaspora delbrueckii, which German brewers refers to as the "proper" hefeweizen yeast, produces phenols and esters that impart the banana, bubblegum and clove flavors. WLP300 yeast is also used in the production of traditional, authentic hefeweizen. It produces a high level of isoamyl acetate, giving the resulting beer notes of banana. We also threw in a couple saisons with banana notes. Let the peelings slip where they may, and enjoy Craft Beer Crosscut 3.2.19: A Flight of Banana. 
Craft Beer Crosscut 3.2.19: A Flight of Banana
Occidental Hefeweizen
4.7% ABV, 4 IBU
The German Beer Purity Law — Reinheitsgebot — is two years past its quincentennial: 500 years of absolutely nothing but barley (or wheat), hops, water and yeast. Not so much as a spruce tip or cacao nib may defile anything called "beer." Occidental Brewing's brewmaster Dan Engler mostly brews beers in the spirit (if not the letter) of the Reinheitsgebot. Opening in 2011 in Portland's St. Johns neighborhood, Occidental makes some of the best German-style beers in the Northwest, including their authentic Bavarian Hefeweizen. It's hefeweizen makes one want to throw on a pair of lederhosen over your flannel. If you like wheat beer — heck, even if you hate it — you must try this sweet, banana- and clove-scented hefeweizen.
Silver City Bavarian-Style Hefeweizen
5.4% ABV, 15 IBU
Silver City Bavarian Hefeweizen is a lovely hefeweizen with all the fruity-yeasty character that one looks for in an unfiltered wheat beer. The flavors are not overly thick like some unfiltered wheats. Rather, firm accents of banana and cloves — plus slight vanilla — remain in the background. Its bubbly and crisp mouthfeel lightens those flavors somewhat and really brings out its light and refreshing qualities. So, yes, it offers banana, but light. It's fruity, but not sweet. And the bubblegum just barely makes an appearance.
Wells Banana Bread Beer
5.2% ABV, 18 IBU
In 2006, Charles Wells and Young's of London merged to become Wells & Young's Brewing Company and all brewing was moved to Bedford, England. In 2015, the brewery was renamed to Charles Wells. The brewery's Banana Bread Beer smells like bananas. Seriously. In fact, Banana Bread Beer not only smells like bananas, but tastes like bananas, too, and not the artificial banana of bubble gum. The flavor is nicely balanced with the hops, the banana component more a whisper than a shout. The whole thing was a little sweet, but not in a disagreeable way.
Delirium Tremens
8.5% ABV, 26 IBU
Delirium Tremens debuted Dec. 26, 1988, more than 80 years after Huyghe Brewery's founding. Although it wasn't Huyghe Brewery's first beer, Delirium Tremens remains its flagship. According to legend, a tax collector felt himself gradually slipping into a state of unexpected drunkenness when he came up with the name, "Delirium." Whether he saw pink elephants remains unknown. Delirium Tremens is one of the most popular Belgian beers, and for good reason. Its signature pink elephant logo and ceramic bottles have helped it become incredibly recognizable. The medium-bodied Belgian golden ale exhibits apple and pear aromas at the nose, and features banana, fruit, spice, and wheat flavors.
Boulevard Tank 7 Farmhouse Ale
8.5% ABV, 38 IBU
Saisons are floaty, bubbly and can make you feel all sunny on the inside. It's a worthy stepping-stone into more intense beers. Boulevard's saison Tank 7 is a liquid masterpiece. Black pepper and orange zest are set on a backbone of cracker and Italian bread crust malt flavors. Citrus and banana notes derive from both the yeast and the hops. Fully attenuated, this beer has very little residual sugars remaining and thus allows the beer to finish crisp, very dry and clean.
---