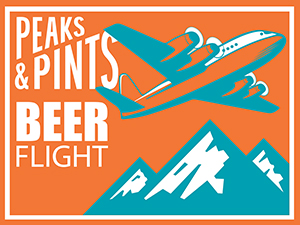 Tonight, sales executives for 21st Amendment Brewery and No-Li Brewhouse will bring their passion to Peaks and Pints when they host "80's Rock Lip Sync Battle" from 6-9 p.m. In addition to tapping their craft beers, the two will perform their favorite lip sync routines in between sets of Peaks and Pints guests performing his or her favorites for major awards. That's all fine and dandy, but even more important is the fact that Peaks and Pints will pour several of the two brewery's craft beer. In fact, we can't wait until the 6 p.m. start. Enjoy an all day flight that we call Craft Beer Crosscut 3.14.19: A Flight of 21st Amendment and No-Li.
Craft Beer Crosscut 3.14.19: A Flight of 21st Amendment and No-Li
21st Amendment Hell or High Watermelon
4.9% ABV, 17 IBU
"Like Lady Liberty, we stand for independence and perseverance. In the pursuit of innovative beer, there is no obstacle too great. No journey too long. No fruit too gigantic." So states 21st Amendment's hype for Hell or High Watermelon. A seasonal fruit beer with a wheat base, Hell or High Watermelon is hazy and bright yellow in color — almost the color of melted butter and lemon peel. Tiny bubbles fly throughout the glass, which is topped with a fine, white head. The name definitely matches this beer's aroma — fresh, pickled and candy watermelon came through on the nose as well as in the flavor, with the slightest bit of sourness.
No-Li Big Juicy
6.15% ABV, 55 IBU
At 55 IBUs and 6.15 percent ABV, Big Juicy is practically sessionable compared to traditional West Coast IPAs. Featuring the nectarous symphony of Citra, El Dorado, Azacca and Belma Hops, Big Juicy is just dripping with citrus and tropical flavors. Belma? Indeed — one of the newest varieties punches up the flavor with sweet orange, nectarous pineapple and rare hints of vine-ripe strawberries. Azacca represent with a tropical storm of spicy mango and juicy tangerine, adding in a touch of piney bitter. El Dorado and Citra push the nose to fruity extremes.
21st Amendment Tasty IPA
6.8% ABV, 70 IBU
21st Amendment Brewery collaborated with legendary homebrewer Mike "Tasty" McDole to create a tasty IPA, called Tasty IPA, aggressively hopped with Citra, Mosaic lupulin powder and Ekuanot hop pellets. For the uninitiated, lupulin powder is made from the heart of the hop, where the hop resins and oils reside. Tasty IPA sports bright, fresh flavors and aromas of tropical stone fruits and pine, with a hint of spiciness. The beer's distinctive label art was drawn by Tasty's son, Mark McDole.
21st Amendment Brew Free! Or Die IPA (Blood Orange)
7% ABV, 70 IBU
Fruit forward beers across the board have been a very popular seller for 21st Amendment. After the breakaway success of Hell or High Watermelon Wheat beer, brewmaster Shaun O'Sullivan decided to go the blood orange route with Brew Free! Or Die. Ever since O'Sullivan first introduced Brew Free! Or Die to the beer festival circuit, there has been a palpable buzz from patrons who can't get enough of the citrusy combo of Citra hops and orange. It hits the nose with strong orange, with notes of pine and fragrant ale malts. The taste is medium bitter, but sweetened by strong orange and subtle pine.
No-Li Wrecking Ball
9.5% ABV, 100 IBU
In 2012, No-Li introduced the Wrecking Ball Imperial Stout, and the name alone should be an indication that this beer is here to make a statement. Ignoring the 9.5% ABV, the statement is balance. Inky black with five types of dark, roasted malt the complex flavor of coffee, chocolate and brown sugar is balanced with two large hop additions to prevent the dark malt from totally dominating this monster of a beer. It's sweet enough to accompany a rich dessert and packs enough punch to help you wind down.
---