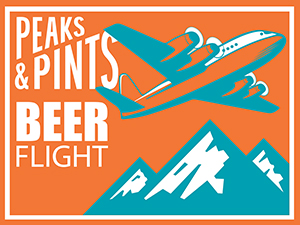 Yes, the iconic drive-in movie theater and miniature golf restaurant are long gone, but, thankfully, craft breweries are now a focal point for tourism for Clark County's largest city, Vancouver, Washington. That's right. Oregon may have Beervana, but Clark County has Brewcouver. A mere five years ago, beer enthusiasts of the 'Couve had only two or three local breweries to visit, including Heathen Brewing, Loowit Brewing and your buddy Ted's shed in Hazel Dell. Now, Clark County hosts 22 breweries, including the five in Peaks and Pints beer flight today, Craft Beer Crosscut 3.13.19: A Flight of Clark County.
Craft Beer Crosscut 3.13.19: A Flight of Clark County
Loowit Bridge City Sinners Black Lemon Lager
5.5% ABV
In 2012, longtime friends Devon Bray and Thomas Poffenroth opened Loowit Brewing Company in downtown Vancouver, Washington, helping revive the city and quickly became a force in the Southwest Washington beer scene. Loowit's light lager is dried out with Amylese enzyme, infused with Northwest blackberry puree and zested lemon for a dry, crisp lager with a berry nose and a sweet lemon finish.
Barrel Mountain Winch It Out Imperial Stout
9.5% ABV

When you think of mountain cabins, many things come to mind: wood, saws, wood, ski hardware, wood, canoe oars and wood. In Battle Ground, Washington, there's a mountain cabin motif brewery with all that goodness, plus a chair made of ropes, metal siding and a bit of Kentucky shabby chic. Not only did Barrel Mountain Brewing owner Troy Steigman bring the outdoors indoors to a former Laundromat, but he also added a scratch kitchen, well-equipped brewery and hired brewer Ryan Pearson, formerly of Green Flash and La Quinta in Southern California. The beers reflect the expertise Pearson brings to the table, with a variety of well-made styles, including his dark, creamy and viscous Winch It Out Imperial Stout. Expect espresso to consume the nose followed by flavors of bittersweet chocolate with roasted finish.
Brothers Cascadia Devil Wears Strata
6.5% ABV
Brothers Cascadia Brewing is helmed by Sherman Gore, head brewer Jason Bos and Richard Tiffany. Gore and Bos previously worked together at Laurelwood Brewing. The Hazel Dell, Washington brewery specializes in classic and experimental IPAs and clean lagers. Brothers Cascadia brewed another delicious hazy IPA, this time without oat, but rather pilsner malt and wheat for a less chewy version. The brewery also added bittering hops for balance. Lastly, they dry hopped the crap out of it with Strata and Cashmere for big, fruity and juicy aromas.
Trap Door Interiority
11.5% ABV
Trap Door Brewing sits in downtown Vancouver, across from the city's busiest dispensary, and right next door to a food-cart pod. Know for brewing delicious hazy IPAs and a terrific pilsner, their Interiority imperial stout is darn tasty after its aged in Westward whiskey and rum barrels. It sports a big boozy nose — rum and dark malts. The booziness continues on the tongue with some sweet rum adding a coconut flavor, plus roast, licorice and light boozy whiskey.
Heathen Bourbon Barrel Aged Epitaph
12% ABV, 92 IBU
Sunny Parsons founded Heathen Brewing in 2012 in a converted barn near his home in Vancouver. Feral Public House, a 2,000-square-foot restaurant, opened three years later. Then, in October 2016, Heathen acquired a 20-acre vineyard in Brush Prairie. It opened the following April. The brewery's Bourbon Barrel Aged Epitaph, Russian imperial stout aged in wet bourbon barrels for several months for strong notes of bourbon, black licorice, vanilla, toffee, and subtle roasted coffee.
---