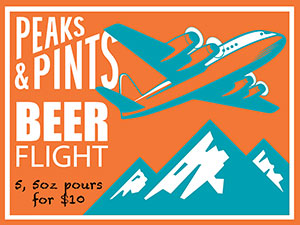 India Pale Ales emerged in the 1700s when British brewers found a market for hoppy beers in India and territories of the British Empire. The American spin on IPAs began to capture widespread appeal in the U.S. by the late 1990s. Those early versions in the craft beer movement often focused on sharp citrus and pine flavors. They were intentionally unbalanced and sometimes unabashedly bitter. More recent trends favor hops with a range of fruity, tropical and juicy flavors resembling orange, tangerine, lemon and sometimes even grape, strawberry and mango. Today, Peaks and Pints presents a flight of old school IPAs we call Craft Beer Crosscut 3.13.18: A Flight of Old School IPAs. Yes, we talking bold, hop-forward IPAs straight from the forests of the Pacific Northwest, with pine and citrus aromas. Pine/Piney flavors are most commonly found in IPAs brewed with high amounts of American hops. Many American hop varieties have some pine character to them, such as Cascade hops, which can produce a nice mix of pine, grapefruit and citrus flavors. For bolder flavors of pine, look for IPAs brewed with Simcoe, Chinook or a combination of both hops.
Revision IPA
6.5% ABV, 50 IBU
In 2015, Jeremy Warren left everyone knee deep in tears when he departed the brewery he founded, Knee Deep Brewing Co. In March 2017, he opened Revision Brewing Company in Sparks, Nevada, laving everyone knee deep in hops. He began pounding taste buds with his lupulin-laden creations once again, including his IPA, which is crystal clear and bursting with old-school, dank and Northwest hops, including Simcoe laying the foundation with tropical citrus, orange and pine flavors melding seamlessly. There are callbacks to the last decade, but an appreciative nod to today in the way the hops come together.
Two Beers Proctor Peaks IPA
6.7% ABV, 60 IBU
In the past four to five years there's been a lot of interest in adding crazy fruity and juicy hops to IPAs. Peaks and Pints desired a house IPA based on citrus, pine and bitterness that's more common to IPAs of a decade ago. Two Beers Brewing Co. — a Seattle brewery with one foot planted in the woods, just like Peaks and Pints — allowed the Tacoma bottle shop and taproom to collaborate on an old school IPA. Named after Tacoma's Proctor District, where Peaks and Pints resides, Proctor Peaks IPA's hop bill features Warrior, Chinook, Columbus and Simcoe hops with kettle and dry hop additions. It has clear, copper coloring, because that's a thing, with pine (naturally) flavor and dank on the nose.
Block 15 A Nugg Hugg
7% ABV
Block 15 Brewing's A Nugg Hugg arrives via the Corvallis brewery's DAB Lab series ("DAB" in this case an acronym for dank-ass beer): a project showcasing its dedication to hop CO2 extracts and cryogenically harvested lupulin powder, a yellowish substance obtained from oil- and acid-rich glands on the hop flower. Explosively aromatic with sweetly dank bud, candied peaches, mango and spruce, its flavor blends subtle pineapple and peach with a not-so-subtle embrace of dank and fruity herbs, finishing with a lingering wave of resinous pine.
Ecliptic Orbiter
7.4% ABV, 75 IBU
In 2015, famed Ecliptic Brewing brewer John Harris launched Orbiter IPA replacing previous flagship Arctus IPA. Orbiter united a constellation of "C" hops — Cascade, Centennial, Chinook, and Columbus — to create a formidable India Pale Ale with pine resin qualities and a healthy dose of grapefruit-like characteristics. It's malty backbone stayed out of the way of the starring hops. It's an old school, Northwest-style IPA.
Rooftop Stargazer IPA
6.8% ABV, 76 IBU
Rooftop Brewing's flagship IPA, Stargazer, sports five different hop varieties sitting atop the roasty goodness of Victory malt. Darker than your average IPA, this medium bodied IPA hits the nose with earthy hop and pine, followed by notes of pine, caramel, toast, spicy citrus and a bit of grapefruit into the finish.
---