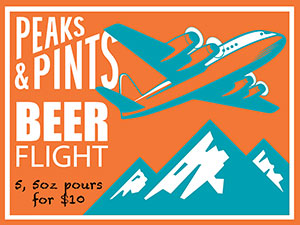 Although there's nothing official about it, it's traditional to say the March or vernal equinox signals the beginning of spring in the Northern Hemisphere and autumn in the Southern Hemisphere. This equinox does provide a hallmark for the sun's motion in our sky, marking that special moment when the sun crosses the celestial equator going from south to north. In the Northern Hemisphere, we're enjoying earlier sunrises, later sunsets, softer winds, sprouting plants. The 2018 vernal equinox arrives March 20. In the meantime, let's enjoy today's 70-degree weather with a beer flight, Craft Beer Crosscut 3.12.18: A Flight of Sun.
Block 15 Gloria!
5% ABV
"Sip. Shine. Be happy." That is the wish of Block 15 Brewing as you enjoy the Corvallis, Oregon brewery's pilsner Gloria! featuring a painted sun donning its 16-ounce can. A glory is an optical phenomenon that resembles an iconic saint's halo about the shadow of the observer's head, caused by light of the Sun or (more rarely) the Moon interacting with the tiny water droplets that make up mist or clouds. We're not sure if this pilsner was inspired by said phenomena, but we do know Magnum, Hallertau, Oregon-grown Mt. Hood and Czech Saaz hops impart citrus, grass and floral spice in this pilsner, while Czech Pilsner yeast finishes clean and refreshing. Packaged after four weeks of cold lagering, this snapshot in flavor and aroma will last for a couple weeks, when stored cold. With extended cold storage, Gloria! mellows out to further balance these lively hop and yeast notes with its intricate malt backbone.
Holy Mountain Solarian
5.1% ABV
In many cultures and religious systems, the sun is associated with masculinity, and male energy. As a result, a Solar Nonbinary Person, or Solarian, would be someone who has similarities in identity or experience with men. The term functions as a less easily abused form of "male aligned." So, gents, align yourself with a Holy Mountain Solarian — a saison brewed with Pilsner malt, spelt, flaked wheat flaked oats and Vienna malt. It's hopped with Brewers Gold, Vic Secret and Mandarina Bavaria then fermented with a house-mixed culture in one of the Seattle brewery's oak foudres, where it continued to age for 10 weeks. It was then dry-hopped with Hallertau Blanc and experimental hop 438 for aroma of oak, wild yeast and regular saison yeast. On the tongue, it's complex, with oak, wild yeast and some light bitterness.
Rooftop Stargazer IPA
6.8% ABV, 76 IBU
The sun lies at the heart of the solar system, where it is by far the largest object. It holds 99.8 percent of the solar system's mass and is roughly 109 times the diameter of the Earth — about one million Earths could fit inside the sun. Sungazing is the act of looking directly into the Sun. It is sometimes done as part of a spiritual or religious practice. The human eye is very sensitive, and prolonged exposure to direct sunlight can lead to solar retinopathy, pterygium, cataracts, and often blindness. Whatdosay we not look at our sun, but rather the other stars on the roof tonight … while drinking Rooftop Brewing's flagship IPA, Stargazer. Five different hop varieties sit atop the roasty goodness of Victory Malt. Darker than your average IPA, this medium bodied IPA is sweet and malty, with notes of caramel, toast, spicy citrus and a bit of grapefruit into the finish.
Ecliptic Starburst IPA
7.8% ABV, 75 IBU
The universe is filled with galaxies, which are themselves filled with stars. At some point in its life, each galaxy bristled with star formation. There were so many stars being born that their galaxies probably looked like cosmic fireworks bursts. Astronomers refer to these hotbeds of star birth as "starburst galaxies." John Harris' dream to make it easier to bring Ecliptic Brewing on stargazing treks into the mountains became real when he selected a counter pressure canning system from Codi Manufacturing out of Golden, Colorado. He selected his juicy Starburst IPA to lead off the aluminum charge. It was a can starburst into the market. The dry-hopped IPA explodes with Amarillo, Azacca, Centennial, Citra, Mosaic and Simcoe hops for fresh flavors of citrus, fruit and pine. Starburst is backed by 100 percent pale malt for a super clean finish and puts the focus on the hop flavors and aromas.
Midnight Sun Arctic Devil Barleywine
13.2% ABV, 20 IBU
The midnight sun is a natural phenomenon that occurs during summer in places south of the Antarctic Circle and north of the Arctic Circle. The earth is rotating at a tilted axis relative to the sun, and during the summer months the North Pole is angled toward our star. That's why, for several weeks, the sun never sets above the Arctic Circle. Midnight Sun Brewing began commercially producing ales and lagers for folks close to the Arctic Circle in 1995. Midnight Sun is the oldest brewery in Anchorage and the second oldest statewide. It's 13.5 percent Bourbon Barley-Aged Arctic Devil Barleywine made Men's Journal's list of the "12 Best Barleywines in the World," as well as No. 8 Best English Barleywine on BeerAdvocate. Cognac-drenched candied apricots, caramelized brown sugar and dark fruits are cellared for rich flavors, soft vanilla notes and malty booze.
---