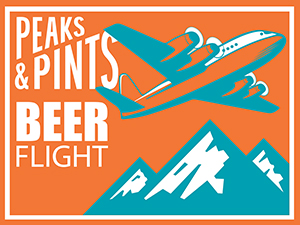 Happy National Milky Way Day! In 1923, Frank C. Mars created the Milky Way candy bar in Minneapolis, Minnesota. It was named after a malted milk that was popular during its release. It sold more than $800,000 in its first year. There are two versions of the Milky Way bar: in the United States, the bar is made of chocolate-malt nougat topped with caramel and covered in milk chocolate; global Milky Way bar, the Mars Bar, is more similar to the 3 Musketeers bar, with no caramel topping. Peaks and Pints leans more toward the U.S. version as we dig caramel — especially in our craft beer. Celebrate this important holiday at Peaks and Pints with our Craft Beer Crosscut 3.12.19: A Flight For National Milky Way Day.
Craft Beer Crosscut 3.12.19: A Flight For National Milky Way Day
Anderson Valley Boont Amber
5.8% ABV, 18 IBU
Anderson Valley Brewing's Boont Amber is our customer's go-to for highly drinkable amber. Boont Amber arrives a dark copper with a massive, pearly head. The aroma is clean and dry, like field grasses with subtle, sweet orange scents. The flavor is balanced and clean, with caramel, toffee, macadamia nuts and pecan that last long into the aftertaste. The hops lend both a citrus flavor and a moderate level of bitterness. Boont Amber's thin body goes down easy; the carbonation only slightly bites the sides of the cheeks.
Boulevard Chocolate Ale
9.1% ABV, 24 IBU
In 1989, believing that Kansas City was suffering from light-beer fatigue, John McDonald launched Boulevard Brewing Co. McDonald is a pioneer in creating a craft beer culture in Missouri and beyond, redefining American beer as Boulevard grew from a small-scale brewery to the largest in the Midwest. Boulevard's two top-selling flagship beers, Pale Ale and Unfiltered Wheat, were instrumental in developing a market in Kansas City for craft beer. In Kansas City, Missouri, Christopher Elbow has been handcrafting masterpieces in chocolate for more than 15 years. In developing Chocolate Ale, Elbow and Boulevard brewmaster Steven Pauwels harmonize the interplay of chocolate and malt. Valrhona chocolate from Dominican cacao nibs weaves between layers of honey, brown sugar, caramel and nutty malt, rounding into a luscious, lingering finish.
Pelican The Brewed Abides
7% ABV, 25 IBU
A few days ago, Peaks and Pints drank this milk stout from the teat at Pelican Brewing in Pacific City, Oregon. The Brewed Abides takes its inspiration from the classic White Russian cocktail, as well as The Dude imbibing it in the movie that made it famous, The Big Lebowski. This milk stout is brewed with Costa Rican coffee beans, cacao nibs, vanilla beans, pure coastal water, and pure ale yeast abiding in harmony to create intense, rich flavors with hints of coffee, caramel maltiness and a velvety mouthfeel.
Breakside Salted Caramel Stout
6.7% ABV, 28 IBU
Breakside Brewery's popular Salt & Straw collaboration is a deliciously dessert-worthy beer. Made with specially made caramel and a pinch of sea salt, this is a delicately balanced ale that pre-dates many of today's cloying monstrosities, offering a full-bodied roast, and leaning on the salt to invite you back for more. A creamy mouthfeel carries roasted marshmallow flavors, sweet caramel and just a hint of salt in the finish. After a few sips, its flavor profile falls somewhere between caramel brittle and salted caramel ice cream.
Omnipollo Noa Pecan Mud Cake
12% ABV
As a child Omnipollo's head brewer wanted to be a pastry chef. He found his inspiration for Noa Pecan Mud Cake in the celebrated American dessert. Thick, rich and excessively decadent, this imperial aims to bring back childhood memories. Noa Pecan Mud Cake pours a dark, velvety black with a creamy mahogany-colored head. The bouquet gives an immediate hit of caramelized pecan followed by chocolate and toasted marshmallow scents. This luxurious beer is the amalgamation of a rich, fudgy brownie, toasted pecans and s'mores. Thick and chewy in texture, a massive chocolate overtone is enhanced by underlying notes of graham cracker, lightly toasted marshmallow and caramel.
---