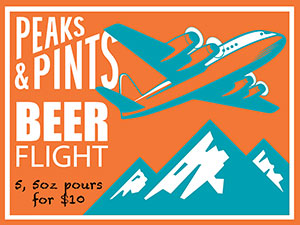 Wow, seems like just yesterday Three Magnets Brewing Co. was a newborn brewery, entering our lives. There may be some newer kids on the scene, but Three Magnets still remains one of the best. Evergreen State College alumni Nathan and Sara Reilly, who had been running Darby's Cafe for nearly a decade in downtown Olympia, opened neighboring Three Magnets in November 2014. They hit the lottery when they hired head brewer and "Local Sourcing Liaison" Pat Jansen, who also hit the lottery with assistant brewer Jeff Stokes. Together, they brewed a wide range of award-winning craft beers. Jansen moved on to open Matchless Brewing. Stokes moved into the head brewer slot, expanding on their medal winning ways, especially big, bold beers and juicy IPAs. Tonight, Three Magnets will hangout at Peaks and Pints, pouring their latest craft beers. In celebration, Peaks and Pints presents a Three Mags beer flight — Craft Beer Crosscut 3.1.18: A Flight of Three Magnets Brewing.
Three Magnets Helsing Junction Farmhouse Ale
6.8% ABV
Three Magnets revamped its Helsing Junction Farmhouse Ale recipe in 2016 blending back with wine barrel aged Helsing Junction Farmhouse Ale, adding more complexity and balance. Domestic pilsner malt, wheat malt, and a touch of French Vienna supply this saison with a clean soft malty background, while Saaz and Halertauer hops deliver a spicy nose. The diverse yeast cultures of Brett Drei as well as the Dupont and Fantom Sacro present mild tartness, barnyard, peaches, pineapple and spices with a high degree of dryness.
Three Magnets Welwyn Garden Keeping Ale
8.5% ABV
Like barleywine, English style stock ale is a malt-focused strong ale, but it appears to predate barleywine by up to two centuries. Stock ale refers simply to beer one kept in stock, so to speak. It may have served as a so-called "keeping beer," which in the mid- to late-nineteenth century would have been blended with a "running beer" of more recent provenance. The keeping beer supplied the alcohol while the running beer offered freshness. Three Magnets keeps a stock ale, Welwyn Garden Keeping Ale, that hits the nose with rich, dried apricot and raisin balanced with fresh oak, and even a little wintergreen. Flavor is similar, but with a roasty, caramel and molasses finish.
Three Magnets Art Chantry Imperial Bitter
8.2% ABV, 40 IBU
Three Magnets honors Olympia's notable indie music scene with craft beers named after, and brewed by, key players in Olympia's indie music scene, such as band 764-HERO, prolific graphic artist Art Chantry, YoYo Records, and Diana Arens, former producer of the radio show Free Things Are Cool at KAOS Olympia Community Radio and audio engineer at Dub Narcotic and YoYo Records. For today's Three Magnets beer flight we chose to highlight the former art director at The Rocket, the bible of Seattle's music scene of the '80s and '90s. Caramel and earthy notes cut and paste the front and middle of the tongue before a wave on bitterness is stapled to a telephone pole.
Three Magnets Keep It Like Vic Secret
8.1% ABV, 45 IBU
An homage to one of Three Magnets' favorite bands — Built To Spill's "Keep It Like a Secret" — this hazy double IPA features Vic Secret hops. Coupled with Lemondrop hops, this beer is a flavor explosion. It pours a pulpy grapefruit juice like hue. Big pithy fruit, grapefruit and pineapple on the aroma leading in to the first impression: citrus hop content with hints of apricot. Lingering grapefruit arrives with some pineapple sweetness and lemons. It has a soft palate as well with a toast, earthy base.
Three Magnets WOOHOO! Double IPA
8.5% ABV, 65 IBU
WOOHOO! Indeed. Loaded with Eureka, Simcoe, Citra and Amarillo hops this double IPA hits the nose with creamy fruit. Rich malts, straw hops, citrus rind zest, slight pepper, slight bitter herbs, pine, minerals and a touch of dry oak follow. Overall, WOOHOO! is rich, creamy, full bodied and tasty for a hop lover with a rather dry finish.
---