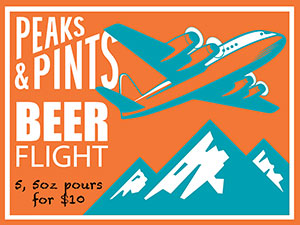 Thurston County's beer roots run as deep as its famous artesian wells. In 1896 successful Montana brewer Leopold Schmidt opened the Capital Brewery after discovering the famous artesian water was ideal for brewing beer. Originally housed in a stackhouse in Tumwater, and eventually renamed Olympia Brewery, it was a significant player in the region's sudsy brew movement. The brewery slogged through Prohibition during the early 20th century and ownership changes 50 years later. The brewery closed in 2003 when its parent company shuttered the Tumwater plant and moved the production operation to Irwindale, California. In 1993, Crayne and Mary Horton led a dozen Thurston County investors in opening Fish Brewing Company, South Sound's first craft brewery. It wasn't until 15 years or so later that several Thurston County craft breweries followed Fish's lead. Peaks and Pints presents Craft Beer Crosscut 3.2.18: A Flight of Thurston County Breweries.
Three Magnets Well 80 Belgian Dark Strong
9.9% ABV, 20 IBU
Downtown Olympia is home to 96 artisan wells, and Chris Knudson's new business just happens to occupy No. 80. Knudson will open Well 80 Brewhouse — a brewery, bar and all-ages restaurant — in the next couple of weeks. Well 80 head brewer Paul Pearson, previously of Fish Brewing Co., plans to brew beer using well 80 artisan well water. In the meantime, Pearson has been brewing collaboration beers with his friends, including Jeff Stokes, head brewer at Three Magnets Brewing Co. The two brewed Well 80 Belgian Dark Strong, an exceptional dark strong that drinks like a quad, if the quad has a leathery nose and notes of raisin, molasses, toffee, chocolate and a bit of booze.
Leavenworth Whistling Pig Hefeweizen
5.4% ABV, 22 IBU
In 2001, Fish Brewing Company merged with Leavenworth Biers, one of the Northwest's original German-style craft brewers, based in the Bavarian village of Leavenworth, Washington. Fish Brewing moved Leavenworth Biers to its downtown Olympia brewery where it continues to brew Leavenworth Biers, including Whistling Pig Hefeweizen, a Northwest style, light-bodied hefe with pale amber color, slight banana nose, malty wheat character with a touch of malt sweetness and hops.
Top Rung My Dog Scout Stout
6% ABV, 30 IBU
Named after Top Rung Brewing head brewer Jason Stoltz's black lab, Scout, this puppy grabbed gold in the American Stout category of the 2015 Washington Beer Awards. "I think the My Dog Scout Stout took a gold medal home because of some of the choices in malt selection giving it a few different layers of flavor ending on the base malt used," says Stoltz. "Also, our Lacey, Washington water allows us to brew darker beers very well." Chocolate and coffee jump out of the glass. Deceptively smooth and black as the night, My Dog Scout Stout is an easy sipper due to the eight different malts used in the brewing process.
Three Magnets Keep It Like Vic Secret
8.1% ABV, 45 IBU
An homage to one of Three Magnets' favorite bands — Built To Spill's "Keep It Like a Secret" — this hazy double IPA features Vic Secret hops. Coupled with Lemondrop hops, this beer is a flavor explosion. It pours a pulpy grapefruit juice like hue. Big pithy fruit, grapefruit and pineapple on the aroma leading in to the first impression: citrus hop content with hints of apricot. Lingering grapefruit arrives with some pineapple sweetness and lemons. It has a soft palate as well with a toast, earthy base.
Matchless/Triceratops Blueberry Trainwreck
11.5% ABV
Blueberry Trainwreck is the first in the "Built for Weed" series of collaboration IPAs between two Tumwater breweries Matchless Brewing and Triceratops Brew

ing "meant to celebrate our states love of all things green." The first installment is a ludicrous triple IPA with a simple base of 2-row, Pilsner, oats and sugar that are meant to get out of the way of the crazy amounts of Mosaic, Chinook and Tomahawk hops that will wreck pallet with big dank and blueberry madness.
---