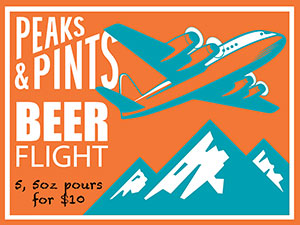 They can never rise. They can immediately fall. They are difficult to make. They are temperamental. Dating back to 18th-century France, "soufflé" is derived from the word souffler — meaning "to breathe" or "to blow," a soufflé is a baked egg dish made with an egg yolk custard that gets combined with beaten egg whites to help give the soufflé its signature puff. The light and ethereal textural wonder can be made sweet or savory, with popular variations ranging from cheese and spinach to chocolate and lemon. Since today is National Chocolate Soufflé Day, we're going with the chocolate — and by "going with" we mean a chocolate beer flight we call Craft Beer Crosscut 2.28.18: A Flight of National Chocolate Soufflé Day. Poke it with a spoon and revel in its warm center.
Samuel Smith's Organic Chocolate Stout
5% ABV, 28 IBU
Samuel Smith's has always brewed the old-fashioned way and the British operation still pulls water from its original well dug in 1758. Its Chocolate Stout is velvety and delicious, with creamy chocolate milk, chocolate syrup and cocoa powder dancing on the tongue. Caramel and vanilla try to cut in.
Young's Double Chocolate Stout
5.2% ABV
Charles Wells' Young's Double Chocolate Stout's thick, creamy head sticks to the glass, emitting cocoa powder and semi-sweet chocolate. A hint of hoppiness in the air reminds that it is very much a beer. Pale ale and Crystal malt, Chocolate malt, special blend of sugars, Fuggle and Goldings hops, real dark chocolate and chocolate essence are all utilized in creating this unique beer. Creamy chocolaty sweetness coats the tongue like liquid silk. The malty, chocolaty smoothness dives into roasted malt bitterness that tingles through the aftertaste: The chocolate's truly the chip off the old stout.
Puyallup River Mud Mountain Milk Stout
7% ABV
Puyallup River Brewing's Mud Mountain Milk Stout grabbed a silver medal at the 2015 Washington Beers Awards. It grabbed a bronze at the 2016 Washington Beer Awards. It grabs every drinker when they taste its smooth as chocolate silk self. Fresh vanilla beans, cocoa nibs, oats, and six different specialty malts make this milk stout one of the easiest drinking dark beers on the planet.
Great Divide Chocolate Oak Aged Yeti
9.5% ABV
The latest release in Great Divide Brewing's Yeti Series, Chocolate Oak Aged Yeti continues to grow the Yeti legend. This time the brewery toned down the hops to allow the added cocoa nibs to fully develop and combine with the oak chips giving this beer the flavor of a gourmet chocolate bar. Then, just to mess with us, the brewery adds a dash of cayenne. Expect loads of chocolate, mocha, roasted malts and coffee with some oak as well.
Stillwater On Fleek
13% ABV, 50 IBU
Vermont brewery Casita Cerveceria traveled to Baltimore, Maryland to brew this black as night imperial stout at Stillwater Artisanal. Oh, but it doesn't smell like motor oil but instead coffee, burnt toast, dark chocolate and a little marshmallow, all woven between strong alcohol tones. We placed this delicious treat at the end of the flight as it warms complex licorice, bold earthy bitterness, chocolate, earthy vanilla, faint smoke and caramel fudge come forth. It finishes long with an intense and heavy mouthfeel — almost like a milkshake — slightly vinous for the style, with a smooth but firm alcohol warmth. There's enough carbonation to push the beer along and make it dangerously, DANGEROUSLY drinkable for 13 percent.
---