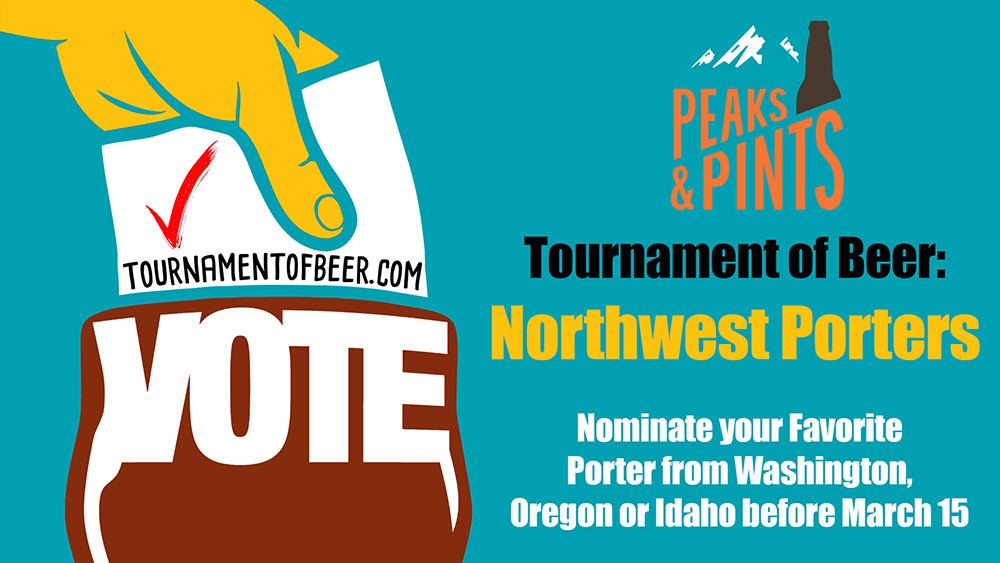 In April 2018, Peaks and Pints will host the Tournament of Beer: Northwest Porters. Chosen through the nomination process below, the top 64 vote getters — the cream of the malts — will compete Monday-Friday on our website April 6-28. Through online voting, Washington, Oregon and Idaho porter drinkers will pick daily winners until the Best Porter in the Pacific Northwest is crowned. It's similar to our Tournament of Beer: Washington State IPAs last year, only with way more roastiness. The toasty-to-roasty battle of the porters grand champion will be announced at the Tournament of Beers Party April 28 at Peaks and Pints in Tacoma's Proctor District. The final two porters will battle live pouring from Peaks and Pints' Western red cedar tap log with the champion brewery receiving a permanent handle at Peaks and Pints through the spring and summer.
First, we need you to help select the 64 porters that should be included in the tournament. Favorites or underdogs, brown or robust, American style or English style, Baltic or loaded with adjuncts, it's all the same — as long as the craft beer falls under the BJCP Style Guide Category 9c Baltic Porter, Category 13C English Porter or Category 20A American Porter and the brewery is recognized by someone other than the owner's mother.
In the end, brewers have one chance to choose the proper grain bill that can take the prize. Substitute roasted barley for chocolate malt and the head brewer will be watching the Tournament of Beer while cleaning kegs.
What is the best porter in in the Pacific Northwest? Vote for your three favorites below before midnight Thursday, March 15. We'll randomly select a ballot to win a $25 Peaks and Pints gift card.
And look for the first round of Northwest porter voting April 6 on this website or tournamentofbeer.com.
---