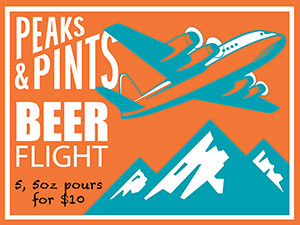 10 Barrel Brewing Co. is a Bend, Oregon-based brewery with one simple mindset — brew beer, drink beer and have fun doing it, which it proves daily on its Instagram account. By regularly posting high resolution product photography, reposting user-generated content, Boomerang videos, action shots, lifestyle photography and more, this brewery keeps its Instagram following on their toes. Peaks and Pints hosts 10 Barrel Brewing at 5 p.m. tonight, pouring five of its beers and raffling off one of its snowboards, which has made many appearances on the 10 Barrel Instagram. We've chosen five 10 Barrel beers for our daily beer flight, as well as a corresponding 10 Barrel Instagram post. Drop by Peaks and Pints and post an Instragram photo of you enjoying Craft Beer Crosscut 2.6.18: A Flight of 10 Barrel Brewing. #PeaksandPints (of course)
10 Barrel Cucumber Crush
5% ABV, 4 IBU
Berliner weisse is a rare thing: a sour beer, intensely flavored and the embodiment of refreshment. Its tartness is generally mild. Its carbonation is high. It's refreshing with soft, wheaty flavor. 10 Barrel R&D brewer Tonya Cornett brewed her cucumber Berliner weisse for the 2013 Portland Fruit Beer Fest. It went on to win a gold medal at the 2014 and 2015 World Beer Cup. The flavor is clean and refreshing, leading with clean and uncomplicated citrus and cukes before a flash of lactic acidity is doused by cucumber water, while the gourd's invigorating peel is all that remains on the tongue after the sip.
10 Barrel Dark Queen
4.5% ABV, 22 IBU
Jose Ruiz, a 10 Barrel brewer, originated the Dark Queen traditional German dunkel, which showcases malt depth achieved by decoction brewing. Flavors of toasty bread crumbs and soft malt sweetness surrender to a subdued chocolate aftertaste that is light and refreshing.
10 Barrel Goggle Tan
5.6% ABV, 55 IBU
Ian Larkin, a 10 Barrel brewer, came up with the recipe for this India red ale. This spring seasonal has assertive hop flavor, supported by a medium malt body, with the delicate addition of Oregon apricot that supports the stone fruit-like characteristics found in America aroma hops. Crystal malts provide subtle sweet hints of caramel.
10 Barrel Trail Beer
4.8% ABV, 60 IBU
"Like any good adventure, Trail Beer started on a whim." We have no idea what that 10 Barrel hype means, but we do know the pale ale is brewed with Galaxy, Chinook and Comet hops and a "sure-footed malt bill," for a refreshingly bright body layered with nuances of fresh cut oranges and pine needles.
10 Barrel Double Chocolate Stout Nitro
8.9% ABV, 38 IBU
The American double stout is medium- to full-bodied and very dark in color, with lots of malty flavor and alcoholic warmth. In the case of 10 Barrel's Double Chocolate Stout Nitro, cocoa powder and organic fair trade cocoa nibs are added for a decadent beer could almost be sliced and served on a dessert plate. The nose is big rich milk chocolate sweetness roast malts coconut vanilla. On the tongue, expect more of the heavy roast malts chocolate sweetness vanilla coconut.
---