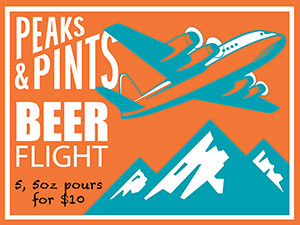 Ahtanum was the first hop variety to come out of Yakima Chief Ranches breeding program Select Botanicals Group. Three families of hop farmers — Smiths, Perraults and Carpenters — founded Yakima Chief Ranches back in the late 80s. It was actually a Carpenter, Charles Carpenter, who first planted hops in Yakima Valley in 1868. He planted the hop rhizomes, taken from his father's property, at his homestead in Ahtanum, the namesake of the hop. The Ahtanum hop is full of just as much history as it is flavor. Due to its low to moderate alpha acid content, the Ahtanum has moderate bittering qualities and is primarily used for its aromatic properties and addition of flavor. It has strong notes of grapefruit and other citrus, as well as floral aromas and tones of pine and earth. Peaks and Pints presents a flight of the hop that we call Craft Beer Crosscut 2.5.18: A Flight of Ahtanum Hops.
Ballast Point Mango Even Keel
3.8% ABV, 40 IBU
Ten malts and six hops (Ahtanum, Cluster and Spalt to name a few)? We could hardly believe that such a low-alcohol beer could exist, until we studied Ballast Point's session ale. The reason for the big, bold taste with such a low ABV? The two strains of yeast used to ferment this beer, plus Ahtanum and Cascade dry-hopping and late kettle additions of hops. This hoppy, sessionable ale receives a flavor boost from mango, which perfectly plays off the citrusy hop bouquet. With fruit, hops and a low ABV, this beer is truly on another level.
Stone Go To IPA
4.5% ABV, 65 IBU
Over the years, many have tried their hand at brewing the highly hopped, highly aromatic beer that finishes under 5% ABV, and have failed. Stone Brewing Co. is one of the few that simply nailed the "session" IPA. Bright, snappy, and seemingly full figured Go To IPA makes us scratch your head while drinking it. With an abundance of lupulin-borne bitterness this session IPA delivers all the fruity, piney character of a much bigger IPA at a more modest ABV level — thanks to 11 hops, including Ahtanum, and "hop bursting" technique.
Bale Breaker Topcutter
6.9% ABV, 70 IBU
Topcutter IPA had the highest number of nominations during Peaks and Pints' Tournament of Beer: Washington State IPAs seeding process. Bale Breaker's flagship IPA has changed lives. In fact it's rumored that Birchfield, the unincorporated community in Yakima County where Bale Breaker harvests hops and brews beer, is considering changing its name to Topcutter, Washington, to draw tourists from nearby Yakima. And why wouldn't Birchfield's council? Topcutter is a well-balanced yet aggressive West Coast IPA that showcases Yakima Valley hops, including late additions of Simcoe, Citra, Ahtanum and Mosaic for a complex citrus, fruity and floral aroma and flavor.
Hopworks IPA
6.6% ABV, 75 IBU
Hopworks Urban Brewery's flagship IPA is a classic Northwest IPA that is generously hopped with Amarillo, Centennial and Ahtanum hops in the kettle, hop-back and dry-hop. This judicious use of hops is balanced by Canadian organic Pilsner malt and German organic Munich and Caramunich. Grapefruit, pine, grass and pineapple hit the nose. The flavor matches with added fruitiness.
Evil Twin Molotov Cocktail
13% ABV, 80 IBU
Originally brewed at Two Roads Brewing in Connecticut, this triple IPA fits the cookie-cutter description for the typical imperial IPA. Light on its effervescence, the beer pours heavy and thick, almost syrupy, with a dark amber tint. The former qualities resonate with Evil Twin, which is notable for its reliance on all things imperial. However, the beer shows its IPA side in its nose, with citrus and grapefruit, thanks to Ahtanum. The taste begins with sweet citrus and floral notes, coupled with a big honey flavor that kisses the tongue. Just before falling into a disgusting sugary mess, a flash of the bright and hoppy bitterness all-to-familiar with IPAs bites down, cutting through the sweetness.
---