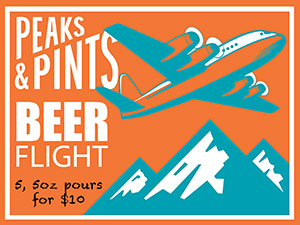 Consensus is a funny thing. Ask most craft fans to name the best beer city in America, and they might tell you Portland, despite the fact that many — if not most — of Oregon's best breweries are found outside the city limits, including the Willamette Valley, a landscape of rolling hills and farmland about 45 minutes southwest of Portland. Makes sense. Like regional winemakers, Oregon brewers benefit from the Willamette Valley's rich agricultural basin. The Pacific Northwest is a major producer of barley for malt, and Oregon's Willamette Valley is one of the top domestic producers of hops. With growing conditions similar to Germany, the delicate hop flower has flourished there since the 1870s. Another esteemed ingredient praised by Willamette Valley brewers is the clear, soft water of the McKenzie River. Mountain springs and melting snow from the Cascades feed the McKenzie River, recognized as the best in the nation. Today, Peaks and Pints goes over the hills and into the (Willamette) Valley offering sample tastes of five resident breweries for our Craft Beer Crosscut 2.3.18: A Flight of Willamette Valley.
Mazama Mosaic Eruption IPA
6% ABV, 60 IBU
Mount Mazama is famous for blowing itself apart and leaving a hole where Crater Lake form and later became Oregon's only full-service national park. Mazama Brewing came later, much later, but it's catching up in popularity. Founded in 2013, it's a family owned microbrewery in Corvallis specializing in European style ales made with the finest ingredients from the Willamette Valley. Mosiac Eruption IPA, duh, showcases Mosaic hops that give it a bold grapefruit twist. This beer is triple-hopped with a blend featuring Mosaic, Amarillo, Citra and Centennial hops for moderate herbal, grassy and earthy flavors and bitterness with medium biscuit and cracker malt and a dry finish.
Gilgamesh Vader CDA
6.4% ABV, 60 IBU
The Salem, Oregon brewery teams up with its neighboring The Governor's Cup Coffee Roasters for this Cascadian dark ale aged with lightly roasted coffee beans, tawny malts and gradient hop flavors. The brew smells strongly of hops, and hits with a heavy vanilla front. Dig deeper to find espresso bitterness, caramel, malted sweetness, and a hint of dark fruit. We found ample Darth coffee and cocoa up front. It's a well-balanced, easy drinker.
Ninkasi Ground Control
10% ABV, 80 IBU
Consider space. Albert became the first monkey in space June 11, 1948, when NASA sent a V2 rocket carrying him up 83 miles. Laika the dog became the first Earth-born creature to orbit the Earth when the Russians sent her into space atop a Sputnik rocket on Nov. 3, 1957. Countless astronauts have since ventured into space, traveling as far as the moon. So is it surprising that Eugene beer maker Ninkasi Brewing decided to launch several vials of yeast into space aboard a rocket and then retrieve the yeast to brew beer from it? Live long and prosper, Ninkasi. In October 2014, six vials of brewer's yeast traveled up 77.3 miles aboard a UP Aerospace Inc. rocket, returning safely to Earth and cold-transported back to Ninkasi's lab in Eugene, where it was propagated and tested before being used to ferment Ground Control, a rich, complex imperial stout brewed with Oregon hazelnuts, star anise and cocoa nibs, and fermented with an ale yeast that survived a trip to space and back. Enjoy this creamy, milk chocolate stout with almonds, touch of vanilla, bourbon and a little licorice. The mission ends smooth and warm.
Hop Valley Alpha Centauri Binary
9% ABV, 100 IBU
After graduating from Oregon State University's fermentation sciences program and honing his hoppilicious skills at Pelican Brewing Co. and Rogue's Tracktown Brewpub, Trevor Howard busted out deep, dank, and delicious craft beers as co-owner and head brewer at Eugene, Oregon's Hop Valley Brewing Co. Howard commemorated Hop Valley's 100th batch with the floral and grapefruity phenom Alpha Centauri Binary. A hazy orangey hue from Great Western 2-Row and Munich malts are the fuel to launch a capsule full of Simcoe, Galena, Amarillo, Centennial and Cascade hops.
Block 15 Sticky Hands
8.1% ABV, 110 IBU
Block 15 Brewing sits heart of downtown Corvallis, only a few blocks from Oregon State University. The brewery's name hails from Corvallis' previous incarnation as Marysville and the old plat map location from the old town. In late 2011, homebrewers Nick and Kristen Arzner opened the brewery and restaurant serving beers true-to-style with ingredients imported from different parts of the world, along with all the Willamette Valley produced grains, hops, fruits, herbs and yeast. Its Sticky Hands double IPA is a "Hop Experience Ale" featuring ample additions of sticky, resinous, lupulin packed hop buds grown in the Pacific Northwest. Sticky Hands begins with an aromatic blast of tropical fruits, citrus and dank herbs; transitions into luscious hop flavor; and ends with a balanced bitter finish, gently propped up by pale malted barley and fermented with Block 15's privately banked Brewers yeast.
---