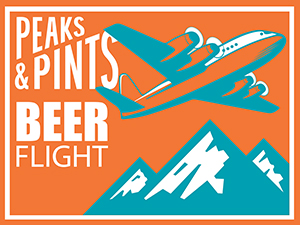 You can't explain triple IPAs to your grandparents and you can't explain it to the religiously terrified and you can't describe it to those who, no matter what you say, refuse to see such a beer style as anything other than some sort of freaky-deaky boozy Sam Calagione-worshipping Pliny-romp thing. Peaks and Pints hosts Washington Beer Blog's Washington Hob Mob Triple IPA Roadshow today, which means we'll tap a robust collection of triple IPAs brewed by Washington state breweries. We'll pour 5- and 10-ounce pours of the craft beers mention below beginning at 11 a.m. until they're gone. We're also offering a flight of three triple IPAs that we call Craft Beer Crosscut 2.2.18: A Flight of Washington State Triple IPAs.
7 Seas Trident Triple IPA
10.8% ABV, 90 IBU
The Tacoma-based 7 Seas Brewing's Trident Triple IPA is brewed with NW Pale malt and a small addition of dextrose for increased attenuation and dryness, then this triple is hopped at seven different stages throughout the boil and whirlpool, plus dry hopped twice in the secondary. It's juicy, bitter and deceptively strong.
Backwoods Triple Trouble IIIPA
11% ABV, 75 IBU
Expect a deep golden to reddish-amber color, with medium- to full-bodied mouthfeel. The strong hop profile of Mosiac, Crystal and Citra offers citrus tones. But Backwoods Brewing's beer also has a rich malty backbone that gives it a spicy complexity with enough warmth to bring it to the edge of what could be found in a hoppy (American) barleywine. However, it's the hop profile that brings it back into the realm of an IPA. The booze is well hidden.
Bale Breaker Mount Saint Humulus
9.3% ABV, 100+ IBU
Bale Breaker Brewing's triple hits like a volcanic eruption of the finest Yakima Valley hops, thanks to a heavy dry-hop addition of Mosaic, Equinox and Citra. It pours a clear burnished dark gold with a dense creamy sudsy white head. Dip the nose for big floral melon and mango. Its creamy medium body has lively carbonation with flavors of caramel, mango and floral and a long sweet finish.
Georgetown Brewing Harkin Banks
9% ABV
Georgetown Brewing's Harkin Banks triple IPA is like a full grown pineapple wearing big boy overalls that calls everyone "sport," "champ" and "big timer" while slapping them across the back.  According to hype, "Harkin Banks is picked first every time, always hits the clutch shot, never walks off the field, but gets carried off on the shoulders fresh mandarin oranges, juicy mangos, ripened peaches and plump melons. Harkin Banks has the quick draw on the high five and always sets you up for radical time because all Harkin Banks knows is being full time awesome." Brewed with wheat plus Columbus, Azacca, Citra and Galaxy hops, this boozy pineapple triple won the Washington Hop Mob Triple IPA competition, beating out 32 other state triples.
Matchless/Triceratops Blueberry Trainwreck
11.5% ABV
Blueberry Trainwreck is the first in the "Built for Weed" series of collaboration IPAs between Matchless Brewing and Triceratops Brewing "meant to celebrate our states love of all things green." The first installment is a ludicrous triple IPA with a simple base of 2-row, Pilsner, oats and sugar that are meant to get out of the way of the crazy amounts of Mosaic, Chinook and Tomahawk hops that will wreck pallet with big dank and blueberry madness.
Reuben's Brews Triple Crush
10% ABV, 60 IBU
Part of Reuben's Brews' Crush series of super juicy IPAs, Triple Crush is a New England style IPA that pours totally cloudy with yellow-orange color and a nice off-white head. It hits the nose with big fruit citrus juice. The mouthfeel is really creamy, like an orange creamsicle. Expect super juicy mango, pineapple, orange and white grapefruit that hides the 10 percent alcohol well.
Sumerian Insanity Triple IPA
10.1% ABV, 126 IBU
Sumerian Brewing's bold but dry triple IPA is a hop growers dream. Insanity boasts a 10.2 percent alcohol with Yakima valley's most notorious hops: Simcoe, Amarillo, CTZ and Centennial with a big focus on late and dry hopping — three times in the fermenter. It's sweet, grassy and rocket fuel.
Wet Coast Knock Three Times
10% ABV, 100+ IBU
Wet Coast Brewing opens the door and lets loads of Eureka and El Dorado hops in. The Gig Harbor brewery pair the hop bill with a grain bill featuring Pilsner, Vienna and Crystal malts. Who's there? Juicy pine and tangerine flavors and aromas co-mingling with just enough malt, to make this one big, bad, beer, that's who.
---