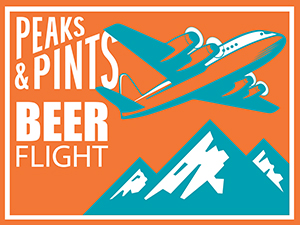 In 2010 — with his Siebel Institute education, training in Germany and Belgium, and degree from Yale tucked under his arm — Ben Edmunds opened Breakside Brewery in the quiet Woodlawn neighborhood of Northeast Portland as a restaurant and nano-sized brewery. Breakside expanded to a 3.5 bbl brewhouse while winning their first medal at the Great American Beer Festival in 2011 where they have earned medals each year since. In late 2013 the brewery expanded operations to Milwaukie, Oregon with a 30 bbl production brewery. In 2014 Breakside was awarded with the highly coveted Gold Medal for American-style IPA at the Great American Beer Festival for their flagship IPA that was also named to Men's Journals 100 Best Beers In The World and Sip Northwest's Best IPA in the Northwest. In 2019, Breakside grabbed gold for their The Oligarch bourbon barrel-aged Russian imperial stout. Tonight, Peaks and Pints will pour The Oligarch and seven of its variants. In celebration, we offer four of this complex stout on a flight that we call Craft Beer Crosscut 2.28.19: A Flight of Breakside The Oligarch.
Craft Beer Crosscut 2.28.19: A Flight of Breakside The Oligarch
Breakside The Oligarch
10.7% ABV, 53 IBU
The Oligarch is a single batch of British imperial stout blended from four different batches of stouts aged in bourbon barrels for more than two years. It hits the nose with bourbon-ish brown sugary nose, vanilla, oak and dark chocolate. Delicious brown sugary flavor follows with a bit of a sharp alcoholic phenol, dark chocolate, oak, vanilla and a boozy, roasty finish.
Breakside The Oligarch — Maple
10.3% ABV, 47 IBU
The maple bourbon barrels from Bissell Maple Farm in Jefferson, Ohio provide a ton of complexity, offering an especially nerdy delight to be found in this intense and rich beer.
Breakside The Oligarch — Candy Cap
10.3% ABV, 43 IBU
This variant is made with one of the Pacific Northwest's most beguiling foodstuffs: candy cap mushrooms. Their intense brown sugar smell helps create a sweet-then-savory sensation that dovetails perfectly into some of the strong oxidative notes of the casks.
Breakside The Oligarch — Coco Breakfast
10.5% ABV
Breakside grabbed inspiration from Edmunds' favorite childhood breakfast cereal and loaded up the cocoa and vanilla for a beer that works for dessert — or breakfast.
---