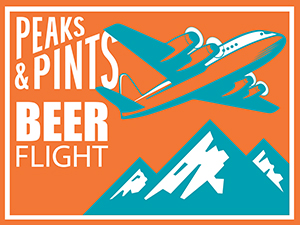 Long before the Portland neighborhood of St. Johns finally hit its long-anticipated growth spurt, the Occidental Brewing Co. set up shop near the bridge and quietly started brewing some of the best German-style ales and lagers in Oregon. Thanks to an expansion into a Wursthaus, you can get a grilled brat, as well as a number of other options, to go with your Bohemian-style pilsner. Occidental Brewing Co. was founded in 2011 by Ben and Dan Engler. Focusing on largely traditional continental European beer styles, Occidental has won numerous awards. Peaks and Pints officially welcomes Occident to Tacoma tonight, pouring the beers represented on this all-day beer flight, including the brewery's Edel-Hell Helles Lager, which was just released in cans. Stop by Peaks and Pints and welcome Occidental to Tacoma with Craft Beer Crosscut 2.27.19: A Flight of Occidental.
Craft Beer Crosscut 2.27.19: A Flight of Occidental
Occidental Hefeweizen
4.7% ABV, 4 IBU
The German Beer Purity Law — Reinheitsgebot — is two years past its quincentennial: 500 years of absolutely nothing but barley (or wheat), hops, water and yeast. Not so much as a spruce tip or cacao nib may defile anything called "beer." Occidental Brewing's brewmaster Dan Engler mostly brews beers in the spirit (if not the letter) of the Reinheitsgebot. Opening in 2011 in Portland's St. Johns neighborhood, Occidental makes some of the best German-style beers in the Northwest, including their authentic Bavarian Hefeweizen. It's hefeweizen makes one want to throw on a pair of lederhosen over your flannel. If you like wheat beer — heck, even if you hate it — you must try this sweet, banana- and clove-scented hefeweizen.
Occidental Kölsch
4.5% ABV
Occidental's Kölsch reinforces that brewery's reputation for making great German beer styles. The kölsch is made with ale yeast and is fermented warm, yet commonly aged at colder temperatures, making it a hybrid between the lager and the ale. This is Occidental's homage to the delicious ale of Cologne, Germany. It's effervescent with subtle fruity sweetness, dryness, and a light- to medium-body. Crisp and dry, it is clean and lager-like, with a pleasant, slightly spicy hop profile supplied by German Perle.
Occidental Bohemian-Style Pilsner
4.8% ABV, 35 IBU
Occidental Brewing Co. was founded in 2011 by Ben and Dan Engler with the goal of making well-balanced continental-style beers in the land of IPAs: Portland, Oregon. They succeeded. Plus, gotta love a pilsner in a big-boy, 16-ounce tallboy can. It's an easy-drinking, Bohemian style pilsner with a bit if corn sweetness. It's on the fruity/malty/grainy/grassy side of things, but gets a crisp kick from the Czech Saaz hops.
Occidental Edel-Hell Helles Lager
5% ABV
Helles is a delicate, malt-forward style known for its subtle touch of hops and light straw color. Indeed, "hell" is the German word for light (as in color) and describes the style's pale hue. "Edel" is German for noble and Occidental calls its example Edel-Hell, using the honorific to signify both the use of a classic noble hop variety— Tettnanger—as well as the brewers' pride in this fine lager. Edel-Hell is a crisp thirst quencher and a bright, approachable beer for all occasions. The can is easy to spot by the swirling blue and white stripes that pay homage to this brew's Bavarian pedigree.
Occidental Altbier
5.2% ABV
Occidental Brewing offers Portland, Oregon something truly refreshing: crisp, sparkling German-style suds. Their Altbier is enough to make you want to throw on a pair of lederhosen over your Pendleton flannel. Occidental's take on Dusseldorf's broad style features the brewery's most complex grain bill, which produces a malty, amber beer with a lot of flavor. Saphir hops give it a spicy, noble aroma and delicious hop profile. It's on the hoppy side for this style of beer, but the beautifully copper color and crisp beer offers a malty chewy and creamy experience.
---