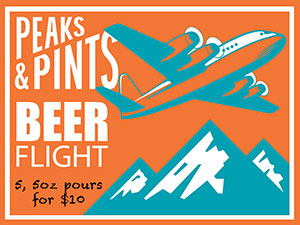 Tomorrow, you'll have a lot of leftover cherry pie. It's cool; you won't bake it from scratch, you'll bake it from frozen. It will be a Chef Pierre frozen pie, Sara Lee's food service industry brand. You'll be too busy to bake one from scratch to celebrate National Cherry Pie Day. It happens. It won't be too bad — the cherries will be tart, the crust will be so-so, but it will be a little heavy on the cornstarch. Just invited the garbage collector, the neighbors and several small children to eat a large slice of cherry pie tomorrow morning. And still you'll have leftover cherry pie. There are worse problems, we suppose. Indeed, today is National Cherry Pie Day. It is perfect timing for those of us who have resolved to improve our diets by eating more fruit. Let's not stop there. Let's drink five cherry craft beers in Peaks and Pints' beer flight: Craft Beer Crosscut 2.20.18: A Flight of National Cherry Pie Day. We guarantee there won't be leftovers.
Ommegang Rosetta Kriek
5.6% ABV, 9 IBU
Brewed and blended by Brewery Ommegang's sister brewery Liefmans in Belgium, Rosetta combines old (aged on cherries at least three years) and young Flemish brown ale (or oud bruin) with a lively and fruity kriek, or cherry beer. The blend, which was developed by Ommegang Brewmaster Phil Leinhart, results in a complex yet refreshing mahogany-brown brew that is an intriguing interplay of tartness and sweetness.
Samuel Smith Organic Cherry
5.1% ABV, 16 IBU
Pouring sheer amber with a fluffy, white head, Samuel Smith's Organic Cherry fills the air with a sour bouquet, bolstered by sticky-sweet cherry scents. Tart cherry rushes over the tongue leaving residual sweetness in its wake, while nutty undertones draw out the English ale's subtle earthy hops, lending welcome roundness to the sweet and tart profile. A dry finish leaves the tongue tingling, while tempered cherry notes and a brush of sweetness remain long after the swallow.
E9 Sweetheart Aria
11.3% ABV
Tacoma's E9 Brewery has brewed an extraordinary Belgian trippel with cherries. Sweetheart Aria is one of the strongest beers we have seen from E9. From a powerful Belgian trippel base, Head Brewer Shane Johns fortifies it with Sweetheart cherries during an aging stint in Chardonnay barrels. Intensely delicious.
Everybody's Salted Sour Cherry
7% ABV, 19 IBU
Everybody's Brewing ages its porter with 750 pounds of salt-brined Columbia Gorge grown cherries in Merlot barrels for two years for deep dark cherry flavor, cocoa and vanilla with a serious red wine-like thing going on.
Oakshire Heart Shaped Box
12% ABV, 69 IBU
From Oakshire Brewing's Vintage beer series, the 2018 Heart Shaped Box version is aged in Kentucky bourbon barrels for six months where it develops its complex flavor profile and character. The beer is further conditioned with generous amounts of sweet Oregon grown cherries, locally roasted coffee from Slightly Coffee Roasters, organic vanilla beans and cocoa nibs. Indeed. Notes of rich bourbon, cocoa nibs, espresso, dark cherry, roasted malt, vanilla bean and wood coat the tongue. It's rich yet crushable at the high percent.
---