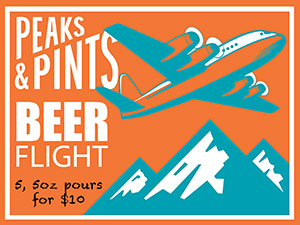 Get ready, South Sound because San Diego is coming to the region. Well, their beer is, anyway. San Diego's Ballast Point Brewing Co. will be taking over Peaks and Pints taps tonight from 6 to 9 p.m. For 22 years, the boys down south at Ballast Point have been providing San Diego with craft beer before it was cool. Ballast Point founder Jack White opened a 150-square-foot homebrew shop in 1992. Today, Home Brew Mart occupies 8,800 square feet, including an expanded selection, expansive taproom and a dedicated homebrew classroom. While Ballast Point has since grown to seven locations and counting throughout the country, it launched at Home Brew Mart with a 1.5-barrel homebrew rig in the back of the shop in 1997. That's around the time Colby Chandler started working as a part-time clerk in the shop. White and Brew Mart's first employee, brewer Yuseff Cherney, left the company following its 2015 sale to Constellation Brands. Ballast Point has long been known for innovative brews made in small batches before being rolled into full production. Smash hits such as Grapefruit Sculpin and Mango Even Keel started as experimental one-off brews and are now cornerstones of the brewery's portfolio, and they launched the industry-wide trend of adding fruit flavors to IPAs. Peaks and Pints presents a flight of Ballast Point beers — Craft Beer Crosscut 2.1.18:A Flight of Ballast Point Brewing — in conjunction with our Lodge Meeting with the brewery tonight.
Ballast Point Mango Even Keel
3.8% ABV, 40 IBU
Ten malts and six hops? We could hardly believe that such a low-alcohol beer could exist, until we studied Ballast Point's session ale. The reason for the big, bold taste with such a low ABV? The two strains of yeast used to ferment this beer, plus the dry-hopping and late kettle additions of hops. This hoppy, sessionable ale receives a flavor boost from mango, which perfectly plays off the citrusy hop bouquet. With fruit, hops and a low ABV, this beer is truly on another level.
Ballast Point Mocha Marlin
6% ABV, 42 IBU
Basically, Ballast Point grabbed its year-round Black Marlin Porter and mocha-d it up. But, it's not basic. The addition of coffee and cocoa plays perfectly of the roasty, chocolaty flavors of the English porter, while a hint of vanilla smooths it all out. It's full-bodied, but not too sweet.
Ballast Point Fathom IPA
6% ABV, 50 IBU
In October 2017, Ballast Point Brewing introduced their Fathom IPA, an easy drinking West Coast style IPA with plenty of hops, a touch of malt and just the right amount of orange citrus to make Fathom one of the most approachable IPAs on the market. Dip your nose into the glass for juicy citrus, some tropical fruit, sweet cereal and a little toast. Flavor is full of bright, citrusy and tropical fruit hoppiness, some mild cereal sweetness and, again, a hint of toast. Finish is long and bitter.
Ballast Point Peanut Butter Cup Victory At Sea
10% ABV, 68 IBU
Victory at Sea's story begins in 1992, when a homebrewer named Jack White, recognizing the dearth of good supply shops nearby with which to augment his hobby, opened Home Brew Mart near Mission Beach in San Diego. Another homebrewer, Yuseff Cherney, soon joined him, and together the two moved the brews they were making in their back yards to the back of the shop. In 1996, Ballast Point was born. It wasn't until 2007, however, that Victory at Sea imperial porter premiered tasting almost like tiramisu. Bitter medium-roast coffee flavors play at the sides of the tongue while a sweet vanilla and Irish cream character build at the front. The variants followed, including Peanut Butter Cup Victory At Sea, a 10 percent ABV imperial porter brewed with coffee beans sourced from Caffe Calabria, vanilla, chocolate and peanut butter. Creamily cohesive peanut-buttered black chocolate melds with dark-roast coffee. Nutty mocha resilience allows dark toffee, vanilla, espresso and cappuccino illusions to deepen its rich complexity. Hops lend some bitterness to the beer's light roast and alcohol, culminating in a long dry finish with light coffee notes left on the tongue.
Ballast Point Unfiltered Sculpin IPA
7% ABV, 70 IBU
Ballast Point does so many good-tasting beers that I'd need a whole cover story (and second liver) to document them all, but start with their legendary Sculpin IPA. Rich, copper tone, tropical fruit, citrus, malt for body and then the hops — smooth AF! Most notably, the Sculpin smells like no other IPA out there — it gets in your face and your nose and doesn't let go, with dark, dry-hemped aromas mixed with fiery herbal notes. The taste complements these scents, rather than mirroring them, with fresh flavors of apricot, peach, mango, pine and grapefruit rind and a light and airy mouth feel. The San Diego's Unfiltered Sculpin IPA packs extra hops into every sip, enhancing the classic Sculpin notes with a slight haze and less bitterness.
---