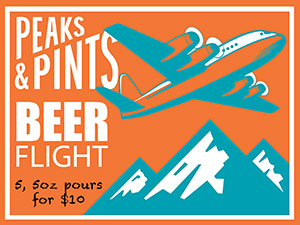 February marks the eight-year anniversary for Stillwater Artisanal Ales, a brewery distinguished by its avant-garde brews and haute-couture labels, and the company's founder, Brian Strumke, says he's always looking to push himself further — in his goals or actual miles — to turn beer into art. Strumke is a nomad. Whether in Stratford, Connecticut at Two Roads Brewing or Baltimore, Maryland at Of Love and Regret, Stillwater functions as more of a living organism than a brewery, led by his wanderlust to go wherever the road, beer or art takes him. He founded the company in 2010 and currently hails from Brooklyn, or Baltimore, but seems to operate Stillwater from wherever he happens to be. The "Gypsy Brewer" brews mostly Belgian-inspired ales, with an emphasis on saisons, or farmhouse ales. However, for today's beer flight — Craft Beer Crosscut 1.31.18: A Flight of Stillwater Artisanal Ales —Peaks and Pints samples a variety of Stillwater's styles.
Stillwater Folklore Stout
8.4% ABV
Folklore is a Belgian strong dark ale, formerly known as 25 to One. Or is a slightly lighter-bodied Belgian stout? There's a great deal of roasted malt, bitter black coffee, chocolate, dark fruit and a slight smokiness to accompany earthy hops and a touch of yeast. There is also a hint of funk, which gives the impression of a saison. Folklore tastes like a solid, yeasty Belgian-inspired stout — though the mouthfeel is a bit too sharp for that. So it's a saison, then, right? Whatever. This is a very well crafted BSDA/stout hybrid.
Stillwater On Fleek
13% ABV, 50 IBU
Vermont brewery Casita Cerveceria traveled to Baltimore, Maryland to brew this black as night imperial stout at Stillwater Artisanal. Oh, but it doesn't smell like motor oil but instead coffee, burnt toast, dark chocolate and a little marshmallow, all woven between strong alcohol tones. We placed this delicious treat at the end of the flight as it warms complex licorice, bold earthy bitterness, chocolate, earthy vanilla, faint smoke and caramel fudge come forth. It finishes long with an intense and heavy mouthfeel — almost like a milkshake — slightly vinous for the style, with a smooth but firm alcohol warmth. There's enough carbonation to push the beer along and make it dangerously, DANGEROUSLY drinkable for 13 percent.
Other Half/Stillwater Artisanal Rockstar Farmer
4.5% ABV, 55 IBU
This "Farmhouse Session India Pale Ale" is a collaboration between small, Brooklyn-based Other Half Brewing, which has developed a cult following for its balanced-yet-hop-forward IPAs and imperial IPAs, and Stillwater, the gypsy brewery that tends to throw style guidelines out the window. That partly explains the jumble of buzzwords on the label, including "farmhouse," "session" and "IPA." Stillwater and Other Half's joint project uses multiple strains of Brettanomyces yeast, a combination yielding aromas of peaches and pineapples, as well as a more general light funk. It obviously started as a dry saison; the grassiness and earthiness are noticeable. Then, the group hug threw everything but the kitchen sink in for a more pronounced hoppiness and citrus-peel bitterness, as well as more stone fruit and tangy funk in the finish.
Stillwater The Cloud IPA
7% ABV, 75 IBU
Brewed with German hops Huell Mellon and Manderina Bavaria and accented with Mosaic and Centennial upon a base of pale malts, flaked oats and lactose, this IPA hits the nose with citrus, pale malts, leafy hops, and some grapefruit. Taste is similar to nose, but also light alcohol heat, floral, perfume and dried corn. Although Stillwater has brewed beers with lactose before, this is the first beer that features it as a prominent ingredient. It's soft and fluffy, like a cloud.
Stillwater This Is Only A Test 001
8% ABV
This is a test. Stillwater Artisanal Ales is conducting a test of the Tangerine/Onion/Garlic Brewing System. This is only a test. Indeed. This hazy double IPA balances between tangerine, onion and garlic with stinging juicy character and ample bitterness. Its hella over ripe tangerine peel is overpowering despite a great mouthfeel.
---