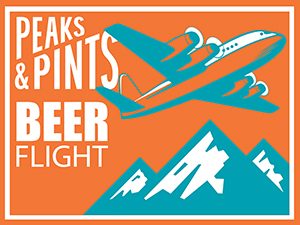 Competition is fierce when it comes to making alcohol. In the wine industry, collaborations amongst vintners are few and far between. One would be just as hard pressed to find two coffee roasters willing to join forces to brew the perfect cup. And good luck finding a maker of vodka, whiskey, or rum who's clamoring to blend his or her sacred liquid with that of another distiller's. But craft beer breweries have been collaborating with one another on everything from recipes to bottle artwork for decades. Peaks and Pints salutes craft beer collaborations with five craft beer collaborations on today's beer flight, Craft Beer Crosscut 12.29.18: A Flight of Collaborators.
Craft Beer Crosscut 12.29.18: A Flight of Collaborators
Stillwater Action Bronson's 7000
4.5% ABV
Action Bronson's nightly Viceland food show, The Untitled Action Bronson Show, follows a loose and freewheeling format. The rapper holds court in a large kitchen overlooking a sunny patio attached to Vice's office in Brooklyn as guests — including former electronic musician/DJ turned Stillwater Artisanal brewer Brian Strumke — mill about enjoying the vibe and participating in segments that seem hastily planned out if not outright improvised. It was only a matter of time before Action Bronson ended up at Stillwater brewing a delicately dry hopped sour ale brewed with barley, wheat and muscat grapes. It's fresh, floral and funky with notes of apricot, grapefruit and fresh grass
Modern Times Creature Times
4.9% ABV
A collaboration with Creature Comforts Brewing out of Athens, Georgia, Modern Times Beer's gose was brewed with smoked malt, pineapple, salt and chili peppers. The aroma and flavor have smoked ham, citrus, pineapple, peppery spice and heat. It's an interesting flavor profile — almost like a Hawaiian pizza.
Odd Otter Scut Farkus Winter Warmer
7.6% ABV, 35 IBU
Scut Farkus is the main antagonist of the 1983 classic family film, A Christmas Story. He is the neighborhood bully who picks on Ralphie Parker, his friends Flick and Schwartz and Ralphie's brother Randy. Scut Farkus, the winter warmer, is a festive collaboration between Odd Otter Brewing, Pacific Brewing & Malting Co. and Skagit Valley Malting. Brewed at Odd Otter with 100 percent Skagit Valley Malt, the collaborators added cinnamon, vanilla beans, and spruce tips for bold and bready flavors of toffee, raisin, and chocolate with a touch of spice.
Drew Curtis/Wil Wheaton/Greg Koch Stone Farking Wheaton wOOtstout
11.5% ABV, 45 IBU
The w00t is back. This year marks the sixth year Stone Brewing's collaborative imperial stout hits the street. Stone Farking Wheaton W00tstout — an 11.5 percent ABV Russian imperial stout brewed with rye, wheat malt and pecans before being partially aged in Kentucky bourbon barrels — is a collaboration between actor Wil Wheaton, Fark.com creator Drew Curtis and Stone CEO Greg Koch — a stout partially inspired by Kentucky Derby Pie of Drew's home state. It's named after Wheaton's annual festival celebrating cross-genre geekdom w00tstock. Expect raisins, coffee and roasted malt flavors with a spicy finish. The booze is evident but for the ABV it goes down easy. Woot! Woot!
Stillwater Collaborations Are For Lovers
16% ABV
Stillwater Artisanal was started in 2010 by Baltimore native Brian Strumke, whose past life as an internationally renowned electronica DJ and producer strangely led him down a path to crafting some of the world's most unique and highest rated beers. And now, in 2018 Stillwater Artisanal STILL stands tall. Brewed with Denver nano brewery Sleeping Giant Brewing, Collaborations Are For Lovers is an imperial stout brewed with mango, coffee and vanilla. Coffee, indeed, followed by overripe mango, Baker's chocolate, earthy roast with vanilla notes adding a nice sweetness to the craft beer. Yes, the coffee and mango combination is weird, but all these flavors coming together do a great job of hiding the high 16 percent ABV.
---