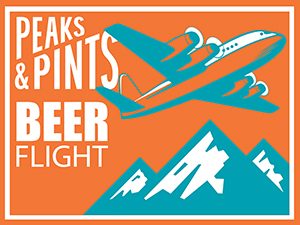 Happy National Box of Chocolates Day! Yes, it's a thing. From conversations with friends, family, and customers around the Peaks and Pints cooler, it seems like giving your significant other a box of chocolates on Valentine's Day has become horribly tacky and passé. What about today? Does a non-Valentine's Day box of chocolates represent custom, convention and, therefore, cliché? Will you be accused of not putting any thought into the matter? Peaks and Pints wishes buying someone a box of chocolates didn't automatically peg you as an uncreative loser with no taste. The chocolate in some of those boxes ain't half bad, and not everyone can afford (or even wants) an avant-garde container of chocolat from the likes of Richart. That said (cliché right there!), Peaks and Pints suggests forgoing an assortment of buttercreams, caramels, and nut clusters today, and instead give your loved one a flight of chocolate craft beer at Peaks and Pints. Craft Beer Crosscut 12.28.18: A Flight for National Box of Chocolates Day is all one needs to feel loved. Even if you're buying it for yourself.
Craft Beer Crosscut 12.28.18: A Flight for National Box of Chocolates Day
Culmination Nitro Choco Mountain
5.8% ABV
In 2015, Michigan native Tomas Sluiter opened Culmination Brewing in Northeast Portland in a 7,000-square-foot space kitted out with gravity-fed tanks and a live-edge wood bar. Culmination Brewing's Choco Mountain Milk Stout on nitro pours dark black with a tan frothy head. We dipped our nose for aromas of cold coffee and some acidic notes from roasted cocoa. On the tongue, it's strong bitter coffee with dark cocoa powder, dark roasty nuance and a little creamy undertone.
Samuel Smith's Organic Chocolate Stout
5% ABV, 28 IBU
Samuel Smith's Old Brewery has always brewed the old-fashioned way and the British operation still pulls water from its original well dug in 1758. Its Chocolate Stout is velvety and delicious, with creamy chocolate milk, chocolate syrup and cocoa powder dancing on the tongue. Caramel and vanilla try to cut in.
Track 7 Nukin' Futz
7.3% ABV, 20 IBU
Dec. 31, 2011, Track 7 Brewing Co. opened for business in Sacramento, California. It grew from 340 barrels of beer in its opening year to just under 1,200 barrels in 2013. That's not surprising since 1,000 people showed up to the brewery's opening day – causing a line out the door for three hours. Track 7's messed with its Burnt Fog Smoked Porter recipe, dropping the smoked malt and adding peanut butter, chocolate and lactose sugar. The combination produced a creamy peanut butter cup of a beer fitting for National Box of Chocolates Day.
Icicle Brewing Dark Persuasion
6.5% ABV, 22 IBU
Icicle Brewing Co. sits in the Bavarian theme park known as the city of Leavenworth, which seems perhaps the most appropriate place for a brewery. Owner Oliver Brulotte, who has deep family roots in Washington's hop farming history, basically launch the Wenatchee Valley's craft-beer boom. The brewery draws their water from nearby Icicle Creek, a run-off from surrounded by numerous mountain ranges including the Stuart Range and Wenatchee Mountains. And, Icicle Brewing makes a liquid German chocolate cake, Dark Persuasion. Seriously, this stout tastes exactly like German chocolate brownie, with strong chocolate and coconut notes, a touch of vanilla and a smooth finish.
Prairie Double Dunk
13% ABV
Ever head the old adage "have your cake and eat it too?" Prairie Artisan Ales just kicked it up a notch with Double Dunk, from cake to "Have your cookies and drink them too!" The Tulsa, Oklahoma brewery took their decadent imperial stout base and brewed it with an over the top amount of everyone's favorite cream filled cookie: Oreo. We get dark chocolate, smoky dark roasted malt and twinge of alcohol on the nose. The first sip reveals toasty malts, strong Oreo cookie, cola and a hint of coffee. It has an amazingly long finish.
---