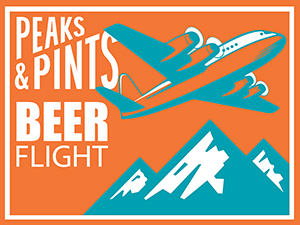 Today, Peaks and Pints centers on strong ales for our daily beer flight — including Belgian and American strong ales — in a flight we're calling Craft Beer Crosscut 12.27.19: Strong Ales. Belgian strong ales malty character can be rich and sweet, with complexity in flavors that include roastedness and mild hoppy bitterness. They are commonly brewed with Candi sugar, which can add to the style's alcoholic strength, which ranges from 7% to 11% ABV. We also include several American strong ales in today's flight, which are sometimes referred to as old ales, stock ales or winter warmers. These beers are higher alcohol versions of pale ales, though not as robust or alcoholic as barleywines.
Craft Beer Crosscut 12.27.19: Strong Ales
Skookum Deep Color
10.3% ABV
Old ale recalls the type of beer brewed before the Industrial Revolution, stored for months or even years in unlined wooden vessels known as tuns. The beer would pick up some lactic sourness as a result of wild yeasts, Lactobacilli and tannins in the wood. The result was a beer dubbed "stale" by drinkers: it was one of the components of the early, blended porters. Skookum Brewery brewed a strong old ale, added cherry wood smoke malt then aged in in whiskey barrels for 10 months. The result is Deep Color with deep notes and aromas of dark fruit, tobacco, oak, and mild smoke.
Van Steenberge Piraat Special Reserve
10.5% ABV
Brouwerij Van Steenberge Piraat Special Reserve is a Belgian classic and perennial gold medal winner is aged in barrels for the first time since it's inception. At 10.5 percent, the beer has a large malt profile, which produces flavors of country bread and dried fruits. By aging it in rum barrels the beer picks up vanilla accents, which further rounds out the beer without overpowering the spicy quality, which has made Piraat famous.
Chimay Grande Réserve Barrel Aged Whiskey Edition
10.5% ABV
Chimay has utilized its original Christmas brew, Chimay Grande Réserve, with triple fermentation and maturation in wooden barrels to create their latest addition to the Chimay Trappist family, Chimay Grande Réserve Barrel Aged Whiskey Edition. The flavor profile of this Belgian strong ale not only embodies its original characteristics of Grande Réserve with a fresh yeast fragrance, slight notes of caramel and vanilla, but also builds the profile to include an incomparable rounded, smoky oak flavor, slight bourbon and a touch of dryness.
Firestone Walker XXIII Anniversary Ale
11.5% ABV
A blend of Firestone Walker's beers aged in spirits barrels, including bourbon and tequila barrels — resulting in a smooth, bold and remarkably complex sipper. To create XXIII, the winemakers were divided into teams for a friendly but spirited contest. Each team was presented with numerous different component beers and tasked with creating the ultimate blend. The resulting blend includes Stickee Monkee (28%) Parabola (28%) Bravo (20%) Bourbon Barrel Helldorado (15%), Velvet Merkin (5%) and Tequila Barrel Helldorado (4%) is a wildly drinkable strong ale.
Hair of the Dog Adam From the Wood 2018
12% ABV
Inspired by the historical style Adambier from Germany, Hair of the Dog's Adam is a strong, dark smoky old ale aged for an extended time in barrels for deeply bready malt flavors layered with roast, smoke, and leather. It's astonishingly complex and punishingly strong at 10-percent alcohol. This is Hair of the Dog Adam From the Wood is Adam living several years in a tiny American oak house. First released in 2000, this 12-percent Adambier hits the nose with caramel, brown sugar, tons of raisin, light chocolate, little campfire roastiness and HUGE bourbon kick like kisses from your grandma on Mother's Day. On the tongue, expect dark fruits like an imperial quad, dates, plums, more little campfire roastiness, oak and bourbon.
Original photo by Good Free Photos
---