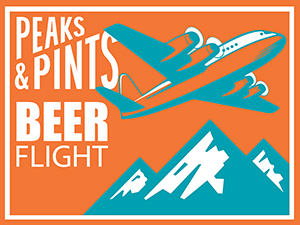 If you drink enough lattes, you will come to realize that some are indisputably better than others. But, once you account for differences in quality, you have to admit, there's a sort of sameness about them: espresso plus steamed milk, maybe a flavor shot or some sweetener. It almost makes you feel sorry for baristas. Why shouldn't they get to experiment with flavors the way brewers do? Brewers incorporate coffee in their brew in several ways: mixing beans into the malt build, infusing during barrel aging or straight up cut the beer with cold press. With so many kinds of coffee and beer and so many ways to commingle them, no two hybrids are created equal. With that in mind, let us sample five coffee beers in our flight Craft Beer Crosscut 12.28.19: Flight of Latte.
Craft Beer Crosscut 12.28.19: Flight of Latte
Belching Beaver Latte Nitro Golden Stout
5% ABV, 30 IBU
Adore Belching Beaver's Peanut Butter Milk Stout? The San Diego brewery put a fun twist on their popular stout — kicking up the peanut butter quotient, adding coffee and chocolate, running it through the nitro capacitor and painting it golden. On the nose, sweet vanilla notes up front marry into a natural but powdered peanut butter thing pretty quickly, and there are honey, toffee and roasted coffee notes that come in as well. It's dynamic in the taste, peanut butter still leading the way, but with lots of coffee character, a dry cocoa note, and a bit of a peanut brittle thing going on.
Elysian The Fix
8.9% ABV, 55 IBU
Originally a collaboration with the Scots at Brewdog in 2013, Elysian Brewing's The Fix is a big and bold imperial stout that is also just as much of a chocolate beer as it is a coffee beer. The Fix also may be the most caffeinated brew on the market, brewed with 9 pounds of Stumptown Coffee Cold Brew, or the equivalent of a 1/2 cup of coffee in every bottle. Elysian then aged the stout on 3,000 pounds of Congolese cocoa nibs from Seattle-based Theo Chocolate. This intensely dark and rich beer.
Epic Son Of A Baptist
8% ABV, 60 IBU
Epic Brewing's Son of a Baptist is a coffee imperial stout. It is not barrel aged like its father, Big Bad Baptist; instead its flavor profile is designed to highlight the complex and often unique flavors of small batch coffees. Peaks and Pints scored the Highwire Coffee Roasters version, which means the Oakland coffee company gave Epic their Bauhaus blend, adding bittersweet chocolate to the full and intense taste of dark malts and coffee.
Evil Twin Imperial Biscotti Break
11.5% ABV, 60 IBU
Jeppe Jarnit-Bjergsø contract brewed at Westbrook Brewing in South Carolina before moving his Evil Twin Brewing to New York City. At Westbook, he brewed his Biscotti Break, a gourmet imperial stout brimming with vanilla, coffee, almond and chocolate notes. This beer starts with a strong scent of dark chocolate and dark fruit. The fruit isn't present in the taste, but there is plenty of dark cocoa and roasted bitter coffee, all with a rich coating of nuttiness. When you're using flavors such as chocolate, coffee and almond it can be very easy to have a beer that is too cloying or tastes artificial, but that is not at all the case with this beer.
Epic Big Bad Baptist Hazelnut Vanilla Latte
11.2% ABV
Brewed since 2011, Epic Brewing's classic bourbon barrel-aged imperial stout made with coffee and cocoa nibs hasn't hit Washington state yet. We'll have to wait until next month for a ton of burnt toast and dark chocolate, with hints of sourdough and dry, split oak. What we don't have to wait on is the variants. Peaks and Pints has all three, including Big Bad Baptist Hazelnut Vanilla Latte on tap and in the cooler. The imperial stout aged in whiskey barrels with cacao nibs and coffee receives an extra hit of vanilla and roasted hazelnuts for a latte version.
---