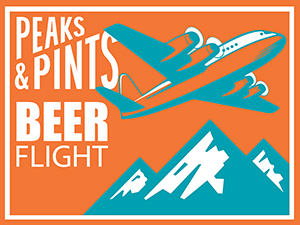 The backstory of Christmastime in a consumer culture always plays out in the alleys of Tacoma. This is where yesterday's must-haves are temporarily tethered to trash bins in an effort to make room for a glut of new holiday gifts. Scruff-a-Luvs waits to make its final trip to the dump, where it will be entombed with a plethora of plastic playthings. Besides the insult of a scruffy rescue pet getting trashed, there is the sadness that the child who owned this toy outgrew it and now faces a lifetime of toil every time he or she sees a scruffy animal. If Peaks and Pints did not have our own trash-flow problems, we would have scooped the lot of this junk to wrap up as gifts for our friends, who probably would have thrown them away at their houses. Peaks and Pints has always lived by the rule that it's the thought that counts. Therefore, our daily beer flight centers on post-Christmas toys, a flight we call Craft Beer Crosscut 12.26.19: Flight of Toys. After all, it's the thought that counts.
Craft Beer Crosscut 12.26.19: Flight of Toys
Aslan King Moonracer
5.8% ABV, 40 IBU
King Moonracer is the winged lion who rules the Island of Misfit Toys in the Rankin-Bass TV special Rudolph the Red-Nosed Reindeer. Moonracer — including "Charlie-in-the-Box," the "Bird Fish" (a bird who swims like a fish), and others are way too disturbing to be in a kids' Christmas special. What is not disturbing is Aslan Brewing's King Moonracer winter ale. Mashed with floor-malted Maris Otter, flaked rye and a variety of classic English specialty malts, then hopped with Centennial and Simcoe, and finished off with holiday-centric spices, King Moonracer has rich notes of toffee and chocolate with a hoppy finish.
Two Roads/Evil Twin Two Evil's Saigon Scooter Selfie
9.5% ABV
Two Roads Brewing's Master Brewer Phil Markowski and Evil Twin's Jeppe Jarnit-Bjergso sampled and became enamored with a popular Vietnamese coffee drink called Ca Phe Sua Da (cah-fe sah dah). Thick and decadent, like a coffee milkshake, it was the inspiration for their collaboration, Two Evil's Saigon Scooter Selfie Vietnamese-style Coffee Stout. Jarnit-Bjergso and Markowski jumped on their scooters and joined the chaotic, scooter packed streets of Saigon to meet up with brewing friends Heart of Darkness Brewery. It was there that the brewers created the first batch of this collaborative beer. Rich, thick mouthfeel gives way to lush sweetness with hint of coffee character followed by notes of cream, toffee and vanilla.
Moonraker Puzzle Dust
6% ABV, 35 IBU
There are some things we only do in the holiday season and that's what makes them so special: make complicated cookies, chug eggnog, send handwritten cards, and hunch over the dinner table with family we haven't seen in years, working on an epic puzzle. Peaks and Pints has spent hundreds of hours in silent, diligent puzzle prayer and have very strong opinions about what is worthy of our table. There's a 1,000-piece limit to join our family, and Moonraker Brewing's Puzzle Dust soft, pillowy, smooth pale ale must occupy pint glasses. We need Citra lupulin powder and Comet hops that explode with flavors and aromas of ripe mangos and peaches while we work busy, engaging material and artwork that stands the test of time.
Culmination Drone Logic
6.2% ABV
This winter, airports have more to worry about than just snowy weather and slick runways. There's a new source of anxiety found under the Christmas tree. Drones. Drones are the new puppies of the Christmas present world, and they can do a lot more damage than ruining the carpet. The most important rule to remember is that no one can fly within 5 miles of an airport without notifying the FAA, and commercial users must be authorized by the agency. That's drone logic. Culmination Brewing's Drone Logic is hazy IPA dry hopped with copious amounts of Lotus, Strata, and Sultana for grapefruit, pineapple, and tropical orange flavors.
Revision Glitter Moon with Tiny Unicorns
8.5% ABV, 40 IBU
Peaks and Pints loves moon shaped unicorn glitter snow globes. Indeed, they add a lot of colorful cheer and happiness to our holidays, but it's more than just for that. We place them in front of a window to capture the sun's rays and sparkle around a room. The bulk of the hop aroma and flavor in Revision Brewing's Glitter Moon with Tiny Unicorns Northeast Style Hazy DIPA come from the land down under. Galaxy and Vic Secret hops from Australia exude pineapple and passionfruit goodness while a solid chunk of oats in the grain bill makes for a smooth mouthfeel.
Photo courtesy of Moose Toys
---