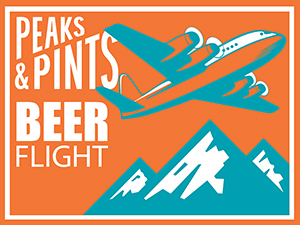 Block 15 Brewing sits heart of downtown Corvallis, only a few blocks from Oregon State University. The brewery's name hails from Corvallis' previous incarnation as Marysville and the old plat map location from the old town. Originally built in 1926 for the Gazette-Times newspaper, the Block 15 building is blocks from both Oregon State University's campus and Corvallis' riverfront park. In early 2008, homebrewers Nick and Kristen Arzner opened the brewery and restaurant serving beers true-to-style with ingredients imported from different parts of the world, along with all the Willamette Valley produced grains, hops, fruits, herbs and yeast. The brewery built a reputation for first-rate IPAs and other hop-forward ales, rock-solid renditions of classic recipes from around the world and a dazzling variety of Belgian-style brews, including cask-conditioned specialties featuring wild yeasts and exotic flavors. Today, Peaks and Pints presents a flight of Block 15 craft beer that we call Craft Beer Crosscut 12.18.18: A Flight of Block 15.
Craft Beer Crosscut 12.18.18: A Flight of Block 15
Block 15 Specular Reflections
6.5% ABV
Block 15's Belgian-style dubbel Specular Reflections riffs on a Trappist-style dubbel with a classic dubbel aroma: clove, cinnamon, and nutmeg spices cover fig, raisin, dark cherries, freshly baked sweet bread and Belgian dark candi. The initial sips while still cold bring out the same dark fruits as mentioned earlier with a large emphasis on the clove and nutmeg spices. As it warms, sweet icing covered cinnamon rolls take lead — and it's glorious.
Block 15 Cosmic Cold Brew
7% ABV
Working alongside their south Corvallis neighbors, Bespoken Coffee Roasters, Block 15 elevated their classic Nebula Stout with a 24-hour cold extraction on freshly roasted coffee beans. Cosmic Cold Brew is exactly what you want from a coffee stout. It's dry, complex, balanced, and delicious with flavors of coffee, chocolate, dark fruit and pepper. On the nose, expect spice, coffee, caramel, chocolate, vanilla, well aged fruit cake, and cinnamon.
Block 15 Ol' Saint Nick
9% ABV
While St. Nicholas is best known — in America, at least — for wearing red and white and giving presents to Children each December 25, he's actually the patron saint for a number of professions, places and afflictions, but especially the patron saint of brewers. Block 15's Ol' Saint Nick is a generously malt-forward winter warmer brewed with a base of Maris Otter, honey malt, and caramel malt balanced by zesty hop character. Ol' Saint Nick offers notes of toffee, cocoa, plum, and caramel with citrusy hops and a warm, lingering finish.
Block 15 Fresh Pow!
7% ABV
Block 15 Fresh Pow is a winter IPA designed to brighten the darkest winter days with resinous, citrusy, and tropical hop notes from Azacca, Chinook, New Zealand Cascade, Mosaic, and Apollo hops. Brewed with 2-row and superior pilsen form its grist base, while oat malt, flaked barley, white wheat malt, and fermentation with English ale yeast softly rounds out the body. Fresh Pow finishes with a balanced bitterness and lingering notes of mango, spruce, and orange marmalade.
Block 15 Sticky Hands
8.1% ABV, 100 IBU
Block 15's Sticky Hands double IPA is a "Hop Experience Ale" featuring ample additions of sticky, resinous, lupulin packed hop buds grown in the Pacific Northwest. Sticky Hands begins with an aromatic blast of tropical fruits, citrus and dank herb; transitions into luscious hop flavor; and ends with a balanced bitter finish, gently propped up by pale malted barley and fermented with Block 15's privately banked Brewers yeast.
---