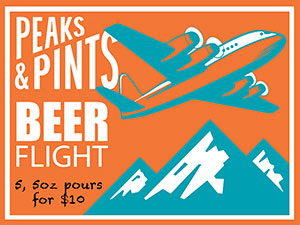 After being relentlessly hounded by a spamming chocolate marketer — which conjured up horrific mental imagery of Augustus Gloop — we are capitulating. We will inform you that today, Saturday, is National Chocolate Covered Anything Day. We are not complaining; it is the one-day where no one can question our obsession. Want to drizzle chocolate over your salad? Go right ahead, it is Chocolate Covered Anything Day! Add chocolate to your morning oatmeal? That is a brilliant idea. Eat chocolate covered sandwiches for lunch? You are in the spirit of the holiday. Want a flight of five chocolate craft beers? Done. We present Craft Beer Crosscut 12.16.17: A Flight of Chocolate.
New Belgium Imperial Frambozen With Cocoa
8.5% ABV, 13 IBU
Frambozen was one of New Belgium's most recognized, longest-running beers  — that is, until the brewery stopped bottling it two years ago. But New Belgium brought it back with an imperial version of the beer. The original beer "starts off as Abbey, but our brewers swap out Abbey's Belgian yeast for another house yeast strain," New Belgium has said. "After primary fermentation, the beer is blended with raspberry juice from the Pacific Northwest, resulting in a invigorating tart, fruity pour with a nutty, caramel malt backbone." This year, though, comes in at a much higher ABV and will benefit from the addition of 70 percent pure dark Ghana cocoa husks, locally roasted and ground by Nuance Chocolate in Fort Collins, Colorado. It's not overly fruity or even jammy, just even keeled, like a soft cocoa brown ale with gentle raspberries, but still has a nice mellow sweetness about it.
Samuel Smith's Organic Chocolate Stout
5% ABV, 28 IBU
Samuel Smith's has always brewed the old-fashioned way and the British operation still pulls water from its original well dug in 1758. Its Organic Chocolate Stout pours dark brown with a thin, khaki head. Light oatmeal and bready aromas lift to the nose, reminiscent of rising dough. On the tongue, this brew's complex and, with its oatmeal character, has a decidedly cookie quality to it: It's silky-smooth across the tongue, but also deep and grainy in the flavor. It's velvety and delicious, with creamy chocolate milk, chocolate syrup and cocoa powder dancing on the tongue. The brew sinks into the mouth and finishes sweet and full.
Boulder Beer Shake Chocolate Porter
5.9% ABV, 39 IBU
Boulder Beer Company's Shake Chocolate Porter (Boulder, Colorado) tastes like a chocolate shake with its rich chocolate aroma and velvety mouthfeel. This beer, which took home a gold medal in the Chocolate Beer category from the 2014 World Beer Cup, is brewed with five different grains, including chocolate wheat, and has added cacao nibs. It's chocolaty, but the swallow's still crisp and clean; milky chocolate notes connect with traditional porter roast and ride a cola-like mouthfeel all the way down.
Walking Man Jaywalker Russian Imperial Stout
11.8% ABV, 42 IBU
Walking Man Brewing Jaywalker is back for the first time since 2013. Big, rich, chocolate flavors dominate your mouth while a bit of alcohol heat lightens up the finish.  This beer won a World Beer Cup Bronze in 2010, the last time the Stevenson, Washington brewery competed there. The aroma is bold with burnt toffee, thick, deep and rich dark fruity esters, fudge brownie and black strap molasses. The taste is similar with burnt toffee, nice and rich dark fruity esters like prunes and berries to go along with a bit of a honey sensation. Into midway and rolling into the finish it picks up delicious chocolate and fudge.
Stillwater On Fleek
13% ABV, 50 IBU
Vermont brewery Casita Cerveceria traveled to Baltimore, Maryland to brew this black as night imperial stout at Stillwater Artisanal. Oh, but it doesn't smell like motor oil but instead coffee, burnt toast, dark chocolate and a little marshmallow, all woven between strong alcohol tones. We placed this delicious treat at the end of the flight as it warms complex licorice, bold earthy bitterness, chocolate, earthy vanilla, faint smoke and caramel fudge come forth. It finishes long with an intense and heavy mouthfeel — almost like a milkshake — slightly vinous for the style, with a smooth but firm alcohol warmth. There's enough carbonation to push the beer along and make it dangerously, DANGEROUSLY drinkable for 13 percent.
---