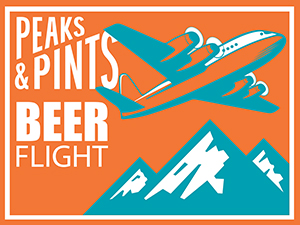 The conical, green flowers of the Humulus lupulus species provide not only a vast array of flavors for beers but also create distinctive aromas, varying levels of bitterness and lend a hand with preservation duties. Until recently you would struggle to find anyone who could name the hops used in their favorite beer, but these days the varieties take center stage, emblazoned across beer labels, allowing discerning drinkers to use them as a guide to what they should order next. Often brewed as occasional "specials", single hop beers help spread the knowledge of each individual variety and demonstrate a brewer's skill, as they try to wring as much complexity of flavor as possible from each hop addition. Today, Peaks and Pints presents Craft Beer Crosscut 11.8.19: Flight of Single Hops and Guitar Solos. That's right; we're loading up our jukebox with the greatest rock guitar solos to pair with Ariana, Galaxy, Amarillo, Simcoe, and Citra hops. After all, the best guitar solos often make a song complete and, more often than not, transcend the track entirely.
Craft Beer Crosscut 11.8.19: Flight of Single Hops and Guitar Solos
pFriem Ariana Single Hop Pale
6% ABV
Bred at the Hüll Hop Research Center, Ariana is a cross between Herkules and a wild male hop. Ariana is a newer German hop variety with notes of blackberries, blackcurrant, peach, pear, and tropical fruits. Ariana is said to add quite a bit of depth and variety dependent on the style of beer brewed, quantity used and timing of the addition of the hops. pFriem Family Brewers continues with their single hop pale ale series introducing Ariana as their fall release.
FreeThought Phosphorescent
5.5% ABV
Ryan Jorgenson and Ben Clayton began homebrewing together nearly a decade ago after both had moved from California to Brooklyn. The duo opened FreeThought Brewing, experimenting with landrace and heritage grains in their grist, as well as developing their own mixed cultures of wild yeast and souring bacteria. Their Phosphorescent hazy pale ale is brewed with Maris Otter, raw and malted wheat, light Munich malt and flaked oats, then hopped with Galaxy. It drinks like a fluffy, mango milkshake with notes of papaya, peach, vanilla, juniper and purple kush. The grist adds structure and undertones of agave and banana bread.
FreeThought Lucid
6% ABV
Lucid is an unfiltered IPA double dry hopped with Amarillo flowers, pellets and lupulin powder. Brewed with pilsner malt, raw and malted wheat, flaked and malted oats, and light Munich malt, this New England-style IPA is crisp and focused with aromas of sliced baguette and basil. Canary melon, sea salt and sassafras arise on the palate. Emphatic carbonation carries a finish reminiscent of watermelon rind.
Deschutes Chasin' Freshies
6% ABV, 55 IBU
Inspired by Deschutes Brewery's co-owner's eternal search for fresh powder on the mountain or perfect dirt on the trails, Chasin' Freshies captures hops in their purest form direct from the field. The hops for Chasin' Freshies change year to year and are hand selected in the hop fields alongside the farmers. This year this clean, crisp fresh hop IPA captures the candied orange, pine and tropical notes from fresh Simcoe hops.
Revision Citra Slam
6.5% ABV, 50 IBU
Revision Brewing has brewed another West Coast IPA, this time hopped exclusively with the one and only Citra hop. Tropically sweet hop flavors and aromas bring to mind ripe tangerine with an edge of passionfruit.
---