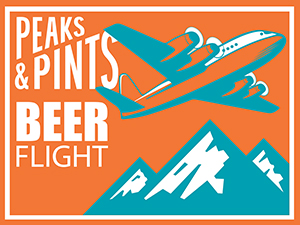 In 2010, Boneyard Beer was started in an old auto shop tucked away in the backstreets of Bend, Oregon's historical district. Without any outside investors or major bank loans, Boneyard's inception was unconventional to say the least. After decades in the brewing industry, owner Tony Lawrence built up a "boneyard" of old equipment he collected from 13 different breweries around the country. Alongside co-founders, Clay and Melodee Storey, this second-hand brewing equipment was pieced together to brew the first batch of Boneyard Beer in May 2010. In July 2018, Boneyard opened a new taproom at 1955 NE Division Street in Bend; the location was formerly a Chinese restaurant as well as a Texas Hold'em poker room and a short-lived taqueria. Today, Peaks and Pints offers a flight of Boneyard that we call Craft Beer Crosscut 11.7.19: Flight of Boneyard.
Craft Beer Crosscut 11.7.19: Flight of Boneyard
Boneyard Moai Punch
6% ABV, 13 IBU
The giant stone statues of Easter Island, called moai, have brought the island renown and have fascinated scores of scholars, travellers and artists. Their distinctive stone faces appear locked in silence; Sentinels in Stone that convey both power and tragedy. When and how were they carved? Why were these monumental statues erected? What did they represent? Numbering almost 1000, they are distributed over an island that measures only 15 miles by 7 miles, an island lying some 2400 miles off the western shores of South America. Boneyard doesn't know, but they do know how to brew a delicious fruit beer honoring the Seven Sentinels of Easter Island. Reminiscent of fruit punch, this beer is brewed with lightly colored malts, European yeast and a blend of seven distinct fruits representing. 
Boneyard Funky Bunch
6% ABV
This is a funky bunch of wild and sour flavors fermented in French oak foeders using Boneyard's proprietary culture, Lactobacillus and a blend of Brettanomyces. A secondary fermentation on fresh raspberries creates a complex, yet well-rounded wild ale. The berries are there, but light. This is a surprisingly nice sour with a little pucker, wood and balanced acidity.
Boneyard Lutteur De Poulet
9% ABV, 35 IBU
Lutteur De Poulet is brewed with a blend of pilsner, light crystal and rye malts; East Kent Golding and Hallertauer Mittelfruh hops, and fermented with a French saison yeast. This blend of ingredients not only creates a spicy and peppery profile, but it also gives way to hints of banana and bubblegum aromas. With a warming finish this imperial saison will definitely wrangle your expectations.
Boneyard Bone-A-Fide
5.5% ABV, 40 IBU
Heavily influenced by Three Floyds, Boneyard's Bone-a-fide pale is hoppy like an IPA but without the bitterness. The malts used to create the beer balance nicely with some of the Yakima Valley's most bonafide dank hop varieties: Cascade, Centennial and Chinook. This medium bodied pale blasts of juicy hops for a citrus/tropical fruit presence with lots of grapefruit, mango, pineapple and orange peel sweetness that is countered by dry, bitter pine needle flavor.
Boneyard Lotus Ascending IPA
6.25% ABV, 45 IBU
When the Boneheads in the brewery were given an opportunity to collaborate together to create a new IPA, they wanted to break the mold and create a beer that is a little less traditional — a brilliantly gold hued beer with aromatics of peach, apricot, honey, and orange citrus. Lighter in body this beer drinks smooth with subtle sweet malt notes that stretch in to the long finish.
---