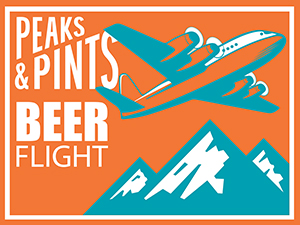 Black pepper, one of the most ubiquitous ingredients in existence, is what usually comes to mind when people think of peppercorns. But there are several other kinds, all drupes (fruit) from the same species of flowering vine. Where black peppercorns are the unripened seeds of the pepper plant, boiled and dried, green ones, also unripened, are either brined or dried without being cooked first. Red peppercorns are ripened and usually preserved in brine, but sometimes dried; white ones, also ripened, have their red outer coating rubbed off before being dried. Pink and Sichuan peppercorns come from different plant families altogether. Peaks and Pints believes Sichuan peppercorns is the spice from Dune. Today, Peaks and Pints presents a flight of beer brewed with peppercorns — a flight we call Craft Beer Crosscut 11.6.19: Flight of Peppercorns.
Craft Beer Crosscut 11.6.19: Flight of Peppercorns
Brasserie Dupont Brewers' Bridge
6.1% ABV
Peppercorns are perfect for complementing and enhancing the phenols produced by many Belgian yeast strains. Saisons are most commonly associated with peppercorns, given the natural spicy, peppery character of the yeast. Building a bridge between Belgium and the U.S. isn't going to happen anytime soon. In the meantime, enjoy Brewers' Bridge, a collaboration between Belgium's Brasserie Dupont and America's Allagash Brewing. The resulting saison has a soft yeasty sweet malt aroma with refreshingly tart, earthy malt flavor upfront followed by notes of coriander and white peppercorns. It finishes with slightly bitter notes of lemon peel and wheat grain.
AleSmith Horny Devil
10% ABV, 15 IBU
AleSmith Brewing's Belgian-style golden ale brewed with authentic Belgian ingredients including candi sugar and a Trappist yeast strain for fruity and spicy aromas including notes of orange, banana, and peppercorns. Coriander seeds add refreshing citrus notes, which meld with the beer's delicate malt. Expect lively carbonation and a refreshingly dry finish.
Jolly Pumpkin Problem No Problem
7.6% ABV, 22 IBU
The third collaboration Jolly Pumpkin brewed with Monkish Brewing Company in Torrance, California, Problem No Problem, doesn't have problems. Brewed with Pilsner Malt, Munich 10, jasmine rice, wild rice, green lentils, palm sugar, sweet orange peel, bitter orange peel, cumin, ground ginger, mustard seed, coriander, fenugreek, Tellicherry peppercorn and Wakatu hops, this saison hits the nose with brown sugar, oak, and funk. Expect flavors of oak, maple syrup and just a hint of spices that pairs well with the subtle funk and light tartness.
Monkless Peppercorn Imperial Wit
8.2% ABV, 30 IBU
Organic chemist (Ph.D.) Todd Clement fell in love with traditional Belgian/Abbey-style ales during work trips to Antwerp. After spending 7 years in the pharmaceutical industry as a process chemist Clement moved to Bend, Oregon. When he couldn't find his beloved Belgian-style ales, he began homebrewing them — his first batch a Belgian tripel. In 2014, he founded Monkless Belgian Ales with his friend Kirk Meckem who then left the business in 2016. Monkless is now owned and ran solely by Clement and his wife, Robin. Peppercorn Imperial Wit is the big brother of their Shepplekofeggan Wit. They doubled the IBUs to balance the alcohol and used a myriad of spices, headlined by a four peppercorn blend, accented with fresh orange peel and coriander. The result is a big, yet light bodied wit with citrus and pear aromas that finishes clean and peppery.
Port Brewing Nelson & Nelson
8% ABV
Port Brewing's Nelson & Nelson is all the Nelson Sauvin — brewed with Nelson Sauvin, Cascade, Centennial, and Simcoe, then dry hopped with Nelson and Galaxy. The Nelson nose is honeydew, as well as gooseberry, lychee, mango aromatics with subtle floral notes. It has a fruit-forward palate entry with a sophisticated tropical burst, immediately punctuated and subsumed by a wave of spicy all-spice/pink peppercorn notes. Pink peppercorns, the dried berries of the Brazilian pepper tree, are a hearty ingredient that add a spicy floral note to beer. Moderately bitter, growing increasingly dry, but finishing only medium-dry with the spice notes merging with the faint heat from the alcohol eventually. The cracker, clean malt bill balances the muscular, maximum flavor.
---