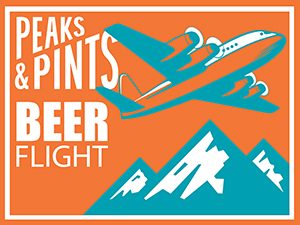 Hitting the scene in the early 2010s, the New England style India pale ale came to fame thanks to a Vermont brewery, The Alchemist, with Heady Topper, an unfiltered double IPA that became a cult favorite. The beer was a success, and other New England breweries followed suit: namely Hill Farmstead Brewery, also in Vermont, along with Trillium Brewing Company and Tree House Brewing Co., both in Massachusetts. Call them hazy, New England or Northeast style; they're all the rage. Though loaded with hops, these small-batch brews tone down the bitterness by using milder varieties like Citra and Mosaic, and adding them late in the brewing process. Unfiltered, these beers are meant to be drunk young and fresh. Today, Peaks and Pints offers a flight of hazy IPAs that we call Craft Beer Crosscut 11.24.18: A Flight of New England Style IPA.
Craft Beer Crosscut 11.24.18: A Flight of New England Style IPA
Revision Smoke and Mirrors
8% ABV, 30 IBU
Revision Brewing has brewed 30 or so New England style IPAs, including their double IPA, Smoke & Mirrors. They dumped a bunch of Citra, Mosaic and Amarillo hops to form a power trio of tastiness in this one. Pine, lime and tropical hops and a touch of white bread hit the nose as strong pine hops roll over the tongue, followed by a little caramel sweetness. Plenty of tropical hops ride the finish.
Fremont Head Full of Dynomite v7
6.8% ABV
Fremont Brewing excels at hazy IPAs, especially commanding the actual opaque, dense colored quality of the hazy to bloom, making for an incredible visual treat. Lots of fruit flavor, especially in its Head Full of Dynomite series, which version seven is on tap and in the cooler at Peaks and Pints. Brewed with Strata, Huell Melon and Mandarina Bavaria hops, Version 7 offers mostly melon with a little fruitiness and a hint of coconut.
Evil Twin Art Is Anything You Can Get Away With IPA
7% ABV
Brewed at Westbrook Brewing Co., Art Is Anything You Can Get Away With IPA is part of Evil Twin's Erase & Rewind series, number 25 to be specific. The silky smooth New England style IPA sees a double dry hopping of Galaxy, Topaz and Summer hops. On the nose and across the palate presents impressions of sweet grapefruit juice and dry pith, pale melon flesh with a hint of green mango skin. Sweetness is moderate, fading to mild as a moderate bitterness settles. It finishes with a lean feel and a sharp tingle of citrus.
Fat Orange Cat Living In Our Own Private Idaho
7.2% ABV
Fat Orange Cat Brew Co. is a small, seasonal farm brewery in East Hampton, Connecticut. They specialize in small batch recipes making an effort to support and promote local agriculture. Fat Orange Cat's hazy IPA Living In Our Own Private Idaho receives its name thanks to Idaho 7 hops. Teams with Azacca hops, the combination bursts with citrus fruit flavors, although the first sip is doughy malt, reminiscent of the inside of a fat soft pretzel. Soon to follow, though, are notes of lemon peel, guava jelly, lime essence and pineapple cores. It finishes with earthy, tropical fruit notes along with light resiny pine.
Breakside Coming Out Party
7.8% ABV, 92 IBU
Breakside Brewery invited their BBFs Comrade Brewing in Denver to Portland to brew a high octane hazy that hits hard with tropical, dank and citrus-heavy hops. Coming Out Party, er, came out with Taiheke — a New Zealand-grown hop version of Cascade — featured prominently with intense lemon-lime character. Alongside that, expect big notes of passion fruit and mango that the breweries coaxed from judicious additions of Mosaic and Vic Secret hops. The hops are couched in a pillowy malt base that makes the finish super soft.
---