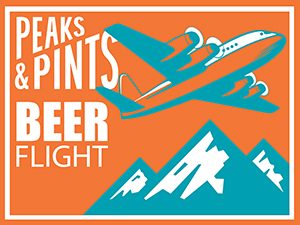 Beginning approximately 15,000 years ago, ice dams on massive Lake Missoula in Montana began to break, sending torrents of deep water rushing through Idaho, Washington and Oregon. The process continued for thousands of years with up to 40 major floods eventually forming what is now the Columbia River Gorge. It's a gorgeous area filled with waterfalls, hiking trails, outdoor recreation galore and craft breweries and ciders in a 40-mile stretch west to east — from Multnomah Falls to The Dalles. Peaks and Pints highlights Columbia Gorge brewed IPAs in our flight today, which we call Craft Beer Crosscut 11.25.18: Flight of Columbia Gorge IPAs.
Craft Beer Crosscut 11.25.18: Flight of Columbia Gorge IPAs
Double Mountain Cool Camp IPA
6.6% ABV, 55 IBU
Double Mountain Brewery and their brewer Matt Coughlin brewed Peaks and Pints bottle shop/taproom a house IPA named after Coughlin's favorite spot to camp in the Olympic Mountains. Simcoe and Centennial hops take the lead, with substantial additions throughout the boil (2, 5, and 3 pounds to be exact, Tacoma's area code) with more in the hop back and dry hop. Kolsch yeast provides a lightly fruited character, supporting the hops and letting them shine. There's enough weight in the malt bill to let some biscuit and cereal through but it's light enough to carry along the adventure. Cool Camp IPA is built for adventure. Dank evergreen and ripe citrus lead an adventurous crew wandering through a rainforest of pines.
Backwoods Roughin' It Rye IPA
6.5% ABV, 60 IBU
Beer at its most basic is composed of just four ingredients: barley, hops, yeast and water. Carson, Washington's Backwoods Brewing Company takes pride in creating brews that go beyond such traditional boundaries. And, that's certainly reflected in its Roughin' It Rye IPA, a reference to an added element of malted rye in the brew kettle. IPAs in general emphasize the bitterness of hops with herbal, citrus and piney character in their aroma and flavor. Rye adds to that its own complexity of spicy and bready qualities, which is the case with this robust IPA that gives off light pine and citrus notes, and is complimented with an earthy dry spice.
pFriem IPA
7.2% ABV, 65 IBU
pFriem Family Brewers' IPA is more of a Northwest IPA than West Coast IPA meaning its hazy and aromatic with assertive bitterness rather than lighter in body and brighter that is typically associated with West Coast style. pFriem's IPA is brewed with Gambrinus Canadian Pilsner, Simpsons Caramalt, Simpsons Crystal Light and Simpsons Crystal Dark grains with Chinook, Mosaic, Citra, and Warrior hops before it ferments with American ale yeast for strong citrus character along with some tropical fruit aroma. Grapefruit and passion fruit dominate with a slight pithy/woody quality too. The malt aromas are heavily masked by the hops, but grainy sweetness and a touch of caramel come through. It's a big, hoppy delight.
Full Sail Atomizer Ultrasonic Infused IPA
7% ABV, 70 IBU
Pull out your pocket protectors and rev up your robots. Seeking a better way to infuse beer with bright, clean hop aroma and flavor, Full Sail Brewing's brewers hopped in their oscillation flux capacitor, traveled at warp speed to a futuristic dimension and returned with the coveted, top-secret method for Atomizer Ultrasonic Infused IPA. A combination of Cryo Citra, Mosaic, Simcoe and Ekuanot hops hits the nose and tongue with straw, dankness, grapefruit and pine. This IPA is light bodied and crisp with a dry finish.
Everybody's The Cryo IPA
6.9% ABV, 80 IBU
In 2008, Christine and Doug Ellenberger opened Everybody's Brewing in White Salmon, Washington after years of planning the craft brewery when they weren't working their shifts at Full Sail Brewing Company directly across the Columbia River. Doug's 20-plus years brewing and Christine's years in the restaurant industry melded into a popular brewpub with a killer view of Mt. Hood. Doug and crew churn out delicious craft beer including The Cryo IPA. Brewed with Cryo hops, The Cryo is an experimental IPA using cryogenic technology, which means very low temperatures. Through a cryogenic separation process, pure lupulin powder is extracted from any hop, leaving behind a "hop powder" that contains the desired flavor. Enjoy the huge dank and earthy aroma and juicy flavor, with a bit of sweetness, from the pounds of Mosaic powder.
---