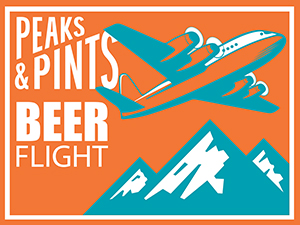 In 2005, Mikael Dugge Engström opened Dugges Ale & Porterbryggeri (Porter Brewery) in Landvetter outside Gothenburg, Sweden. Today, Dugges Bryggeri is on the top one hundred brewers in the world list, which isn't a surprise since they brew some absolutely phenomenal, world-class beers, as well as collaborating with some of the most exciting breweries in the game. Dugges brews most styles of beer, but have become known for their imperial stouts. Peaks and Pints presents a flight of Dugges beers, a flight we call Craft Beer Crosscut 11.19.19: Flight of Dugges.
Craft Beer Crosscut 11.19.19: Flight of Dugges
Dugges/Stillwater Cocoa Cacao
11.5% ABV
Mikael Dugge Engstrom opened Dugges Bryggeri in 2005 blowing Sweden's mind with the fruitiest kettle sours and this imperial chocolate stout brewed with "gypsy" brewer Brian Strumke of Stillwater Artisanal Ales. Brewed with cacao, coconut and vanilla, it tastes like a chocolate candy bar with semi-sweet milky cocoa to the fore but with a laid back boozy finish.
Dugges Big Idjit
12% ABV
Dugges' famous Idjit stout offers a blast of espresso-like coffee and burnt notes, quickly giving way to a calming wash of dark chocolate, cocoa, molasses and a hint of smoke from the chocolate and caramel malts. Dugees not only brewed this regular version but barrel aged versions, putting it in everything from whisky to bourbon barrels. They have even brewed a Christmas version. What they have never done (commercially) was a maxed out version. Well, until Big Idjit. This is straight forward big, bigger, biggest imperial stout. No fuss, just thick, malty loveliness.
Dugges Coffee Vanilla Deluxe
15% ABV
Dugges brewed this imperial stout with plush vanilla and da Matteo roasted Colombian Tabi coffee. Then, they let it mature in whisky barrels. The aroma leads with scotch whiskey barrel, then coffee with competing chocolate and caramel malts. Taste is a bit more balanced, although hot with notes of barrel, roast, chocolate, caramel, and some peat. It's a thick and strong stout that finishes strongly sweet.
Dugges Sunshine Orchard
8% ABV
Dugges Sunshine Orchard didn't have a bright beginning. This beer was supposed to be brewed in the United States in February of 2019. It wasn't. The government shutdown in the United States meant Dugges couldn't get labels approved. The U.S. government was back in business a couple months later and the Swedish brewery's first U.S. brewed double IPA hit the market with a subdued grapefruit peel nose followed by juicy citrus peel notes.
---