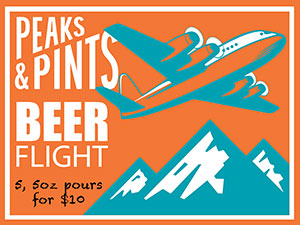 You know what would go great with your craft beer? Some music. Few things go together like drinking craft beer and listening to music. It's a combination so universal, it's no wonder why brewers like to have their beverages associated with their customers' favorite bands and artists. Some have even brewed beers with the style and artistry of these musicians in mind. In fact, Felipe Reinoso Carvalho, Ph. D., a researcher in Brussels who found you can enhance the flavor perception of your favorite brew by listening to the right jams. You're constantly surrounded by sensory stimuli, like sound, sensation, scent, and color — all of which influence your taste. You wouldn't think music would have such an impact on taste; but science proves otherwise. So, drop by Peaks and Pints today, listen to some music and drink Craft Beer Crosscut 11.13.17: A Flight of Music-Themed Beers.
Abita Purple Haze
4.2% ABV, 13 IBU
You're making music, but you aren't tripping, so that new ditto looper pedal you bought on eBay just isn't working how you thought it would. No worries; there's a solution for that, and it's Abita Brewing's Purple Haze. An American wheat with pureed raspberries, it's light and a more universally legal version of the taboo alternative. Your ditto looper may still sound a bit off and colors may appear all to realistic, but not hallucinating has its upsides, too. Now, excuse us why we kiss the sky.
Three Magnets Art Chantry Imperial Bitter
8.2% ABV, 40 IBU
Three Magnets Brewing Co. honors Olympia's notable indie music scene with craft beers named after, and brewed by, key players in Olympia's indie music scene, such as band 764-HERO, prolific graphic artist Art Chantry, YoYo Records, and Diana Arens, former producer of the radio show Free Things Are Cool at KAOS Olympia Community Radio and audio engineer at Dub Narcotic and YoYo Records. For today's beer flight we chose to highlight the former art director at The Rocket, the bible of Seattle's music scene of the '80s and '90s. Caramel and earthy notes cut and paste the front and middle of the tongue before a wave on bitterness is stapled to a telephone pole.
Aecht Schlenkerla Rauchbier – Urbock
6.5% ABV, 40 IBU
OK, this on might be a (musical) stretch. In October 1965, the Beatles and producer George Martin recorded a brilliant new John Lennon composition inspired by a clandestine affair he was having at the time, "Norwegian Wood." The recording would feature an exciting new tool, George Harrison's sitar. Anyhoo, the story tells of an arsonists' revenge fantasy about burning down the wooden domicile of a bad one-night stand. The wood-burnt anecdote may sound best sitting by Peaks and Pints' fireplace with a hickory-charred resin-dried chocolate-smoked German-styled smoked beer such as Aecht Schlenkerla Rauchbier – Urbock, in which its barley malts are smoked over beech wood logs. Its higher smoke malt concentration and longer maturation in the 700 year old cellars underneath Bramburg create a taste profile of most intense smokiness beautifully balanced with deep malt sweetness.
Fort George Suicide Squeeze Special Edition
7.2% ABV
This is not the same session IPA from 2014 when it was launched in collaboration with Seattle's Suicide Squeeze record label (Modest Mouse, This Will Destroy You, Elliot Smith). Fort George Brewery has re-mastered the recipe in a big, big way with a solid 7.2% ABV. The recipe was tweaked with big additions of Mosaic, Amarillo and Citra hops. Front loaded with organic 2-row barley and layered with deep cuts of specialty malt, Suicide Squeeze IPA presents us a balanced, full sensory experience. Designed to look like a 7-inch vinyl this colorful label changes colors with temperature swings, the snake on the label is dead and dull when the can is warm, but becomes a vibrant bright green when cold.
54-40 You Wreck Me IIPA
9.2% ABV, 80 IBU
Tom Petty's ragged riffs song "You Wreck Me" was originally called "You Rock Me." Replacing one word made the song take on a whole new meaning. We wonder if that is how 54-40 Brewing Co. felt brewing with the Strata hop, the first time the Washougal, Washington brewery used the Oregon hop. The hop gives this double IPA meaning. Nose comes off bright with the aroma of tropical fruits. Big flavors of mango, pineapple and passionfruit rock this beer.
Save
---