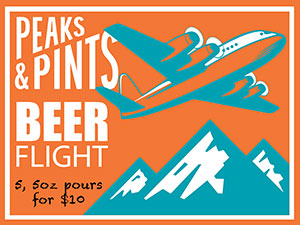 Childhood friends Jim Solberg and Roger Worthington reunited in 2008 to create Indie Hops and reboot Oregon State University's hop-breeding program with a huge donation. They were determined to do something new and enlisted Shaun Townsend, a PhD in breeding and genetics, to lead the effort. They gave him the mandate of breeding a hop that could flourish in the Willamette Valley, produce a hop with associated with mango, oranges and other fruits and herbs. Eventually X-331 emerged, which was later named Strata. Vic Secret's hop story began in 2000 when it was developed from a seedling created in the Victoria state in southeastern Australia in 2000. The clean, distinct pineapple passionfruit and pine characters of Vic Secret are best accessed by dry hopping or whirlpool additions. Peaks and Pints highlight the tropical fruit aromas and flavors of Strata and Vic Secret in today flight, Craft Beer Crosscut 11.12.17: A Flight of Strata and Vic Secret.
Fortside Northbank Expedition IPA
4.5% ABV, 35 IBU
Fortside Brewing Co. hosted 25 Southwest Washington breweries to brew this year's official beer of North Bank Beer Week — an India session ale featuring the first-ever Clark County-grown and Clark County-malted local barley called Expedition, named for the Lewis & Clark Expedition that made it's way along the Northbank of the Columbia in 1805. After the 25 breweries added Vic Secret, Galaxy and Mandarina Bavaria hops to the malt the resulting Northbank Expedition IPA arrived dry and fruity with hints of grapefruit and passionfruit and very drinkable.
Backwoods Scaler Single Hop
6.3% ABV, 50 IBU
Jim Waters taught his sons, Kevin and Tom, how to homebrew and carpentry before the young lads made their way to Eastern Washington University. In between studies the two lads scribbled out a game plan, logo and brewery concept and followed through to the 2012 opening day of Backwoods Brewing Co. in Carson, Washington. Their first brews pouring from their pub's taps were off a one-barrel system incorporating locally produced hops, grain and yeast. They now operate on a 20-barrel system in their new Stevenson facility, making beer for both draft and package, with their Carson taproom still jam-packed with locals and tourists. The second seasonal in Backwoods Brewing's Experimental Forest Series, Scaler Single Hop IPA is brewed and dry hopped exclusively with Vic Secret hops, harvested out of Australia. Delicious notes of passionfruit, pineapple and pine, with a crisp refreshing finish.
Wingman DIPA Good
8.3% ABV
This is Wingman Brewers brewer Peter Brown's beer. He worked directly with hop farmer Indie Hops to arrive at the aroma and flavors he desired for his DIPA Good. And it is good. The West Coast style double IPA hits the nose with pineapple, watermelon and a whiff of herbal dankness. The first sip reveals passionfruit, mango and pine with a little candied peach.
54-40 Brewing You Wreck Me IIPA
9.2% ABV, 80 IBU
Tom Petty's ragged riffs song "You Wreck Me" was originally called "You Rock Me." Replacing one word made the song take on a whole new meaning. We wonder if that is how 54-40 Brewing Co. felt brewing with the Strata hop, the first time the Washougal, Washington brewery used the Oregon hop. The hop gives this double IPA meaning. Nose comes off bright with the aroma of tropical fruits. Big flavors of mango, pineapple and passionfruit rock this beer.
The Hop Concept Tropical & Juicy
8.5% ABV, 85 IBU
First brewed in 2015, The Hop Concept's Tropical and Juicy double IPA garners its namesake flavor profile by concentrating on Mosaic, Galaxy, Vic Secret and Citra hop varietals. Well-blended citrus and tropical fruit — orange, lemon and pineapple — as well as pine hits the nose. On the tongue, expect grapefruit juice notes and some orange — sweet but not too sweet. It's an intensely bitter DIPA with strong citrus character, a nice nose and flavor, and well-balanced.
Save
---