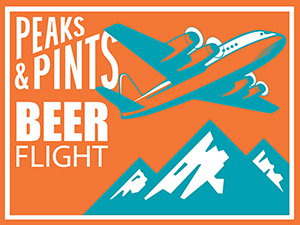 Crooked Stave Artisan Beer Project was founded in 2010 when Chad Yakobson completed his master's thesis on wild yeast fermentations. The Coloradan used his research to launch a brewery and distributor that would produce 100 percent Brettanomyces-fermented beers. The Denver brewery brews with Colorado floor malted barley as their base malt, produced exclusively for them by Leopold Bros Distillery. Crooked Stave features Colorado grown hops in many of their recipes, and work meticulously with whole fruit and only whole fruit, most of which is grown in Colorado. Today, Peaks and Pints presents a flight of Cooked Stave beer that we call Craft Beer Crosscut 11.10.18: A Flight of Crooked Stave.
Craft Beer Crosscut 11.10.18: A Flight of Crooked Stave
Crooked Stave Sour Rose
4.5% ABV
Crooked Stave has rereleased its Sour Rosé, a wild ale fermented in oak barrels with raspberries and blueberries. Sour Rosé spends upward of 12 weeks on whole fruit in large oak foeders. This traditional American sour is the first 100 percent mixed culture fermentation, 100 percent primary fermented oak-aged beer to be released into a can by any brewery. It pours purple, with a small, pink head. Bright blueberries and tart cherries hit the nose. It's definitely a sharp, fruity sour taste with some lemon zest and a bit of funk.
Crooked Stave Origins
6.5% ABV
Crooked Stave founder Chad Yakobson describes Origins as its "homage to the history of barrel-aging and those who have influenced us along the way." It was brewed in the Flemish red style of Belgium — beers that are sometimes called the "Burgundies of Belgium" — and is made of a blend of two batches: the first sits in French oak barrels for two years, while the second ages in barrels for 18 months. Breathe in the tart notes, oak and cherry. On the tongue, expect muted tartness with woody oak and creamy vanilla underneath cherry and cherry pit notes. The cherry lingers on the finish.
Crooked Stave Mama Bear's Sour Cherry Pie
7% ABV
Mama Bear's Sour Cherry Pie is an American wild ale aged in oak barrels with more than 3,000 pounds of Colorado sour cherries harvested on the Western Slope of the Rocky Mountains. It pours reddish brown with a slight, transient tan head. Aroma of wood and cherries hits the nose. Expect jammy sour cherry notes all over. It has a strongly acidic taste, but the cherry character is phenomenal. We also taste yeast, oak, vanilla, dough, and some caramel.
Crooked Stave Nightmare on Brett
9.7% ABV
Crooked Stave has garnered high praise nationwide for their Belgian-style sour and wild ales. Most of these beers take months or years to make; they're aged in wooden barrels with wild yeast or bacteria. Crooked Stave's Nightmare on Brett also fits into the whiskey sour theme — a dark sour ale aged in Leopold Brothers whiskey barrels. The aroma is full of beautiful tart raspberry with a hint of funk and dark grains underlying. Flavor is full of sour raspberry with a bit of acid, malty ballast, nice funk note and fairly hot due to the whiskey barrels.
Crooked Stave Trellis Buster
8% ABV
Crooked Stave Trellis Buster is brewed with more hops than the brewery has ever used in a single beer. The unfiltered, resinous trellis-busting hop bomb bursts with bold character. Crooked Stave brewers tailored the malt profile to deliver a smooth, citrus and drinkable double IPA — dry-hopped with Azacca, Citra, Motueka and Simcoe.
---