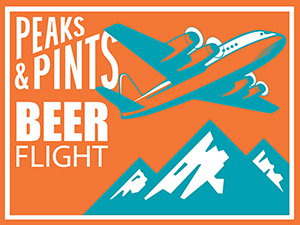 The historical epoch of Armistice Day began with the Nov. 11, 1918, signing of a ceasefire between Germany and the Allied powers of World War I. President Woodrow Wilson initiated it. In the South Sound, we're reminded of war's impact more often than people in most other cities. But even so, it's not often enough. Our freedoms, our heritage and the way of life we enjoy today are made possible because of our military veterans. Today's 100th anniversary of Veterans Day honors all of America's veterans for their patriotism, service and sacrifice. And for their families, there is no better time than now to recognize them and give thanks for the remarkable sacrifices they have made. Happy Veterans Day to all the veterans and current troops serving in our military. Our freedoms, our heritage and the way of life we enjoy today are made possible because of you. As a thank you Peaks and Pints will offer $2 off our special beer flight, Craft Beer Crosscut 11.11.18: A Flight for Veterans Day. Thank you for your service to our country. Cheers!
Craft Beer Crosscut 11.11.18: A Flight for Veterans Day
Wingman Blackberry Sham-Ba-Lambic
6% ABV
Anxious to start a business venture in the growing craft beer industry, homebrewer Ken Thoburn didn't have to look far for inspiration for his brand, Wingman Brewers. With a grandfather who painted various nose art designs on a variety of World War II airplanes, Thoburn fell in love with the 1930-40s-era vintage military theme. Combine that with an area that has a large saturation of active-duty and retired Air Force and military members and Tacoma's Wingman Brewers was born. Head Brewer Thoburn, including Derrick Moyer and Daniel Heath, started Wingman Brewers in April 2011, brewing beer to sell to local bars, restaurants and grocery stores out of a small storefront in Tacoma. Wingman Brewers took off in a big way, with a constant eye on their vintage military theme. Indigenous to the Senne Valley of Belgium, lambics stem from a farmhouse brewing tradition several hundred years old. These brews are spontaneously fermented — meaning pots containing the wort are left outside and uncovered, allowing whatever critters happen to be flying by on a passing breeze to ferment the beer. These wild yeast give lambics their distinct tartness. Most Belgian brewers also utilize aged hops, which add antibacterial properties to the beer, rather than bitterness or flavor. In the case of fruit lambics, whole fruits are traditionally added after halfway through fermentation to add sweetness and new dimensions of flavor as Wingman did with their Blackberry Sham-Ba-Lambic. This is the first beer the Tacoma brewery poured into its koelschip (pronounced "coolship"), which is a hollowed Lebanese cedar log where the lambic was cooled while Tacoma wild yeast and bacteria inoculated it. Next, it was aged two years in oak. Last, all the Pacific Northwest blackberries.
Triceratops Hans Gruber Wheat
5% ABV
Homebrewer Rob Horn left New Jersey to become a firefighter at Joint Base Lewis-McChord. He and his wife, Kelly, opened Triceratops Brewing in August of 2014. With the last name Horn and three awesome kids, is there really any other name? At first, they brewed out of their home garage. After thriving there for three years they opened a tasting room next to Matchless Brewing in Tumwater. In Die Hard, Hans Gruber was Bruce Willis' John McClane match. Gruber was smart, cultured, funny and a ruthless international terrorist. Every time McClane tries to take the upper hand, Gruber out-maneuvers him. This beer flight isn't over until Hans Gruber falls off the Nakatomi Plaza! Triceratops' Hans Gruber Wheat sports a three-way balance of malt, bitter and wheat, with a touch of orange. Yippee ki yay!
Task Force Brutal Blackberry
7% ABV, 26 IBU
There is nothing better than kicking back on a Sunday afternoon with sandwiches, swapping war stories with friend, and knocking back a couple craft brews. But what if, when you separated from the military, you could make beer for a living? Jon Alexander and Colin Miller did. Thirty-one years ago, the duo brainstormed a craft beer brewery while serving with the 2nd Battalion, 160th Special Operations Aviation Regiment (Airborne). The idea of starting a brewery after they were done with their Army careers appealed to the two beer lovers. Joined by a few fellow veterans Jim Leise and Henry "Ike" Eisenbarth, they opened Task Force Brewing in Lakewood with a mission of "providing locally-sourced food and carefully-crafted beer to like-minded enthusiasts and burgeoning beer fans alike." A good brut IPA is a curious thing. It bursts with the hop aromatics of a heavy IPA but beneath those brash flavors is a delicate, almost dainty body. It drinks like a glass of dry champagne. Task Force takes its brut IPA and drops a blackberry in the Champagne glass. After dropping in Nelson Sauvin, Belma and Hallertau Blanc hops, Task Force adds a bunch of blackberry juice. It's dry and with a clean finish, but hits the nose with berry sweetness.
Wet Coast Eureka Single Hop IPA
5.4% ABV, 48 IBU
Wet Coast Brewing's name a triple entendre: 1. West Coast, 2. Northwest weather, 3. Prohibition, where citizens voted wet or dry. In 1920, the United States has just enacted the Volstead Act, prohibiting the production and consumption of intoxicating liquors. Bottles were smashed, babies cried and Americans everywhere were forced to be "dry" and live a life without beer. That is, everywhere but Washington state. Lt. Roy Olmstead with the Seattle Police Department began smuggling alcohol from Canada and soon enough Washington wouldn't just be a rainy state out west, it would become the Wet Coast. West Pierce Fire and Rescue firefighters Bryan Copeland and Aaron Johnson are the brewers and co-owners behind Wet Coast Brewing Company, along with their wives Molly Copeland and April Johnson. They opened in Gig Harbor in 2015 on a 3.5-barrel brewing system, with three 7-barrel bright tanks and four 7-barrel fermenters. Their Eureka Single Hop IPA boasts an array of juicy, piney, resinous and grapefruit aromas and flavors.
Top Rung Brewing Shift Trade IPA
6.2% ABV, 50 IBU
After college, Jason Stoltz became a full-time firefighter with the McLane/Black Lake Fire Department, joining Capt. Casey Sobol, who would eventually be his homebrewing buddy then business partner at Top Rung Brewing Co. The career firefighters — 24 years for Sobol and 11 for Stoltz — took their hobby to pro after the duo's Hosechaser Blonde grabbed the Dick's Brewing "Beer for a Cure" home-brewing contest top prize in 2012 — and they began to shadow Dick's brewer Parker Penley. In April 2014, the duo opened Top Rung in Lacey, Washington. A year later, they brewed Shift Trade IPA, a 6.2 percent ABV shot of tropical fruits thanks to a hefty dose of Mosaic and Cascade hops. Shift Trade is easy drinking with mango, apricot, and pineapple notes and a solid, slightly toasty malt core.
---