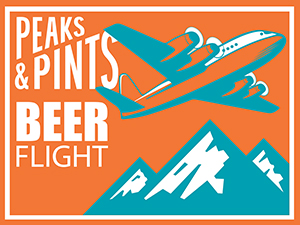 Dr. Hoppy Dankenstein has isolated himself from his family, friends and colleagues. Unknown to them, Dankenstein has been experimenting with the stickiest of the icky, the dankest of the dank, the bombest of the bomb-diggity. Dankenstein scoured the planet for face-meltingly awesome hoppy beers, with the goal of showcasing five of them at Peaks and Pints today. Upon learning Dankenstein's plans, his friends, family and colleagues believe that he's treading in dangerous territory in creating what they believe is a flight of weed. Dankenstein argues that, yes, "dank" refers to beers that "smell like good weed" but dank also refers to "high-quality" that the kids these days use to describe their memes. Dankenstein's friends, family and colleagues attribute the term "dank," to mean "pungent, funky and odoriferous, to both good weed and very hoppy IPAs." Hops and marijuana both contain terpenoids, compounds that give the plants similar characteristics. In fact, both fall into the taxonomic family Cannabaceae, so it follows that you could create a fairly stinky beer with the right treatment of the right hops. Hops don't get you high, but in smell, taste and appearance, they often feel just about as … dank. Dankenstein's father, Brett Dankenstein, a sour of a man, tries to intervene, but the younger Dankenstein ignores his dad, and Craft Beer Crosscut 10.25.19: Flight By Dr. Dankenstein is alive!
Craft Beer Crosscut 10.25.19: Flight By Dankenstein
Stoup Politonic
6.9% ABV, 45 IBU
"Politics got you down these days?" asks Stoup Brewing hype. "Want a break from the constant stream of empty promises, chaotic debates, poor decisions and expensive yet disturbingly awful haircuts? Try our Politonic IPA … guaranteed to soothe your politics fatigue. We brewed it with wheat, flaked and malted oats, then heavily hopped it with Wakatu, Wiamea and Mosaic Cryo hops. Fermented with a haze yeast strain, this beer has a smooth, creamy mouthfeel balanced by big pine, citrus, and a touch of floral flavors." The Seattle brewery left off the dank descriptor.
Sierra Nevada Celebration Ale
6.8% ABV, 65 IBU
Now that it's wintertime, where do all the hops go? They're currently hibernating in this yearly seasonal from California's Sierra Nevada Brewery. In the midst of the many big and malty winter ales, Celebration Ale provides a comfortable winter home for the season's displaced hops. Every year, it seems slightly different, but one thing remains the same, the hop nose is off the charts, and yes … super danky. A little darker than the average American IPA, this ale has a citrusy, piney and resinous hop character and a medium body.
GoodLife G. Love's Special Sauce
7% ABV, 70 IBU
In 1994, Philadelphia-based blues/hip-hop artist G. Love scored his biggest mainstream hit with "Cold Beverage." His band, G. Love & Special Sauce has been touring pretty much nonstop ever since. In June 2018, that included a set on the lawn at the Bend brewery. That, in turn, led to GoodLife's latest collaboration between the brewery and G. Love himself, to make what the brewery calls "the dankest of the dankest IPAs known to mankind." G. Love's Special Sauce IPA combines six different types of hops — Mosaic, Idaho 7, Mandarina Bavaria, Centennial, Columbus and El Dorado — for a danky dankster of a beer.
Everybody's Cryo-Chronic IPA
6.9% ABV, 80 IBU
Remember when Austin Powers came out of the cryogenic process, which took a while to comp … compl… complete, the International Man of Mystery underwent laser cutting, the warm liquid goo phase, reanimation, cleansing and evacuation — all in that order. That last one just took a long time. Yakima Chief Hop Union's innovative cryogenic process doesn't take as long, and there isn't a warm liquid goo phase, but the results are delicious craft beers. Using YCH Hops' innovative cryogenic process, lupulin glands are separated from the hop cone, leaving behind a "hop powder" containing all the flavor and aroma oils. "Cryo Hops" showcase pronounced juicy and resinous flavors with greatly reduced grassy characteristics. Everybody's Brewing's Cryo-Chronic IPA is brewed with Cryo hops, Cryo-Chronic is an experimental IPA using cryogenic technology, which means very low temperatures. Through a cryogenic separation process, pure lupulin powder is extracted from any hop, leaving behind a "hop powder" that contains the desired flavor.  Enjoy the huge dank and earthy aroma and juicy flavor, with a bit of sweetness, from the pounds of Mosaic powder.
Claim 52 Danker Things
8.7% ABV, 80 IBU
For the uninitiated, the word "dank" means a beer is musty, and moldy, and earthy, and dank as the traditional definition would define — dirty, nasty, wet, cold basement. Some people think dank as resinous sticky, fruity cannabis. When Peaks and Pints discusses dank in beer, we are talking about the essential oils. Resin is the defining characteristic that cannabis and humulus lupulus have in common.  To get geeky scientific on you, the presence of b-caryophyllene and a-humulene as the essential oils of both hops and cannabis sativa is what we tend to feel is the strong indicator that the oils extracted during the boil, and through dry hopping are what causes the similar aroma and flavor perceived to some as dank, such as Simcoe hops in Claim 52 Brewing's single hop double IPA. This beer is dank, for sure, with citrus and deep resinous, but still light on the tongue with a malty finish.
---