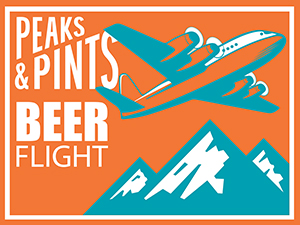 In 1996, Jeff Schons and Mary Jones founded English-focused Pelican Brewing Company in Pacific City — Oregon's only oceanfront brewpub. Celebrating its 21st year, the brewing company has created tasty treats such as Kiwanda Cream Ale, India Pelican Ale, MacPelican's Scottish Ale, Tsunami Stout and Doryman's Dark. Founding brewmaster Darron Welch and Pelican have won more than 300 awards including the 2014 World Beer Cup Champion Small Brewing Company and Brewmaster of the Year. Today, Peaks and Pints offers a five Pelican beer flight we call Craft Beer Crosscut 10.24.19: Flight of Pelican Brewing.
Craft Beer Crosscut 10.24.19: Flight of Pelican Brewing
Pelican Kiwanda Cream Ale
5.4% ABV, 25 IBU
If you love Pelican Brewing Company's flagship beer Kiwanda Cream Ale, you're not alone — it's one of Pelican's most award-winning brews with 21 honors, including 13 gold medals. Inspired by one of America's traditional indigenous 19th century beer styles, Kiwanda Cream Ale is a nod to founding brewmaster Darron Welch's love of history and reputation for brewing beers as they are intended to be. Pelican is the first known craft brewer to honor the early American beer. Made of all local, hand-sourced ingredients — Two-row malt, flaked barley, Mt. Hood hops, CaraPils malt, pure local water and pure ale yeast — Kiwanda Cream Ale is pale gold with a fruity, floral hop aroma, golden color, refreshing body and clean, snappy finish.
Pelican Queen of Hearts
6.5% ABV, 30 IBU
Pelican Brewing's Saison du Pélican is exceptional on its own; when aged in Ransom Distillery gin barrel, it takes on a whole other dimension of flavor. The fruity and spicy aroma of the farmhouse Belgian yeast, herbaceous Goldings hops and the well rounded malt character of Saison du Pélican pairs exquisitely with the huge botanical infusions imparted by Ransom Distillery's Old Tom gin barrels. The name? It has been mentioned that the distillers only bottle the "heart of the hearts" (best portion of distillate), which is why the Oregon coast brewery dubbed its barrel-aged saison, "The Queen of Hearts."
Pelican Cactus Queen
6.5% ABV, 30 IBU
This double-barreled Belgian blonde has characteristics of your favorite spicy tequila, while maintaining an exciting, bold balance of flavors. It's aged in Reposado tequila and Ransom Old Tom Gin barrels for dynamic oaky and earthy aromas. On the palate it's smooth with notes of tequila and gin, plus a bit of lemon, some banana and cucumber.
Pelican D'Mango Unchained
7% ABV
Pelican messed with its saison a second time, again aging it in Ransom Distillery gin barrels but this time refermenting it with 550 pounds of mango puree. It smells of light mango, a bit of funk and hints of gin. On the tongue, it's tangy, fruity, mildly funky and loaded with mango. The gin comes on mid- palate and lingers. The finish is clean though the tang is still a thing.
Pelican Mother of All Storms
14% ABV, 40 IBU
Mother of All Storms was originally released back in 2008 under the name "The Perfect Storm" but due to a copyright issue they changed the name to Mother of All Storms in 2010. Oh, mother, either way it's a fitting name for this Kentucky bourbon barrel-aged beast. The 14 percent ABV English-style barleywine surges with Golden Promise, Munich, Melanoidin and Caramel malts as well as Magnum, Glacier and Mount Hood hops. The beer then spends several months aging in Kentucky bourbon barrels before being bottled and kegged. The Storm opens with a straight on bourbon slapped in the face before hints of dark fruits, toffee and oak start to appear. The bourbon returns on the tongue before other flavors begin to emerge: tawny port, pie cherries, leather, cacao nibs, rich malt, and velvet-y caramel with toasty coffee edges. Did we mention a fair amount of bourbon?
---