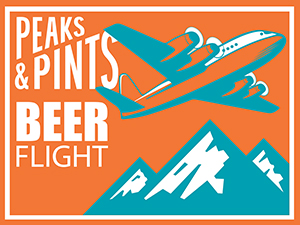 "Milk is for babies! When you grow up you have to drink beer." So declares Arnold Schwarzenegger in the 1977 film, "Pumping Iron," (Seriously, it's a classic. If you haven't seen it, add it to your Netflix.) But the decision of whether to drink milk or beer now seems as anachronistic as Lou Ferrigno. The craft beer boom has injected new life into the milk stout, an English classic that withered with the advent of World War II and the milk rationing that followed. Milk stouts, trendy as they may be, are definitely here to stay. Also called "sweet stouts," milk stouts are marked by the addition of lactose, a sugar naturally found in dairy, which lends a soft, creamy sweetness. Peaks and Pints presents a flight of milk stouts that we call Craft Beer Crosscut 10.26.19: Flight of Milk Stouts.
Craft Beer Crosscut 10.26.19: Flight of Milk Stouts
Boulevard Steep Drop Nitro
5.2% ABV, 23 IBU
This Boulevard Brewing milk stout strikes a good balance between beer and coffee. There's ample body with a silky mouthfeel and the nitro balance only emphasizes the characteristics of a well-rounded stout. Brewers also use oats in the brewing process to give it that extra creamy consistency. Then comes the coffee, from the Kansas City brewery's neighboring roasters, Second Best. The course ground beans — 50 percent Brazil City Roast, 30 percent Costa Rican, and 20 percent Ethiopian — sits in the tanks for a day before purged out. The nose is chocolate/roasted malt, fruit, earth notes and coffee, followed by caramel, toffee, rich coffee and chocolate notes with a round, creamy finish.
Firestone Walker Coconut Merlin
5.5% ABV, 23 IBU
With an infusion of freshly toasted coconuts and a touch of seasonal sorcery, Firestone Walker Brewmaster Matt "Merlin" Brynildson has conjured up Coconut Merlin — the newest iteration of the brewery's signature "Merlin" milk stout. "Coconut and Merlin milk stout go together like peanut butter and chocolate," Brynildson said in a media release. "Toasted coconut really complements the roasty, nutty character of this beer. It's a perfect sipper for the fall season." The coconuts are procured, shredded and toasted in nearby Santa Barbara County, then added after fermentation, with the new beer circulating through the shredded coconuts prior to final clarification and canning. Meanwhile, the inclusion of milk sugar in the brewing process adds dimension to the mouthfeel and helps knit everything together on the palate.
Left Hand Nitro Milk Stout
6% ABV, 25 IBU
Without going into the chemical physics of solubility and gas diffusion, let's just say that nitrogen has a silky effect on beer. Nitrogenized brews, as opposed to carbonated ones, have a softer mouthfeel, taste less acidic and boast a creamier, more stable head. Left Hand Brewing's Milk Stout was no bore before, and on nitro, it's even better. Cocoa and burnt flavors from its dark roasted grains come forward first, followed by a wave of sweet cream thanks to the use of lactose sugar. Magnum hops help give the 6 percent-alcohol brew a bitter finish that entices the next sip. Throughout, the beer's ultra-smooth texture inches it closer to chocolate milk than you thought a beer could get.
Against The Grain 35K
7% ABV, 26 IBU
Against the Grain's bottles are full of attitude that jumps out at you on the shelf. Located in a former train station on Main Street in Louisville, Kentucky, this rapidly expanding brewery and restaurant brews on a 15-barrel system, in addition to brewing at Pub Dog Brewery in Maryland. It's 35K is a sweet stout brewed with Nugget and Crystal hops, the beer pours an inky black with slight red hues when held up to the light. Roasty and rich in the nose with a mildly sour and musty aroma, 35k Stout is sweet but finished dry with a lactose flavor.
Silver City Kwik Stout: Mocha Milk Stout
8% ABV, 40 IBU
Milk stouts originated in Europe in the 1800s. They are sometimes called cream stouts or sweet stouts. Many brewers add milk sugar (lactose), which is unfermentable, to give it additional sweetness and body, such as Silver City Brewery's Kwik Stout: Mocha Milk Stout. The Bremerton brewery brought back its Kwik Stout this spring enhanced with a hearty does of cocoa, freshly roasted coffee and a hint of vanilla. It goes down like a glass of milk that had been used for dipping Oreos, sweet and smooth — although let it warm a bit for more flavor.
LINK: Craft Beer Crosscut beer flights archives
---