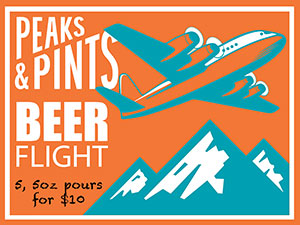 Peaks and Pints Weather Guy continued to assert this morning that the French maid outfit he was discovered wearing at Peaks and Pints Friday was "absolutely nothing more than a Halloween costume. … I speak for all South Sound residents when I say one of the biggest threats to our quality of life is purchasing a costume, only to discover on Halloween night that the darn thing doesn't fit," the meteorologist said. "As for the accusations that I was waving a feather duster in the air with youthful insouciance while I danced around the room in a paroxysm of erotic fantasy, those are, well, somewhat unfounded." Halloween is rapidly approaching, and if you're like Peaks and Pints Weather Guy, that means you're rapidly preparing to spend an evening dressed as your deepest, darkest fantasy. Peaks and Pints believes in early preparation with Halloween beers, too, and has gathered five Halloween-themed beers for our beer flight today that we call Craft Beer Crosscut 10.21.17: A Flight of Halloween. Fine the ones that suit your fancy for your own Halloween celebrations.
Firestone Walker Krieky Bones
5.7% ABV
Skeletons represent the finality of death. Skeletons have nothing left — their hair, skin, organs, every physical characteristic has long since rotted away; if they still have a personality that is vaguely human, it's trying desperately to cling on to something that it can never have again, an ultimately hopeless and futile endeavor. Almost everything else associated with Halloween — a vampire, a ghost, even a zombie in some aspects — has various human qualities left about it. Skeletons are the final stage in which all humanity has finally slipped away and nothing is left but bones, which is cool if the bones in question is actually Firestone Walker's Krieky Bones. This American wild ale is aged with Brettanomyces and sour bacteria in a 2,200-gallon French oak foeder (a kind of giant barrel). Then sour cherries (kriek) are added and the beer fermented again. Sharp, acidic and pretty to look at, Krieky Bones provides hope.
The Lost Abbey Ghosts in the Forest
6.1% ABV
The forest is a majestic and magical place full of wonder and incredible creatures, of course, but the amazement also comes with a great degree of mystery. Ghost definitely live in the forest, and they definitely come in all sorts of shapes, sizes, species … and tastes. Slumbering for 18th months in a forest of massive oak foeders, The Lost Abbey's Ghosts in the Forest, a blonde sour, focuses on the complexity of Brettanomyces and oak. Ghosts in the Forest begins with a lemon tartness leading to hints of tropical fruit from the Brettanomyces with a refreshingly dry and lightly oaked finish.
Elysian Dark O' The Moon Pumpkin Stout
6.5% ABV, 20 IBU
Elysian Brewing's Dark 'O The Moon is a straight-up pumpkin stout, a fusion of American-style stout and classic pumpkin spice ale influences. Sweet cinnamon dominates the nose in pleasant fashion, giving way on the palate to mild roast and brown sugar. Chocolate, coffee, tobacco and vanilla add to the flavor with a slightly bitter finish. Overall, the beer isn't nearly so sweet as the aroma initially suggests, and it does a good job of asserting its "stoutness" without it overwhelming the supporting pie spice. It's not the most complex of these beers in the spice department, but it does the cinnamon-heavy style well.
Black Raven Second Sight Scotch Ale
6.9% ABV, 34 IBU
According to Redmond brewery Black Raven, "Ravens in the Scottish Highlands were once thought to possess the gift of second sight, the ability to see future events before they occur. Second Sight is built around malted barley with hops playing a balancing role. This beer is ruby in color with large malt aromatics, delicious malt flavors and a full bodied finish." Indeed, this creamy Scotch ale hits with massive fruity sweetness of raisin, date and toffee notes then flies forever with a woody finish, slight peat and a slight alcoholic aftertaste, warming if you will. Complex and rich, it finishes with a whisper of smokiness that calls to mind sipping fine single malt scotch in a big leather chair while reading Edgar Allan Poe's The Raven.
Rogue Double Dead Guy
9% ABV, 60 IBU
Over the last 29 years, Rogue Ales has been helping lead the craft beer revolution. The brewery is known for its Dead Guy Ale, considered by many to be the original, Halloween-themed craft beer. Originally brewed to celebrate the "Mayan Day of the Dead" back in the early 1990s, Rogue Dead Guy Ale is a delicious German-style maibock. On Halloween, the Oregon brewery freaks with a stronger, hoppier lesser-known version: Double Dead Guy Ale. This American strong ale clocks in at 9 percent ABV with an amazing mid-palette richness of toffee and caramel.
Save
---