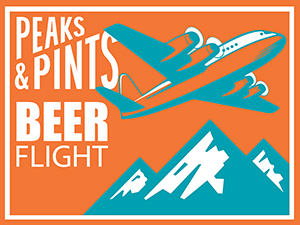 With more than 21 breweries Eugene is an ideal place to experience an Oregon brewery scene. Like regional winemakers, Eugene brewers benefit from the Willamette Valley's rich agricultural basin. The Pacific Northwest is a major producer of barley for malt, and Willamette Valley is one of the top domestic producers of hops. With growing conditions similar to Germany, the delicate hop flower has flourished there since the 1870s. Another esteemed ingredient praised by Eugene brewers is the clear, soft water of the McKenzie River. Mountain springs and melting snow from the Cascades feed the McKenzie River, recognized as the best in the nation. Today, Peaks and Pints goes over the hills and into the (Willamette) Valley offering sample tastes of Eugene breweries for our Craft Beer Crosscut 1.4.20: Flight of Eugene.
Craft Beer Crosscut 1.4.20: Flight of Eugene
Ninkasi Pilsner Cold Fermented Lager
4.7% ABV, 30 IBU
Named after the Sumerian goddess of beer, Ninkasi Brewing Co. was founded in 2006 by Jamie Floyd and Nikos Ridge in Eugene's Whitaker neighborhood. Coinciding with a packaging redesign, Ninkasi rolled out Pilsner, a direct result of the brewery's recipe development and innovation program. The Ninkasi brewers worked months on their take of a German-style pilsner, finally deciding on a double Pilsner malt bill of Weyermann Pilsner malt and Briess Pilsner malt, backed with German Magnum, Saaz, Tettnanger and Hallertau Mittlefruh hops. "A drop of rain at the top of the Cascades takes seven years to filter down into the McKenzie River and arrive at our brewery. It takes another 52 days to brew a batch of Pilsner. It's a tedious job, but one sip of this sweet and light, crisp and complex Pils and you'll know why it's worth the wait," states the Ninkasi website.
Ninkasi Whiteaker Series No. 11: Schwarzbier
4.7% ABV
Based in Eugene's historic Whiteaker neighborhood, Ninkasi Brewing is surrounded by artists, musicians and innovators. The Whiteaker series gives the Ninkasi brewers an avenue to explore and create new, small batch beers for the neighborhood, and eventually leaked out to a few retail customers such as Peaks and Pints. Ninkasi Whiteaker Series No. 11: Schwarzbier sports a deep, dark hue just as complex as its malty flavor. This schwarzbier teases notes of chocolate, toffee, roasted coffee, and nuttiness with a clean, dry finish. It may be dark, but it's smooth and crisp at the same time.
Oakshire Very Ill Tempered Gnome
12% ABV
When Jeff and Chris Althouse founded Oakshire Brewing Co. in 2006 they were the only employees, brewing Original Amber on a four-barrel system under the moniker Willamette Brewery. In 2008, Willamette Brewery became Oakshire Brewing. Today, Dan Russo is the lead brewer managing Oakshire's collaborative production team of seven and overseeing the Pilot, Vintage and Core Seasonal programs, including the annual release of their beloved Ill-Tempered Gnome and its occasional amplified version with more malt, more hops and more alcohol known as the Very Ill Tempered Gnome. In the fall of 2017 Oakshire received a shipment of Jack Daniel's Rye Whiskey barrels and immediately they knew that VITG needed to make a reappearance. Very Ill Tempered Gnome aged in rye whiskey barrels has complex malt bill of caramel and kilned malts intertwine with the spicy pepper character from the whiskey. As that sip glides across the tongue, distinct notes of dark bakers chocolate, bourbon vanilla beans and a drying tannic oak character fill the mouth.
Claim 52 Sambalaya
6.7% ABV
Named after a donation land claim number and refers to the original tract of land in Eugene settled by pioneer William Luckey in the late 1800s, South Eugene is where some of founding head brewer Trevor Ross first beer recipes got their start on a homebrew system, tying in to the company's deep Oregon roots. In 2012, Mercy McDonald, Jeannine Parisi and Ross opened Claim 52 Brewing in West Eugene. Today, under the guidance of head brewer Bryce Fiasher, they specialize in European-style, super-small batch beers made in the Northwest tradition, as well as exceptional hazy IPAs such a Fluffy, Fluffier and Sambalaya. Brewed with flaked and malted oats, then hopped with Samba and Citra, Sambalaya is a hazy IPA with juicy tropical fruits (pineapple, mango), stone fruits, candy, and orange tangerine flavors.
Hop Valley Citrus Mistress
6.5% ABV, 80 IBU
After graduating from Oregon State University's fermentation sciences program and honing his hoppilicious skills at Pelican Brewing Co. and Rogue's Tracktown Brewpub, Trevor Howard busted out deep, dank, and delicious craft beers as co-owner and head brewer at Eugene, Oregon's Hop Valley Brewing Co. Hop Valley's Citrus Mistress rules Washington state, outselling the Eugene brewery's top seller in Oregon, Alphadelic IPA. If you dig grapefruit, the lady plays nice. The peel is very much forward. Hops are present, but not overwhelming. Orange, pine and tropical fruit are behind the yellow and orange curtain. It has a juicy finish, of course.
---